When asked to name famous cities, you'd be living under a rock if London wasn't one of the first places you listed. London is an iconic city known for many things. Big Ben, Buckingham Palace, Beefeaters - and now brunch.
In recent years, bottomless brunch has exploded in popularity in London and can be found in all 4 corners of this wonderful city. Whether you're wanting a quiet(ish) tipsy afternoon nattering with a friend or an excuse to dance on tables in the middle of the day, bottomless brunch is a great way to get together. And a bottomless brunch in the beautiful city of London? Even better.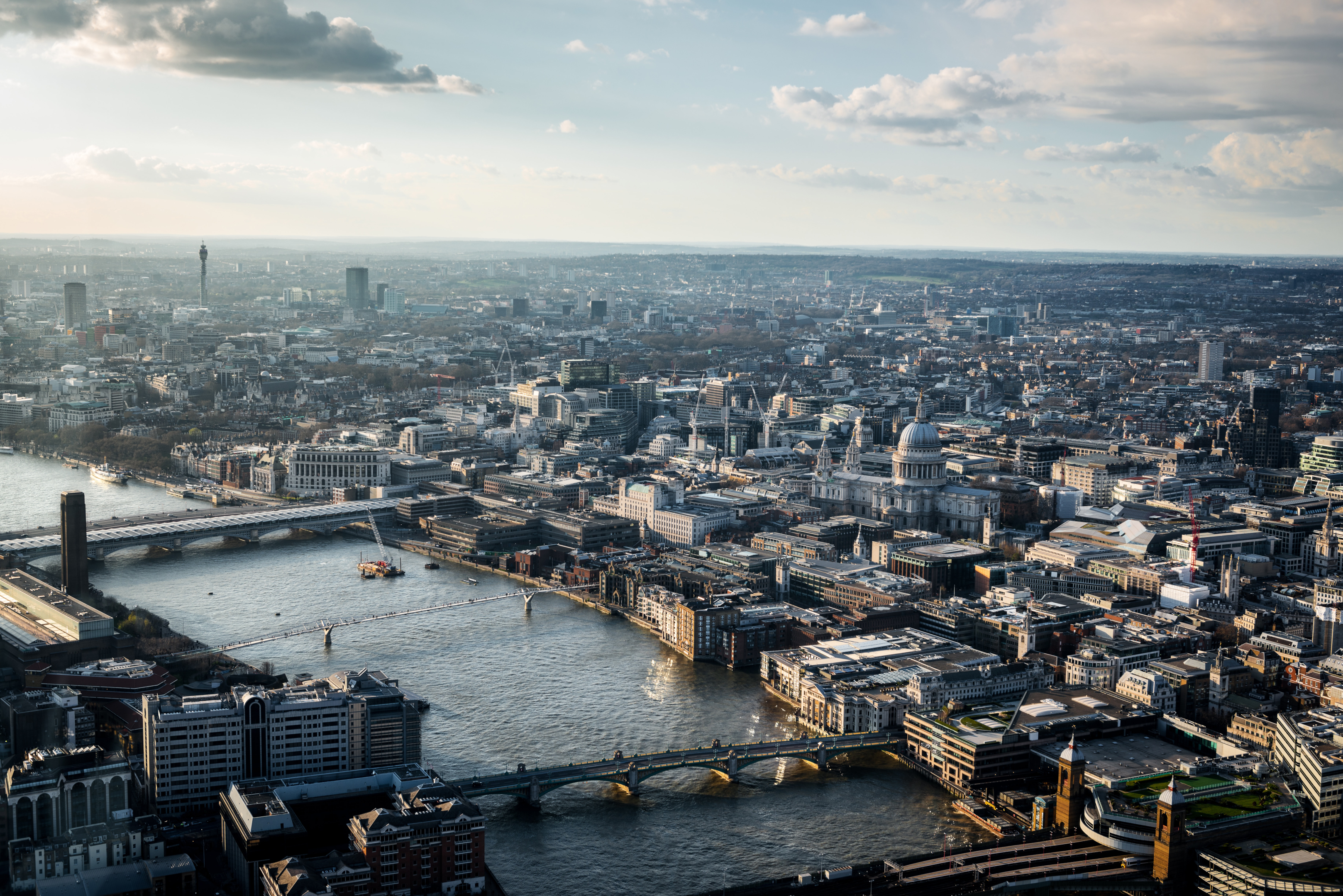 And in its true London style, it's got a bottomless brunch to suit everybody. But London is vast, so finding the best bottomless brunch for you and your friends in London can be tricky. Especially when there's a ginormous array of cultures and cuisines to choose from: it's more than just eggs folks!
That's why we've done our due diligence and found the Top 50 spots for London's best bottomless brunches 2023 so you don't have to. Brunch plans in London this weekend? Consider them sorted. 
Proud City Drag Bingo
Look - we'd be silly not kick off our top 50 bottomless brunch list without shouting out one of our own. For brunch deals London look no further than our very own Proud City venue, which hosts a hilarious drag musical bingo and bottomless brunch on the weekends that is simply unmissable.
Devour our exquisite 2 course brunch with a bottomless supply of our delicious house cocktails. Roar with laughter as our feistiest Queens play musical bingo and deliver side-splitting banter that'll make you cackle like RuPaul. But hurry, tickets for our drag brunch sells faster than you can say slay! For a bottomless birthday brunch in london, this is a truly histerical one!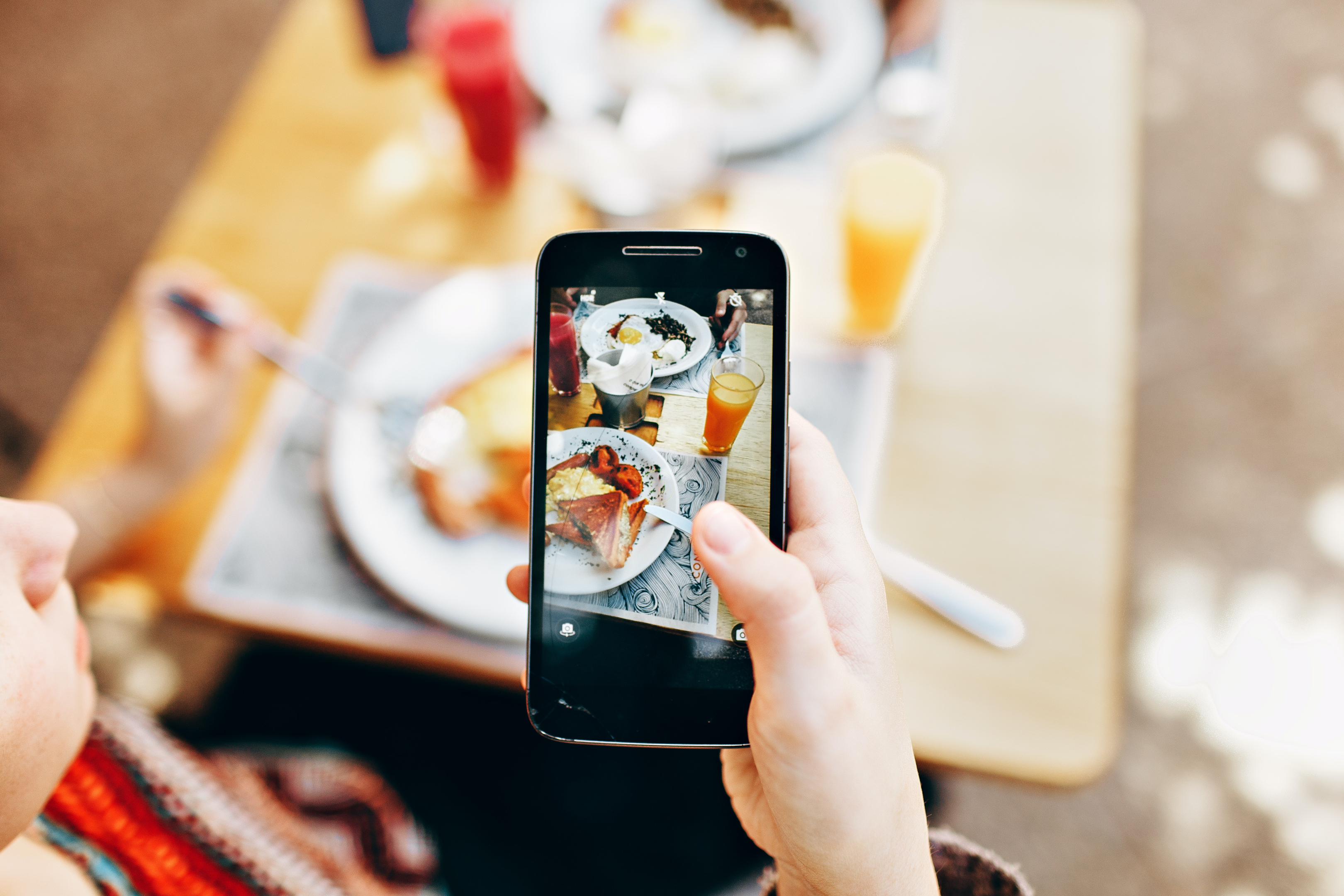 Bad Egg
If you're in London and love eggs, you've got to go to Bad Egg. Don't worry about the name, though - its bottomless brunch is as good as its name is ironic. A 20 minute tube from Canary Wharf, Bad Egg is an eclectic American-style diner. 
Its bottomless brunch has unlimited bloody Mary's, free flowing prosecco and mimosas for £39 per person. This bottomless brunch has time slots of two hours every Saturday and Sunday. Whether you're feeling a cheeky afternoon drink with your poached eggs or need hangover relief through some hair of the dog, Bad Egg's bottomless brunch will sort you out. 
Jungle Queen Brunch at Proud Embankment
Are we going in with another one of our own? Yes we are. But does it happen to be one of the best bottomless brunches in London? Yes it does.
A wonderfully entertaining bottomless brunch near leicester square, this show runs every Saturday at Proud Embankment which hosts a party brunch where you can spend 3 hilarious hours eating and drinking to your heart's content for just £49. This is a drag brunch people, so be careful not to choke on your delicious food mid-cackle!
Despite this being a London-based blog, we can't ignore our sister venue in Brighton. For a night by the coast, check out our Drag Brunch Extravaganza! 
The really is the best fun bottomless brunch London has to offer so don't hesitate to get tickets while they are still available.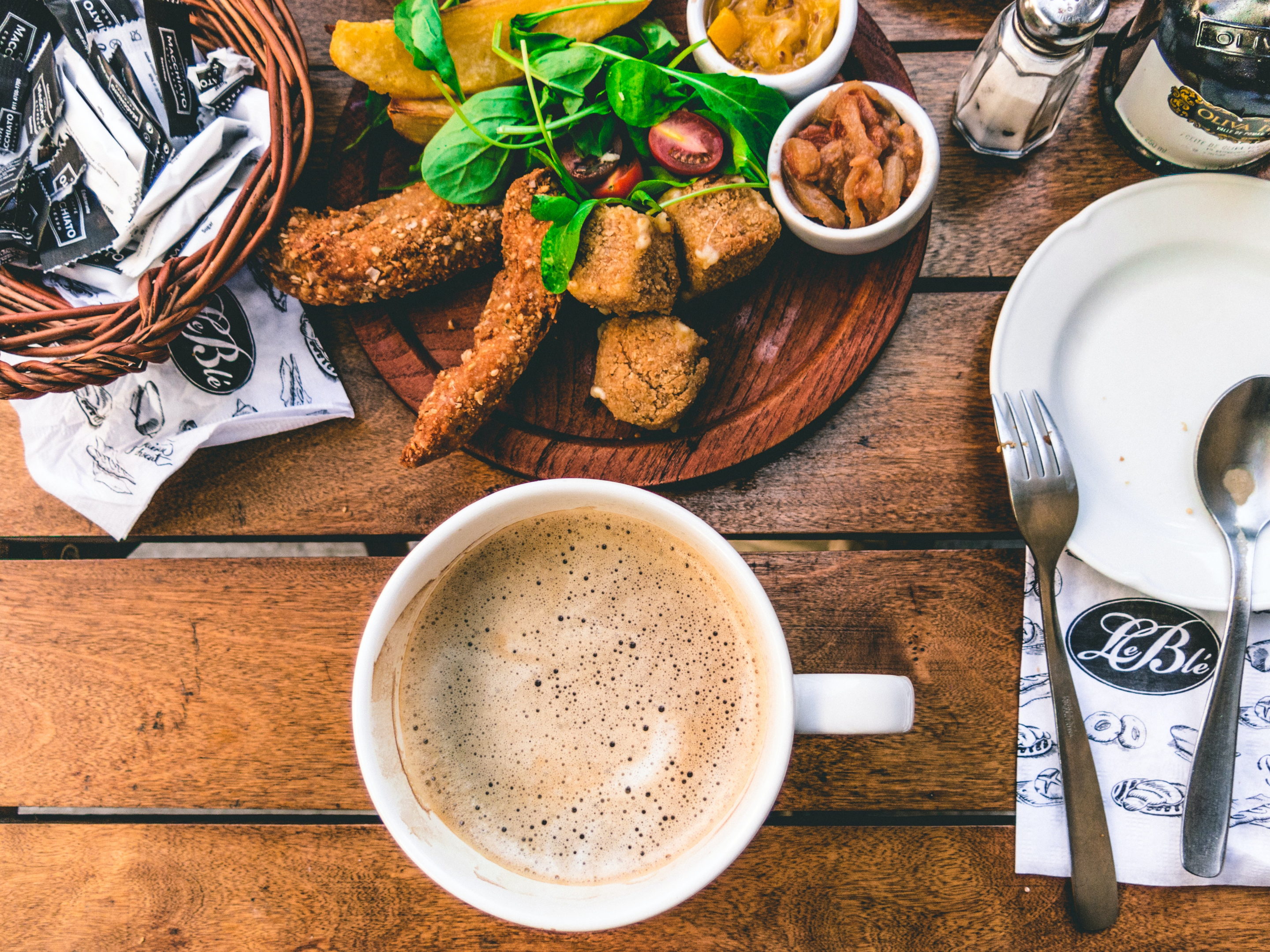 City Cruises
We know what you're thinking. This isn't brunch? Oh, but it is. As of April this year, London-based tour company City Cruises have launched a site-seeing bottomless brunch package. From £39 guests can depart from Tower Pier and enjoy two hours of bottomless prosecco.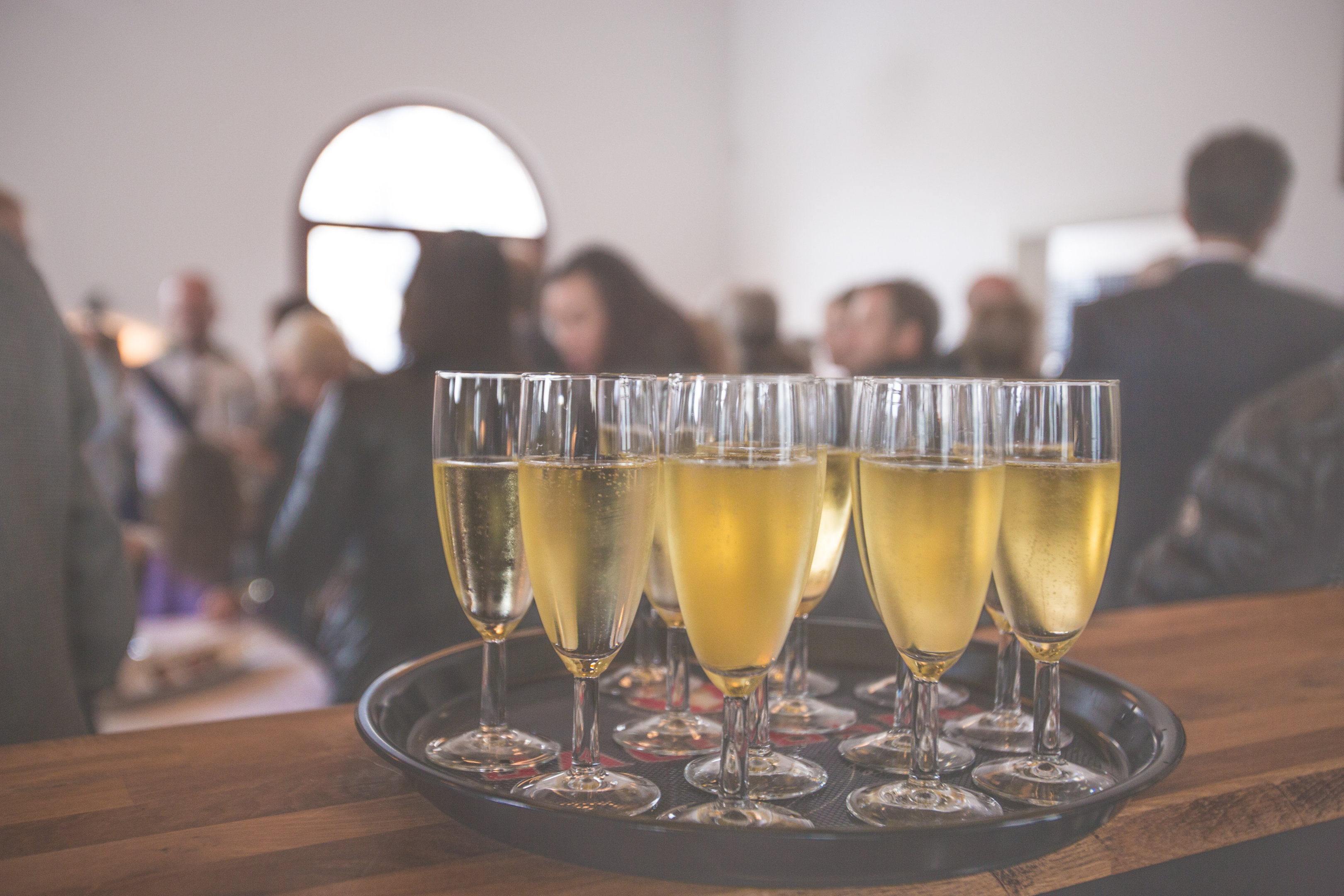 Devour poached eggs as you float by iconic sites like the Tower of London, the London Eye and The Shard. And there's an on-board DJ! This party brunch is definitely a big contender for the best bottomless brunch in London town!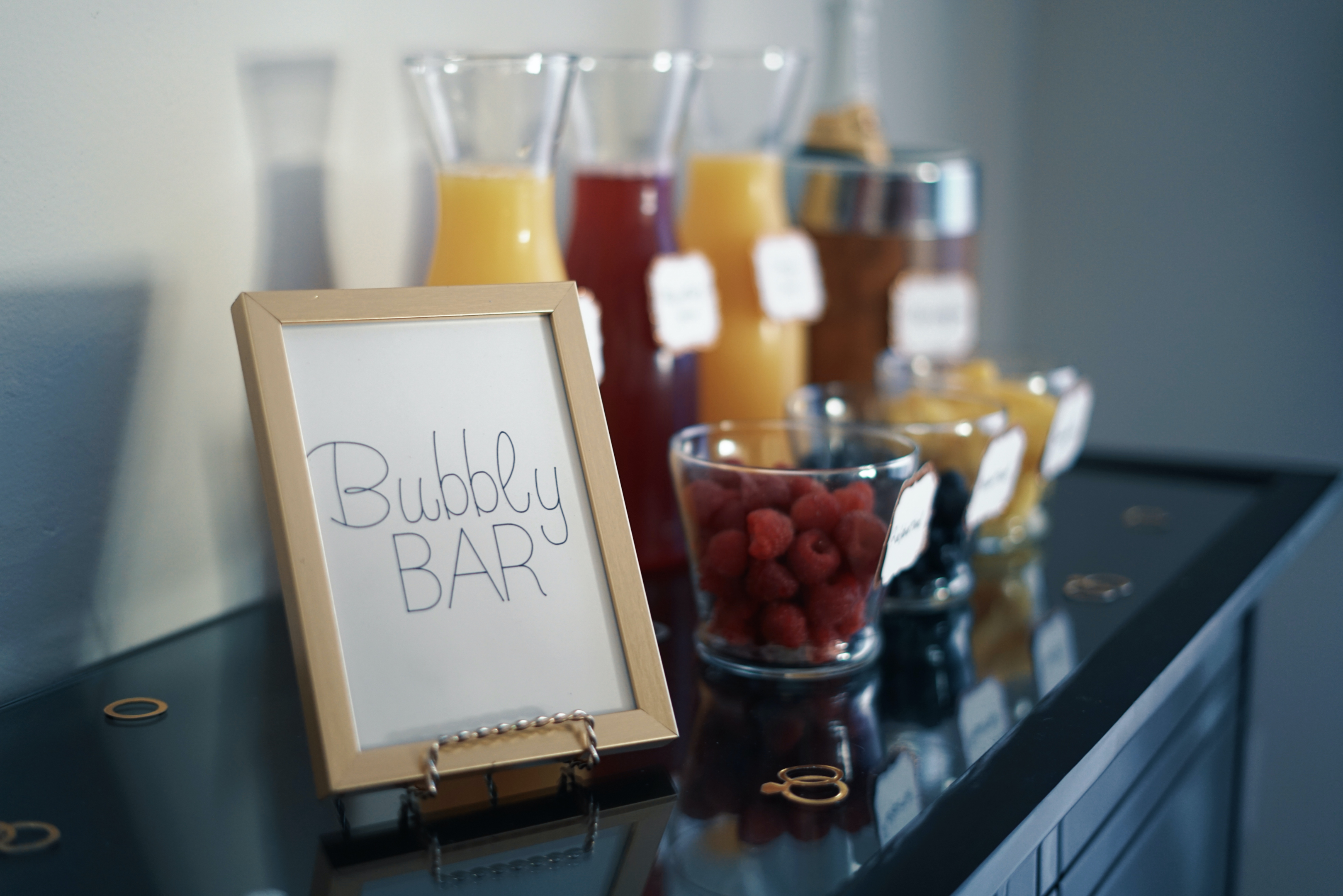 Bourne & Hollingsworth Buildings
Bourne & Hollingsworth offers a classic bottomless brunch menu if you're around East London. For £37, guests can enjoy their weekend brunch with two courses of smoothie bowls, pancakes, avocado on toast and hashbrowns, along with as many free-flowing Bloody Marys as you like.
Look:  classics are classic for a reason. And if you're looking for brunch in London, won't a sun-soaked conservatory with lots of plants and yummy food do just that?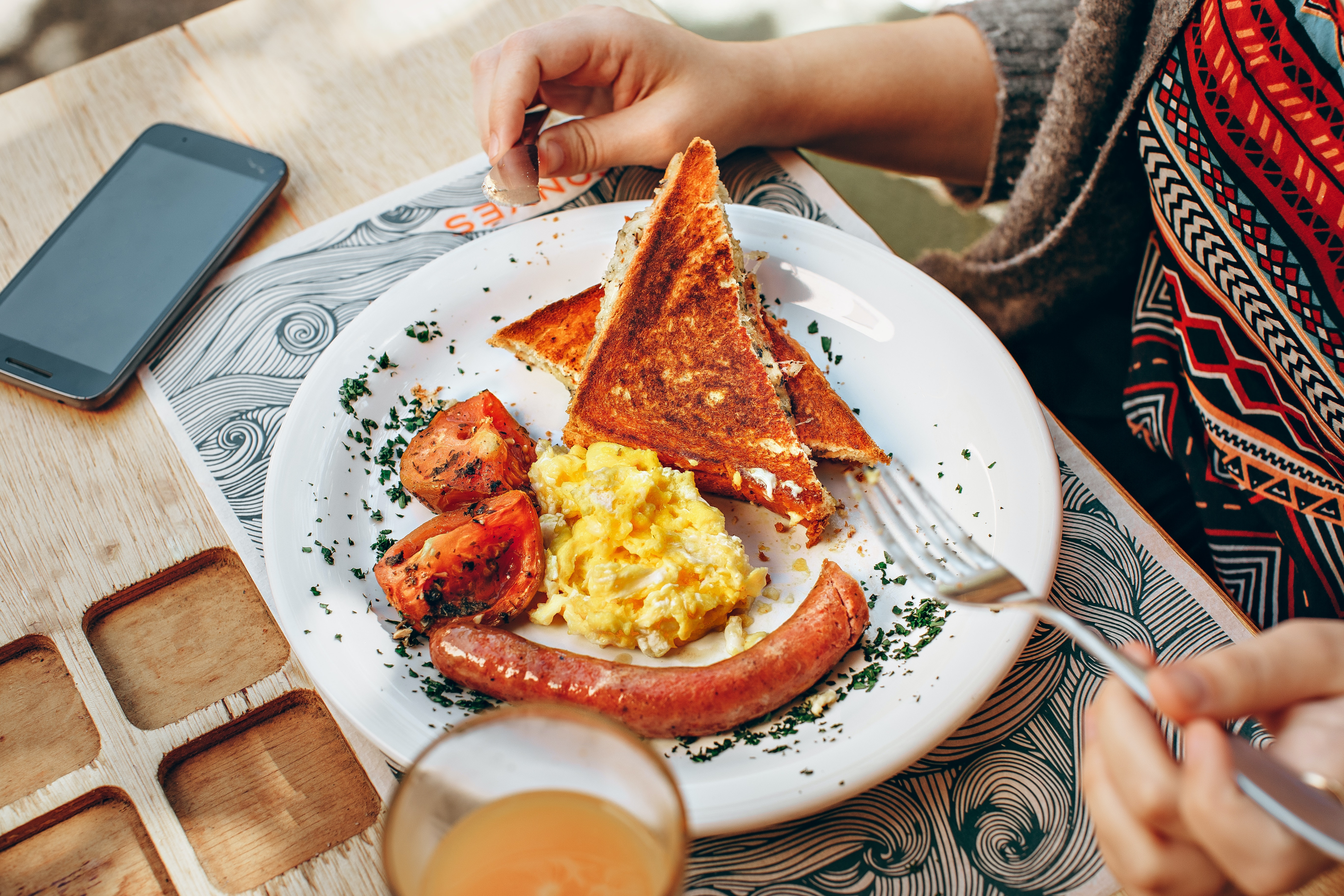 Double Standard
When the ultra-cool Standard Hotel opened in LA, it was a stomping ground for cool LA scenesters and partygoers. So when the Double Standard opened in King's Cross London, it was assumed its sister venue would also be very cool. 
And in this case, you can assume correctly. The 70's themed dive bar is 30 minutes from Canary Wharf and hosts bottomless brunch on Sundays. In their two hour window guests can guzzle unlimited American banana pancakes, or try their famed brunch burger with Bloody Mary ketchup for that extra kick!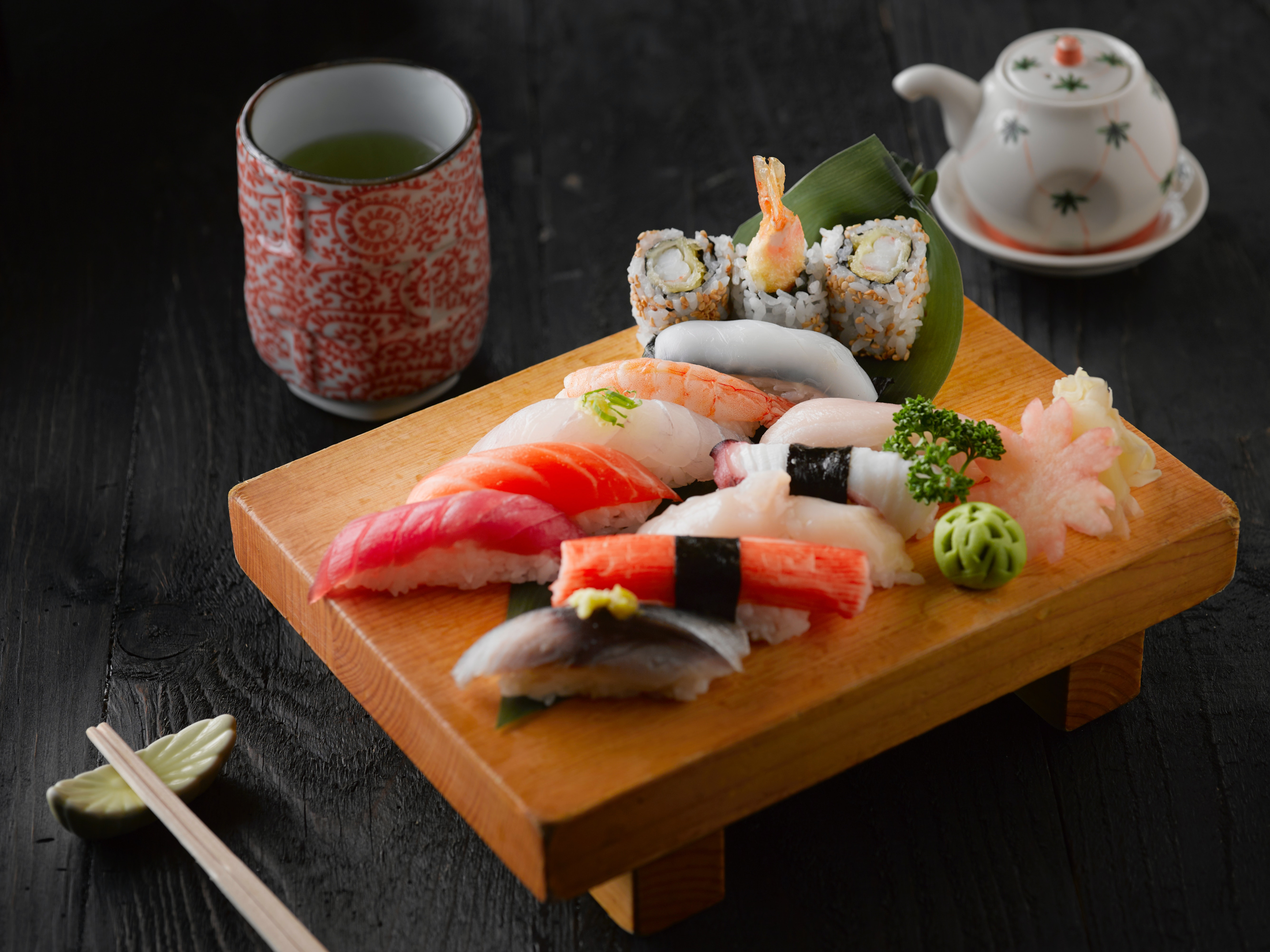 Sumosan Twiga Brunch
Sumosan Twiga is in Kensington and is one of the area's most popular bottomless brunch spots. Sumosan Twiga celebrates the best bits of Italian and Japanese culture by offering their famed fusion menu for Londoners. Fancy a Maki Roll Selection to go with your Ricotta Tortellini anyone?
On Saturdays between 12pm-4pm, guests can drink bottomless cocktails whilst sampling their diverse menu. Or as Miley Cyrus puts it: "you get the best of both worlds''. It's a party brunch. From saucy sax solos, to carefully curated DJ sets to keep the vibes high, their bottomless brunch is immaculate. Their brunch menu is £150 per person. Pricey, we know. But their bottomless brunch is certainly no ordinary brunch experience.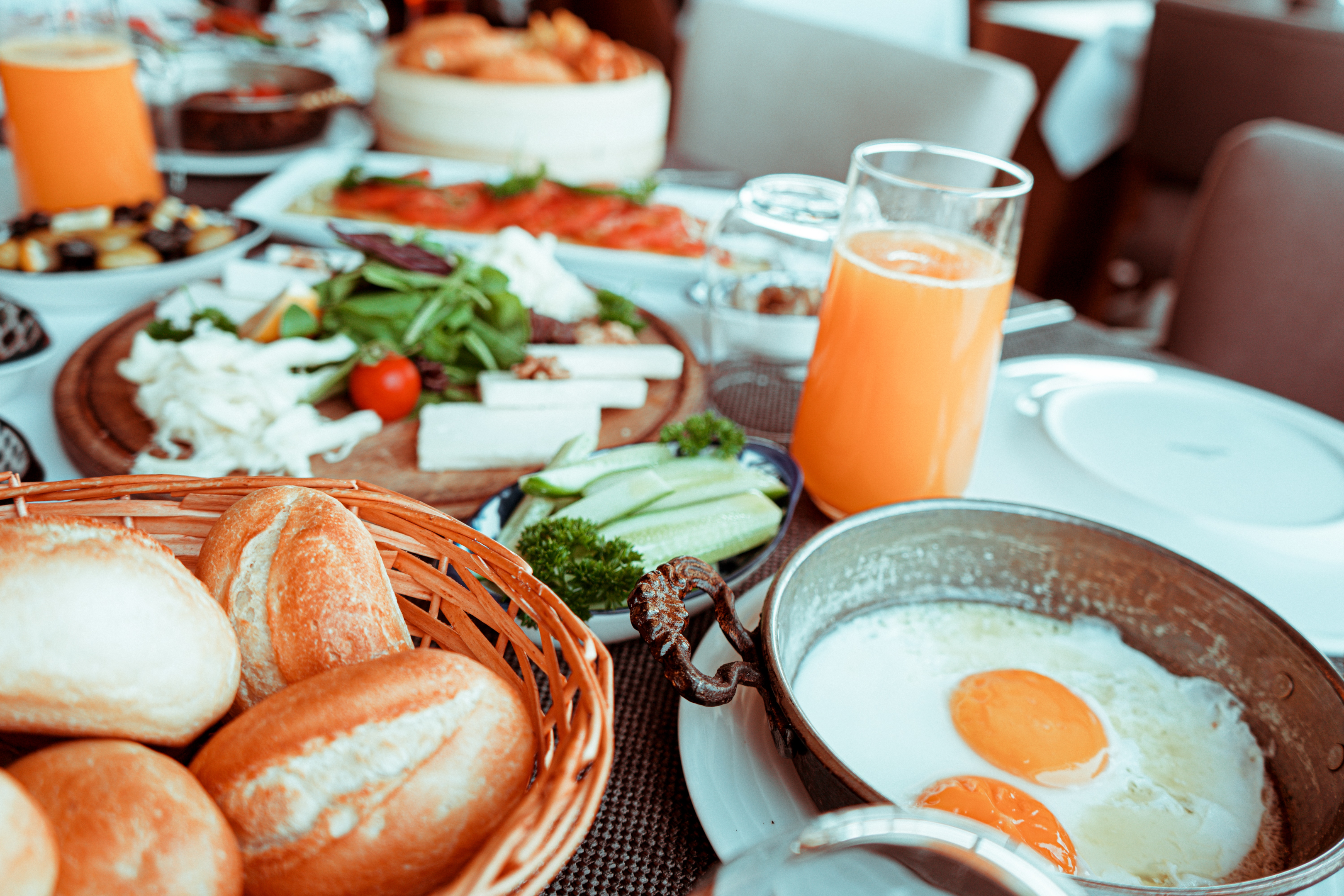 Flight Club London
Flight Club took darts, revamped it and peddled it to the young masses. If this wasn't awesome enough, Flight Club is now doing bottomless brunch. Travel 20 minutes from Canary Wharf for bottomless brunch with bottomless bubbles, washed down with unlimited delicious pizza for all you pizza pilgrims. 
Now you can guzzle on a gorgeous pepperoni slice with one hand whilst hitting that bullseye with the other.
Pricing starts at £30 per person and is perfect if you love pizza, bottomless bubbles and good vibes. They've got multiple London venues so you pizza pilgrims can't miss them!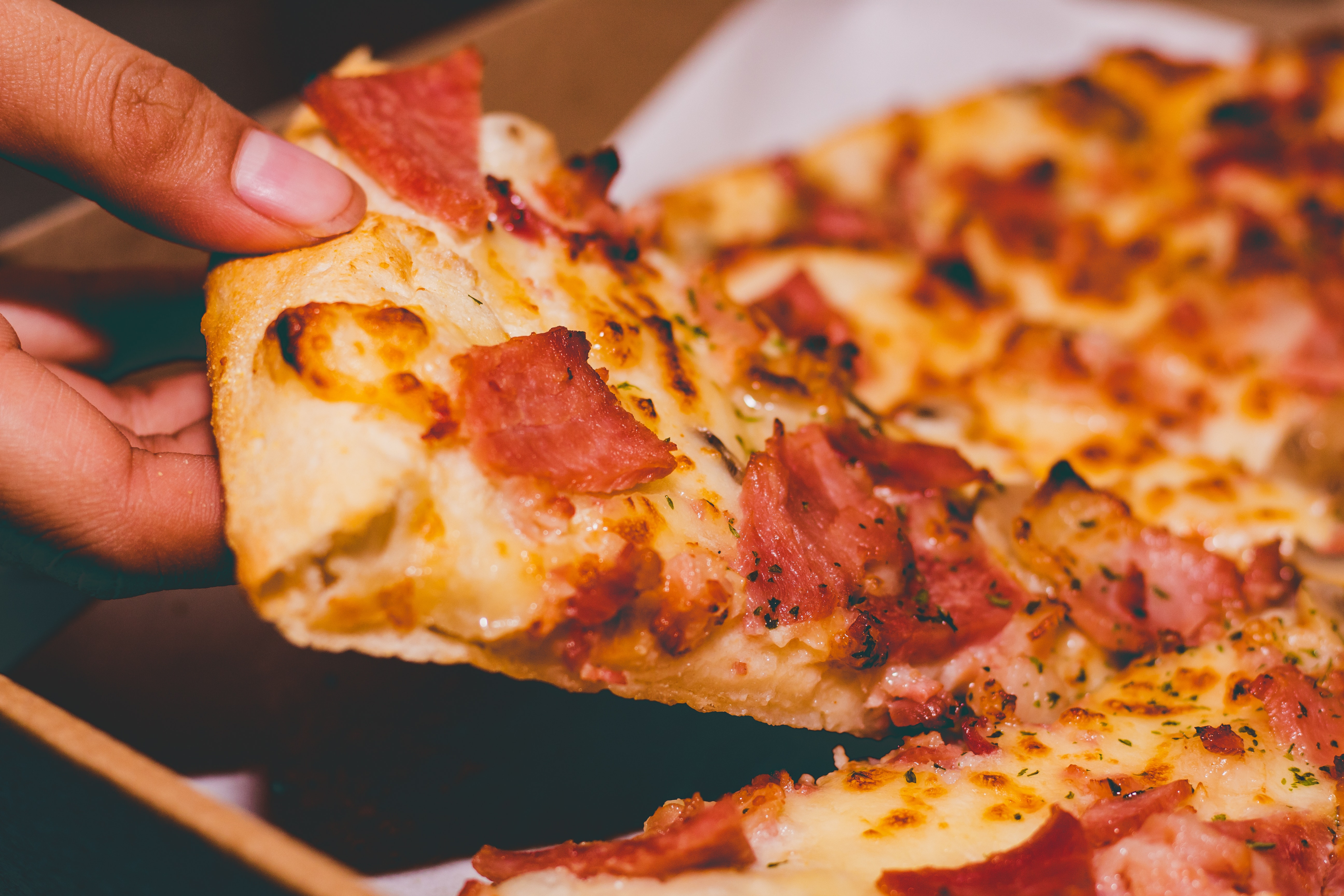 The Rum Kitchen
Are you in London and got a craving for hip hop, rum punch and boozy brunch? The Rum Kitchen is the place to be if you're hankering for authentic Caribbean cuisine. Located in the heart of Carnaby Street and just half an hour away from Canary Wharf, The Rum Kitchen offers bottomless brunch along with Happy Hour on their entire cocktail menu everyday until 7pm! 
We recommend their jerk BBQ wings washed down with their refreshing Jamrock Punch cocktail. The Rum Kitchen is perfect if you want a taste of the Caribbean without leaving London.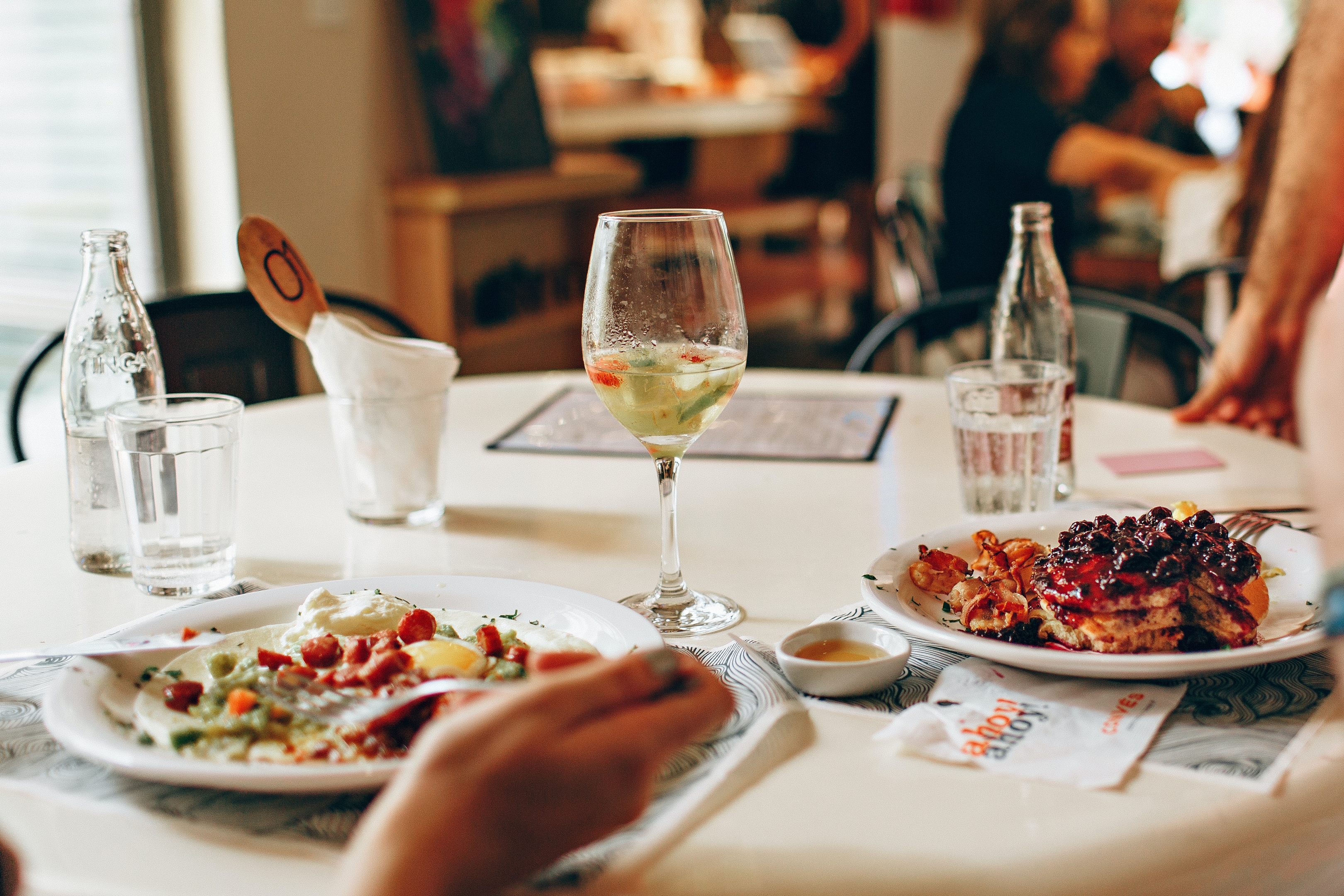 El Pirata
Hola tapas enthusiasts! Run, don't walk, to El Pirata. El Pirata is a luxurious restaurant  located in Mayfair that celebrates the best of Spanish cuisine with their bottomless brunch. It's making some serious waves in London.A 25 minute tube from Canary Wharf, their delectable brunch menu includes all the classic Spanish favourites and comes with bottomless Sangria.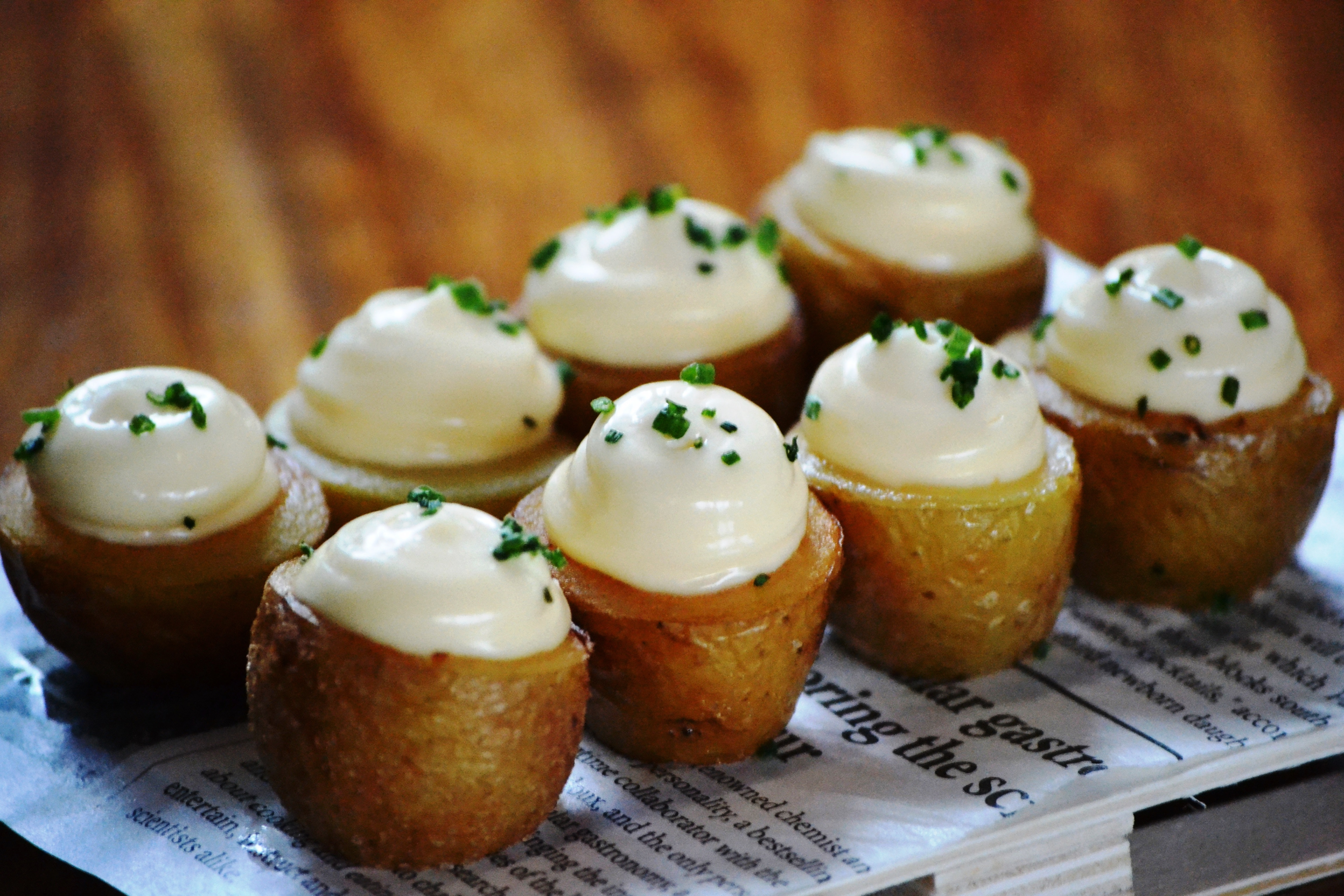 Snack on padron peppers and chilli prawns whilst you drink until you need a siesta. In short, bottomless brunch spots better watch out for El Pirata.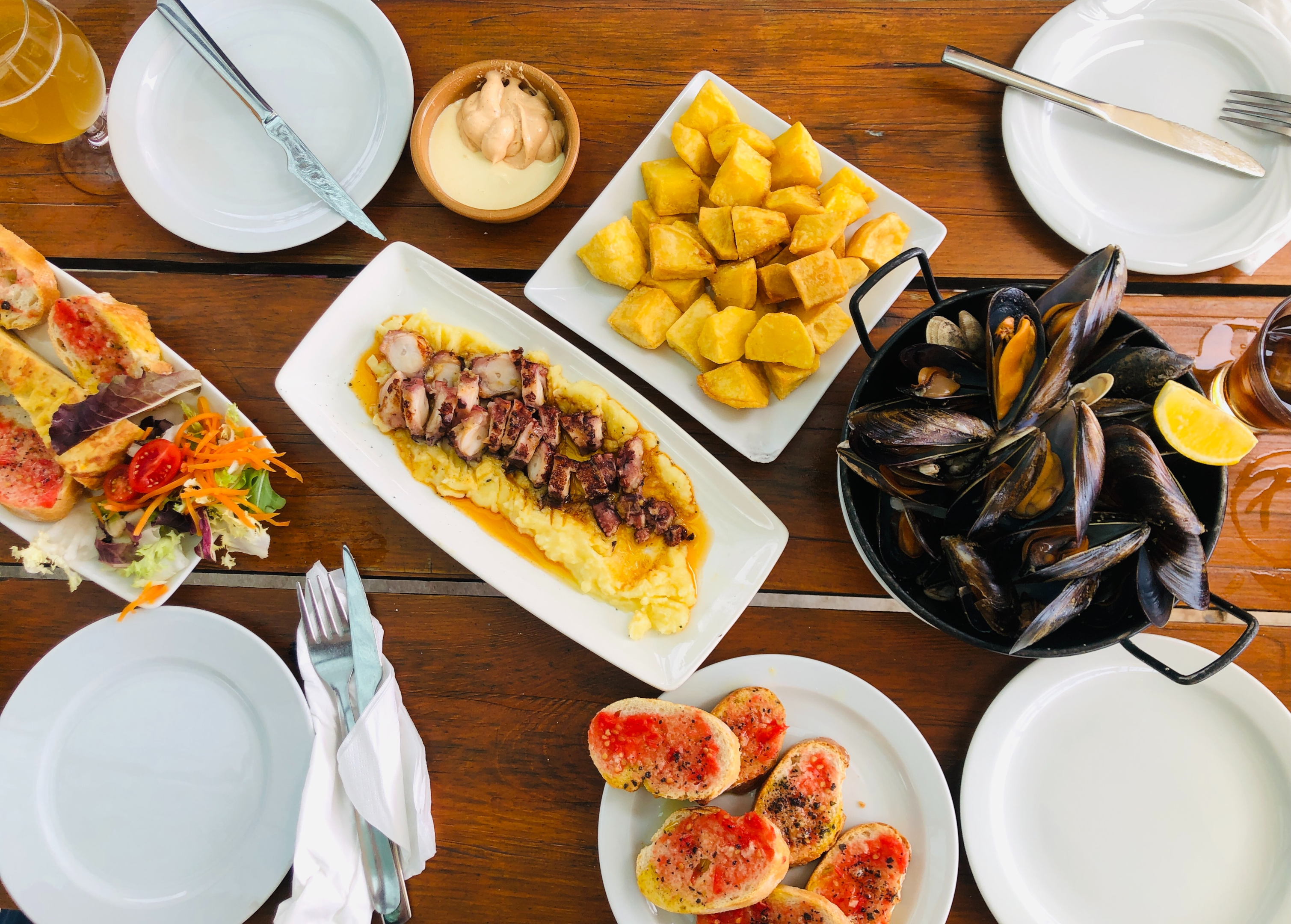 Balans No. 60 London
Self-described as an "all-day, all-night brasserie", Balans No. 60 is a lively spot half an hour away from Canary Wharf. It's famous in London and they serve a classic brunch menu of poached egg and eggs benedict. And their cocktail club runs all day.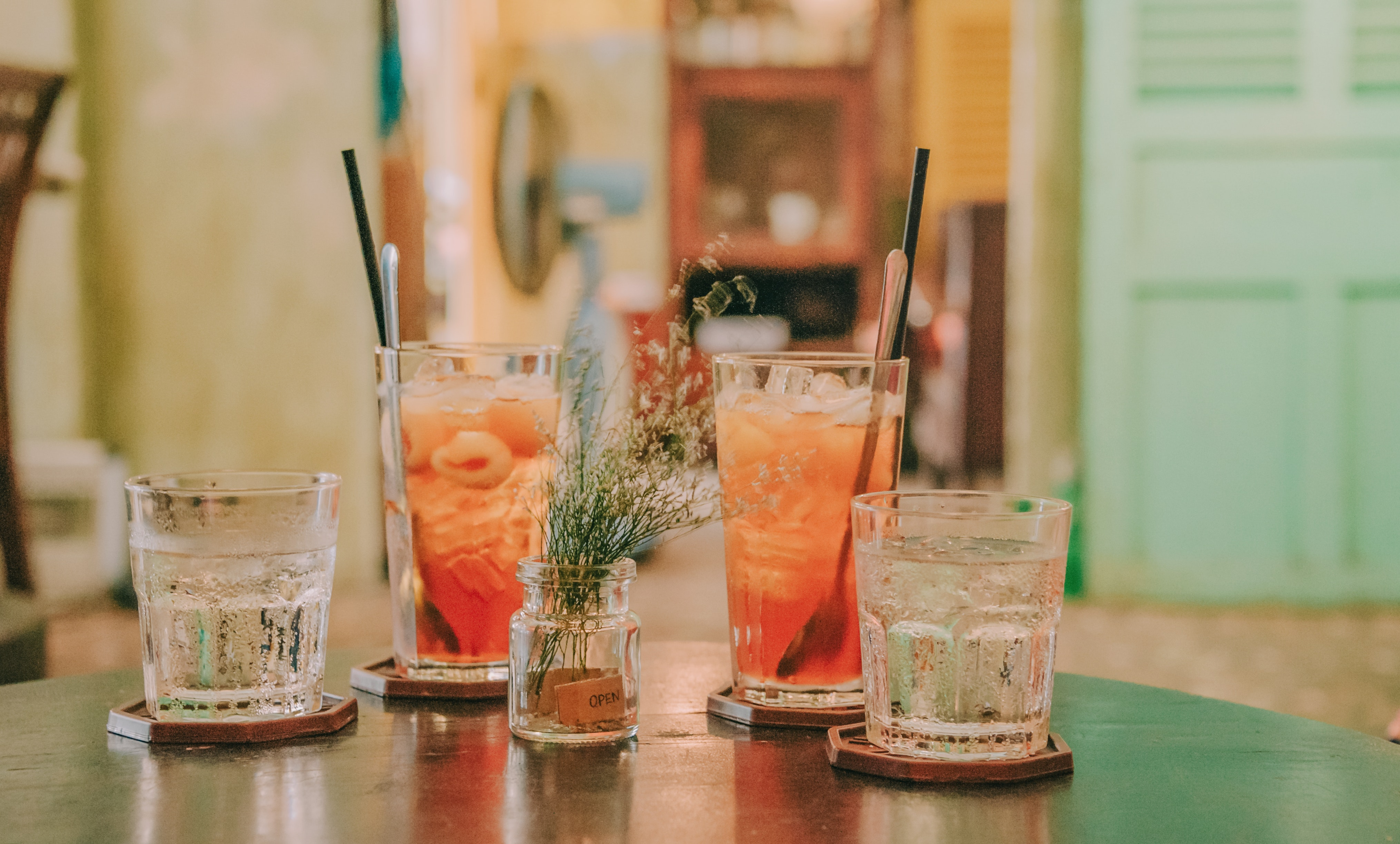 That's right, bottomless cocktails for all. Its buzzing atmosphere and penchant for serving guests until 5am makes it an important name when it comes to the best bottomless brunches in London! This is indeed a party brunch!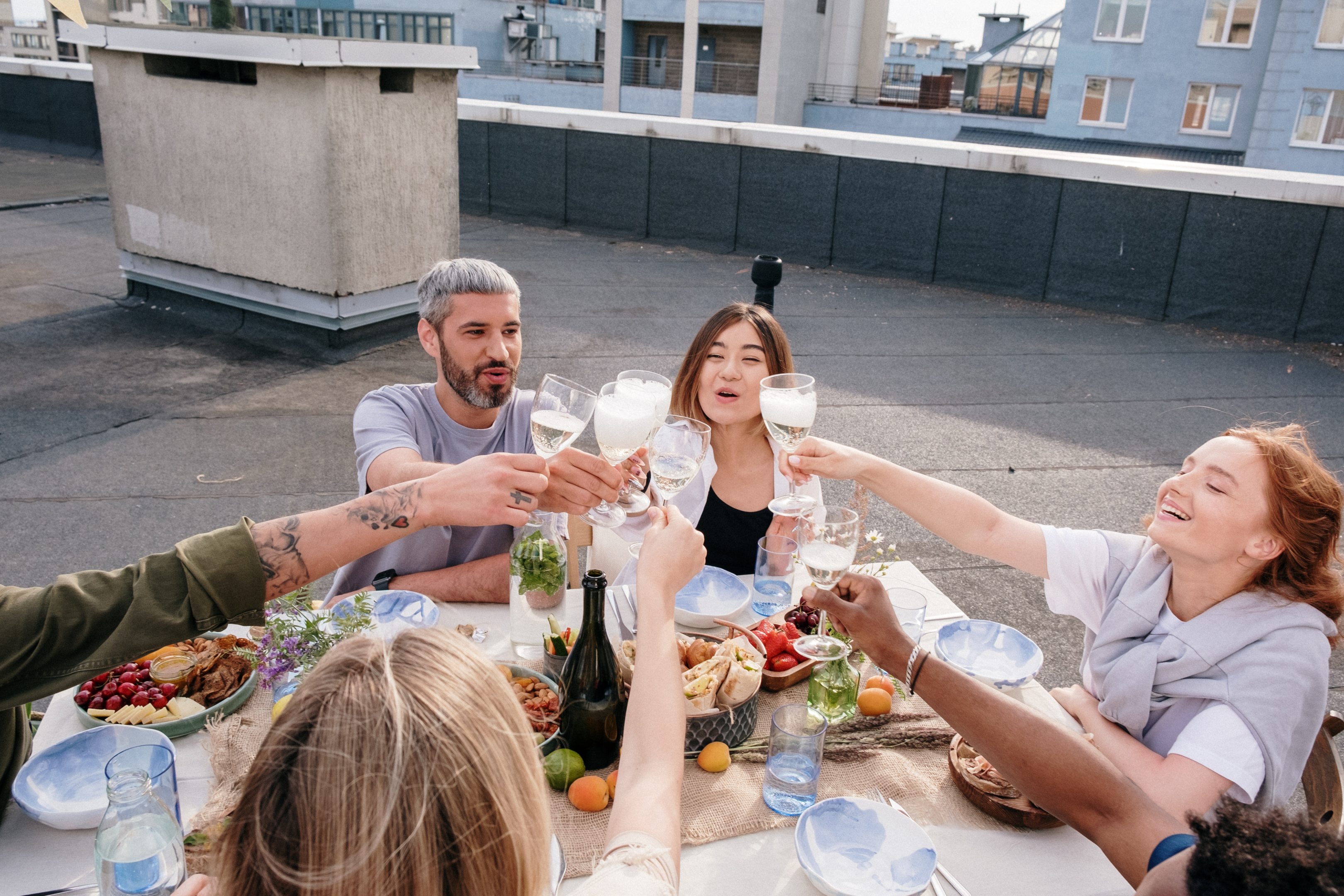 Yum-Sa Bottomless Brunch
When it comes to bottomless brunch, Yum-Sa Thai restaurant exceeds the definition of going above and beyond. They offer not tow, not three, but a whopping 7 brunch tasting menu for their lucky guests!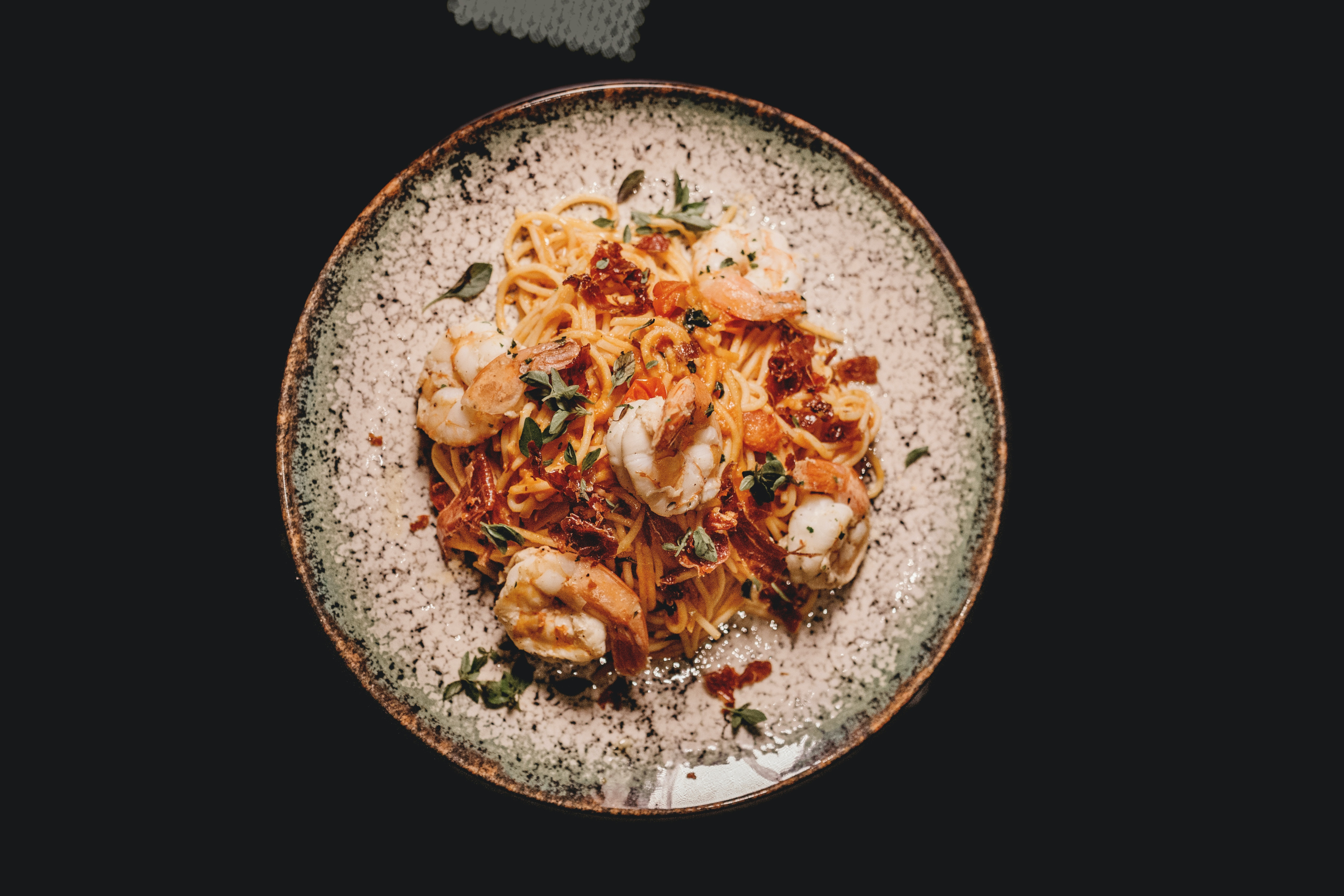 Torn between sticky tamarind rubbed chicken and red curry steamed sea bass? Don't worry you can have both - or all! If you're in London, Yum-Sa isn't one to be missed!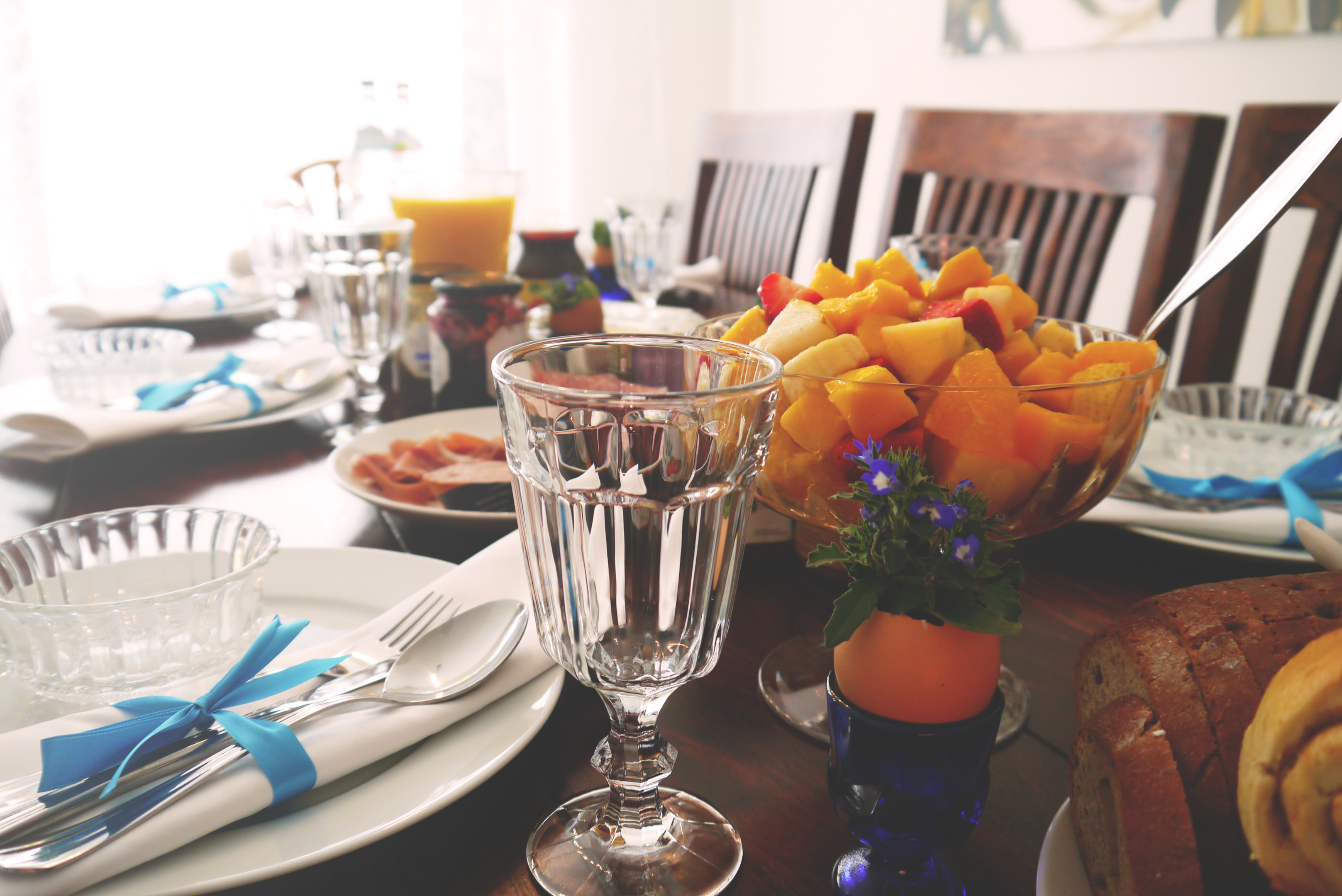 Flesh & Buns London
Flesh & Buns' is as tasty as their name is punny. Starting at £39 per person, guests can get some hangover solace with their famous Bao Buns.
And they offer unlimited prosecco, white and red wine. A.K.A - as much hair of the dog you can stomach! It's an unconventional but strong choice when it comes to London's best bottomless brunch.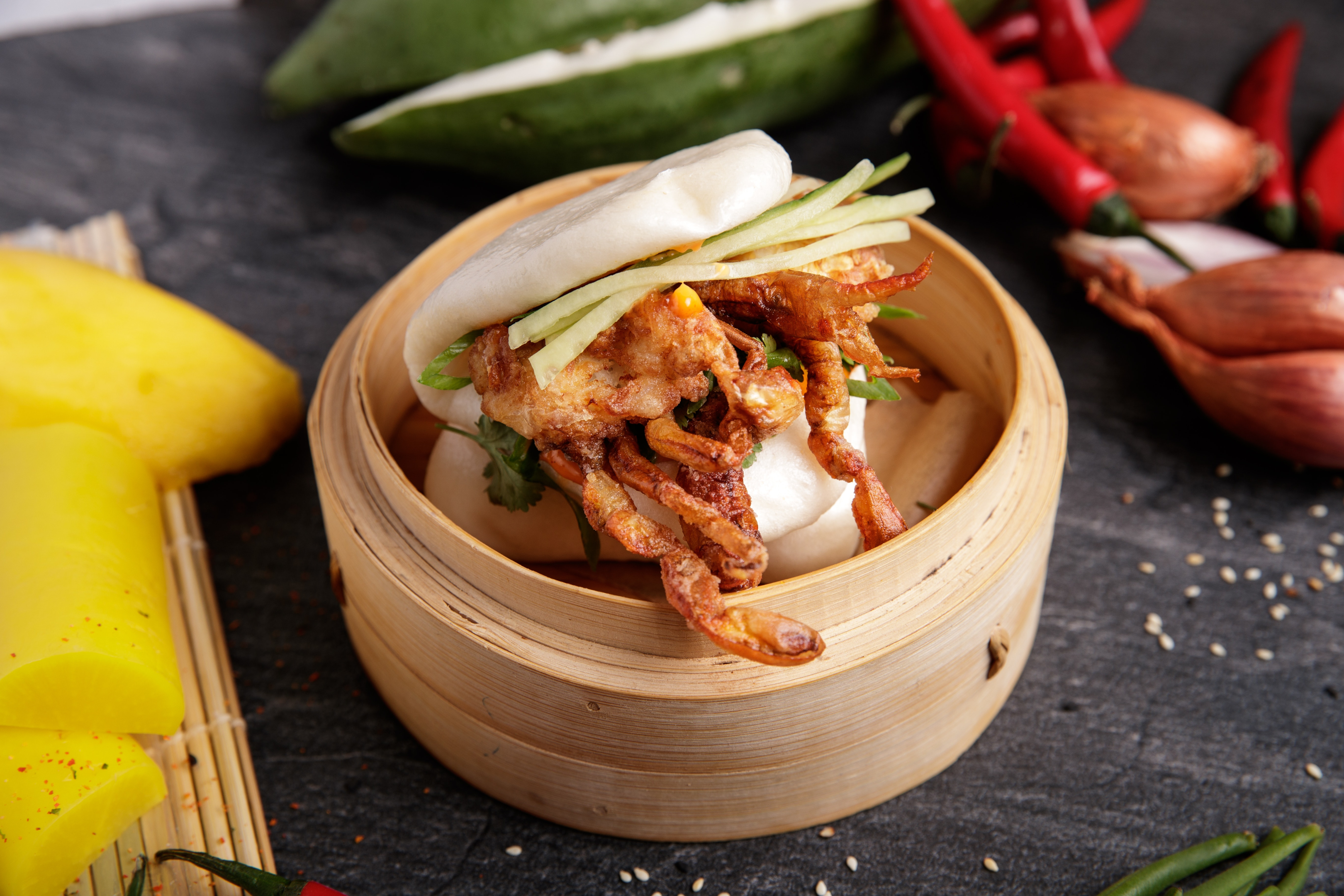 Etke Nordic Kitchen
If you're fancying brunch in London but looking for something different, come sample some Nordic cuisine at Etke on Bloomberg Arcade.Indulge in a three course Nordic themed menu that fuses together the best bits from Scandinavian cuisine every Saturday until 9pm.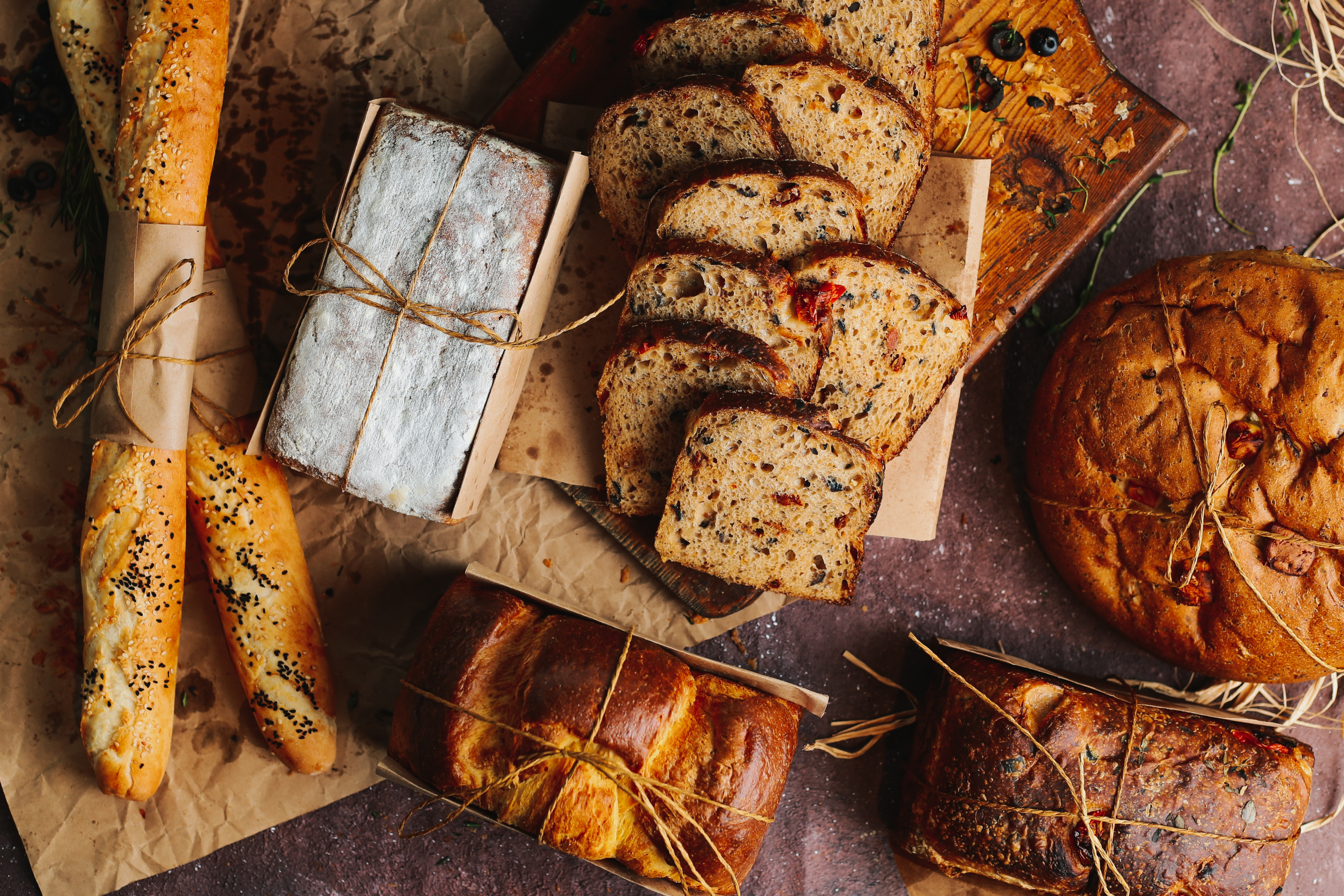 Their uncommon yet delightful menu includes the likes of authentic smørrebrød, kroppkakor and girolles and sage butter. Not sure what these are? Visit Etke and try for yourself!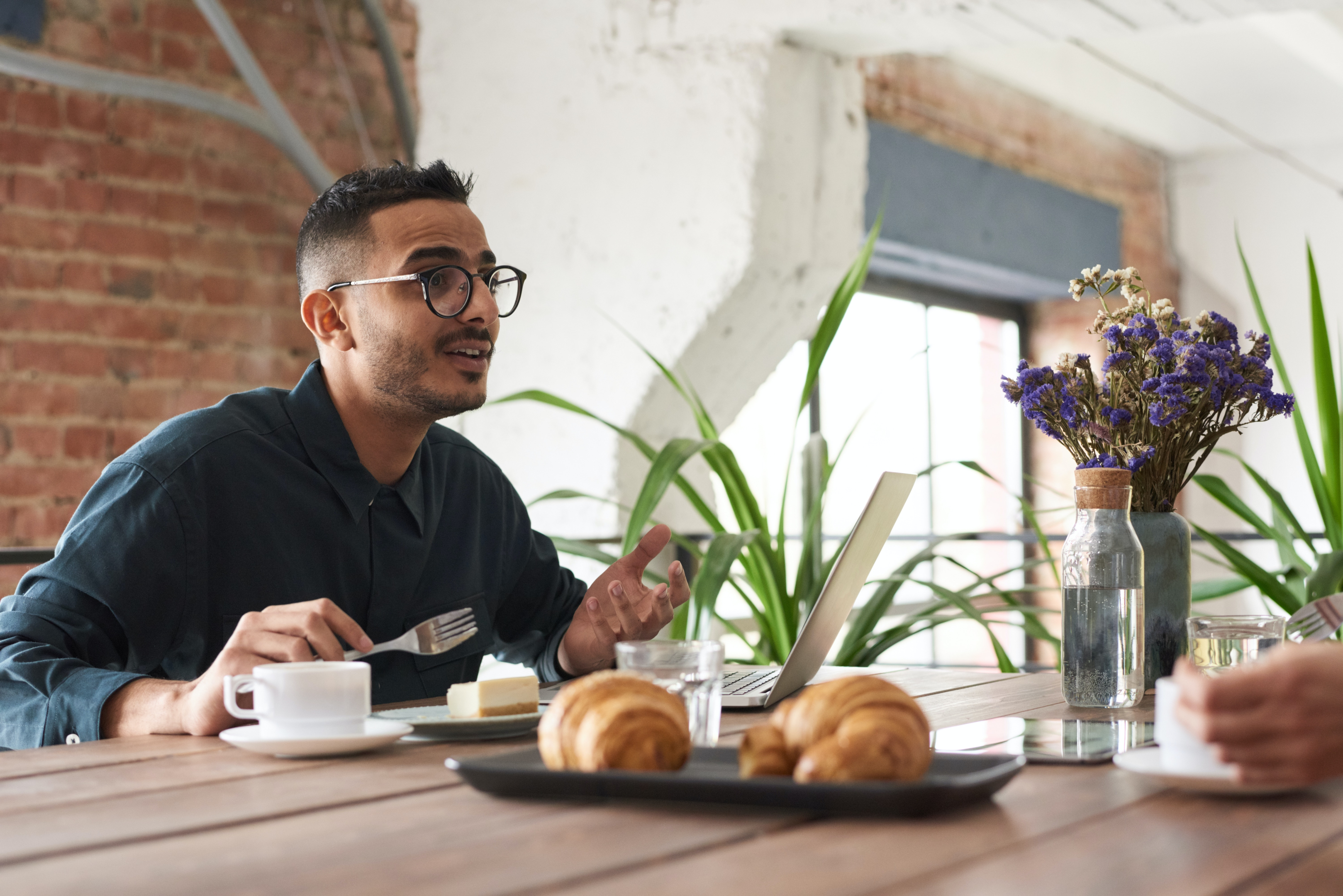 All Bar One
We'd be silly not to mention one of these old reliables - All Bar One. The Bishop's Arcade branch of this well-loved chain serves eggs benedict, a full breakfast or a handmade beef burger.
Three simple yet very effective dishes. When it concerns bottomless brunch, All Bar One definitely fits the bill.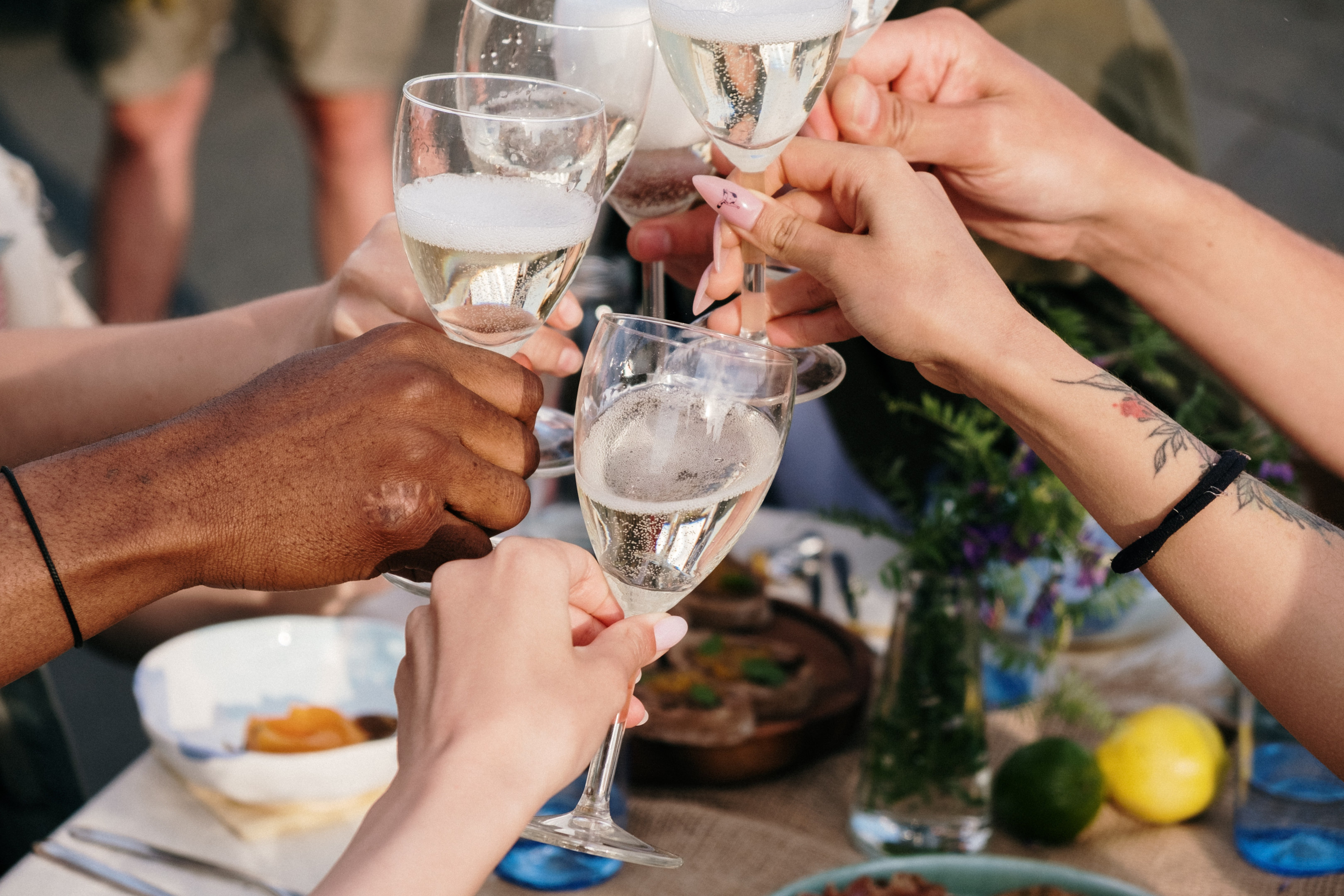 Lantana Shoreditch
Lantana is making some noise in the East London brunch scene. The party brunch boasts bottomless prosecco, mimosas and coffee with any brunch item for £30 per person. Or they offer unlimited coffee and juices with a brunch item for you non-drinkers. 
Their unconventional menu explores the lesser-explored stylings of Australian cuisine and brings that relaxed "down-under" mentality to busy London.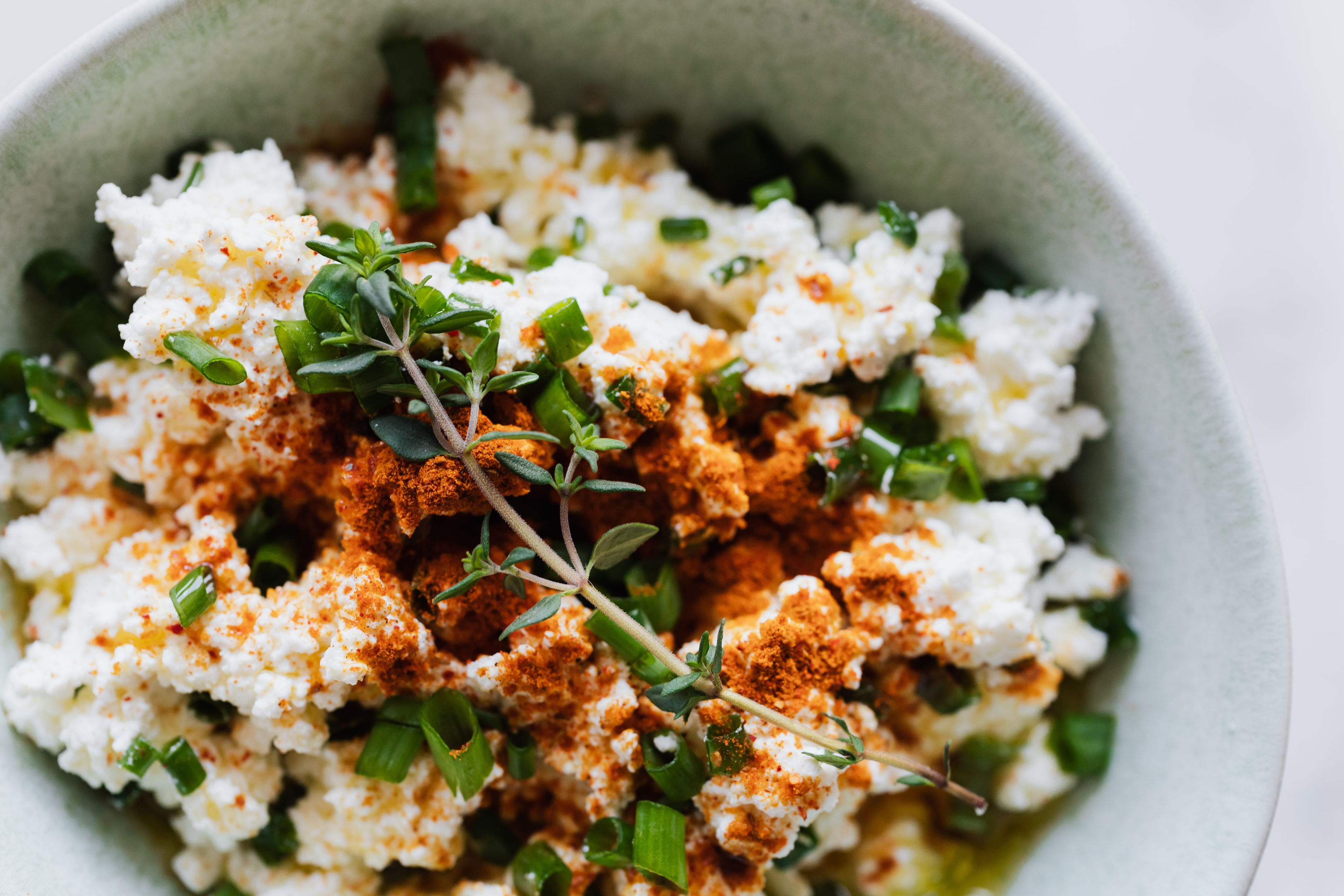 For brunch they offer roasted confit duck, sweet potato and smashed avocado any which way you can imagine.
And talking of smashed, guests can choose between unlimited prosecco or free-flowing mimosas! So if you're in East London check out Lantana Shoreditches' bottomless brunch.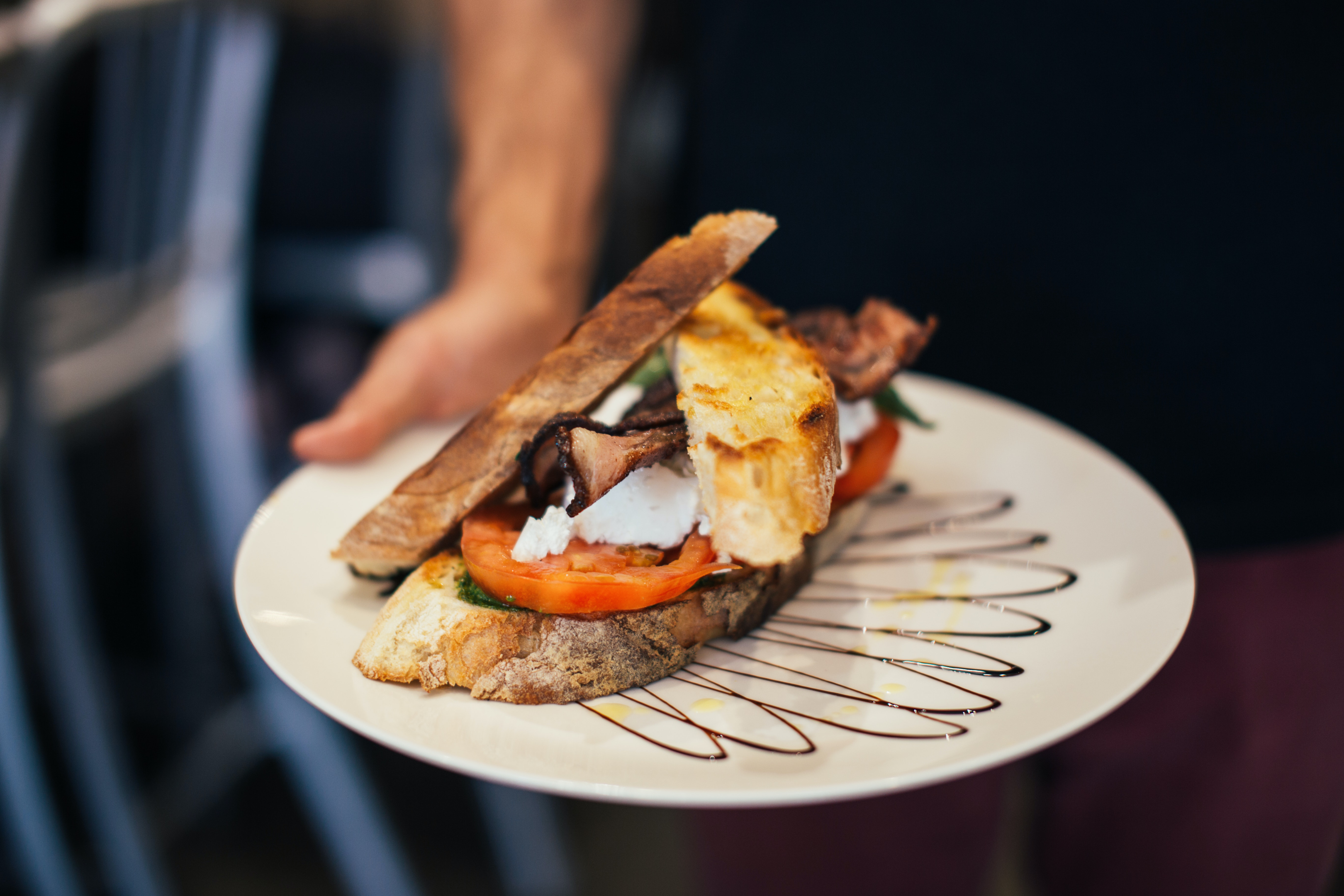 Slug & Lettuce
Here's another reliable London source for the sauce - Slug & Lettuce. Their fun & cheap bottomless brunch London never disappoints.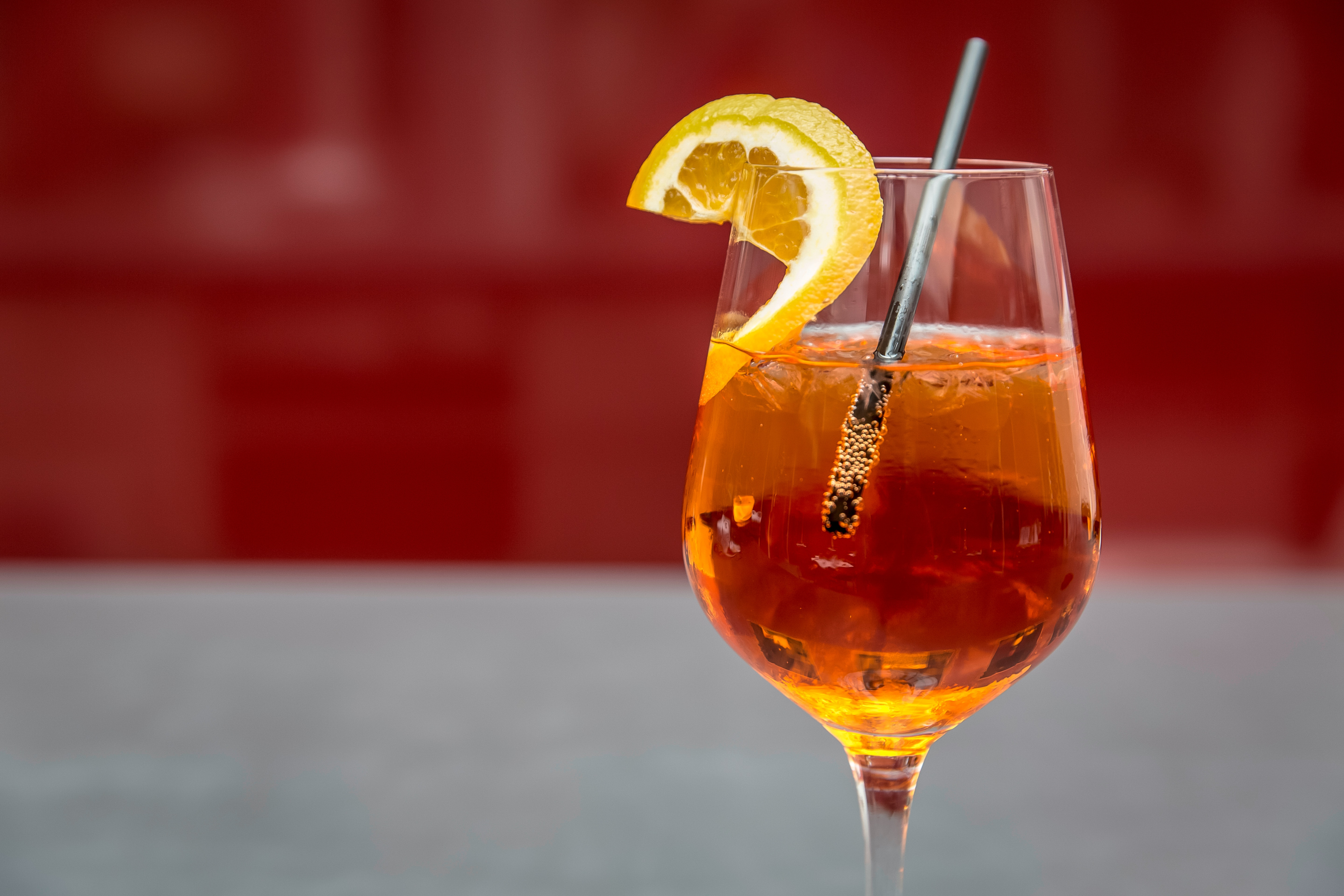 For their pre-booked brunch in West London, Slug & Lettuce boasts two hours of free-flowing cocktails (including their famous Aperol Spritz). But go for their Pornstar Martini with their 5 stack American pancakes we say. Classic brunch! And you can pay a small extra charge for bottomless champagne.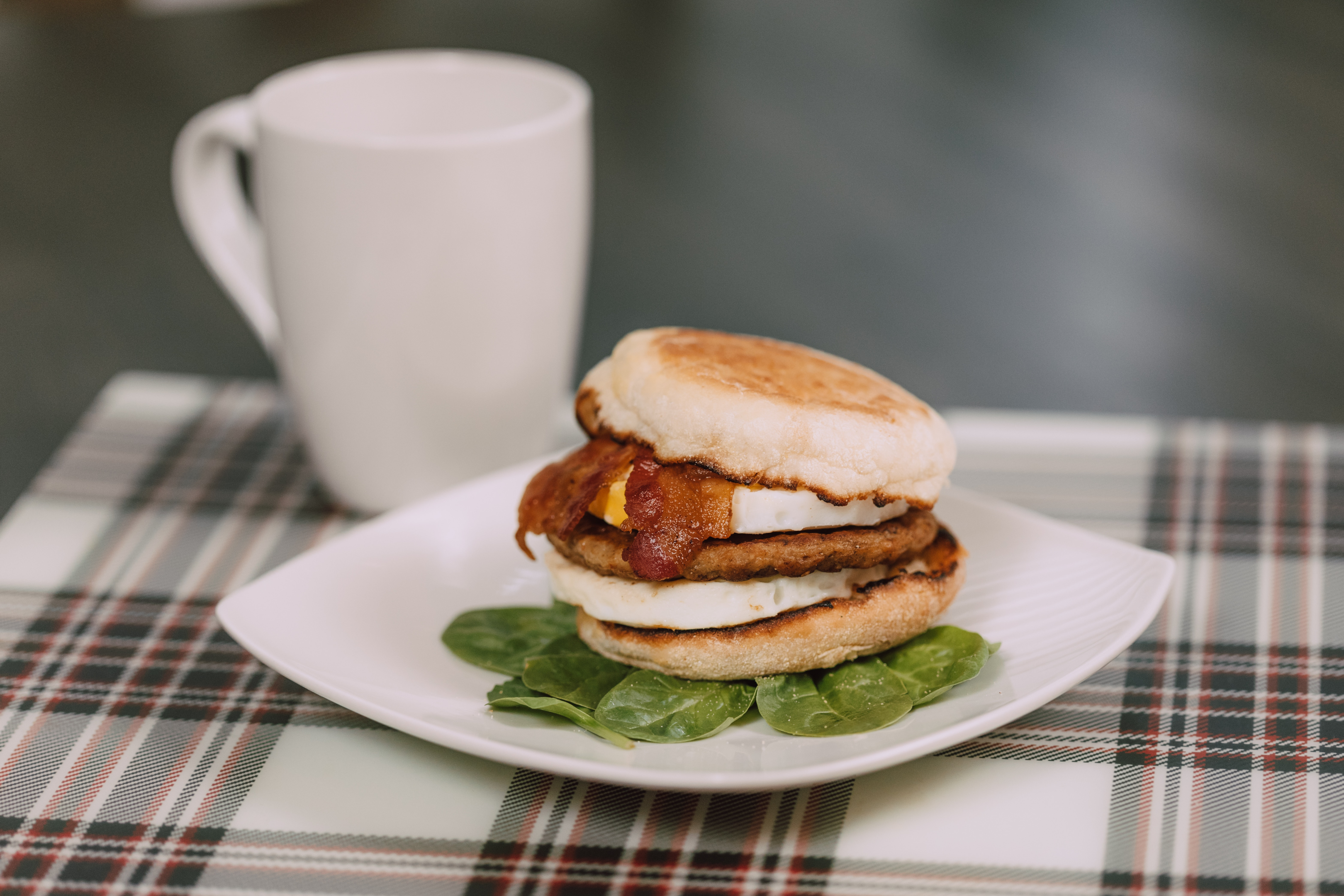 Le Bab
For all you Londoners searching for a budget-friendly bottomless brunch, Le Bab is here to answer your brunch prayers. It's found half an hour away from Canary Wharf and for £20 per person, guests can enjoy two hours of bottomless drinks and chug as many unlimited proseccos they can take.
A fab spot for weekend brunch!Their Covent Garden branch Maison Bab offers bottomless brunch, too.
Their pièce de résistance is The Le Bab Kebab, perfected by its Michelin-star trained chefs. Cooked on a charcoal and wood-fired robata, their delicious brunch is yummy to say the least.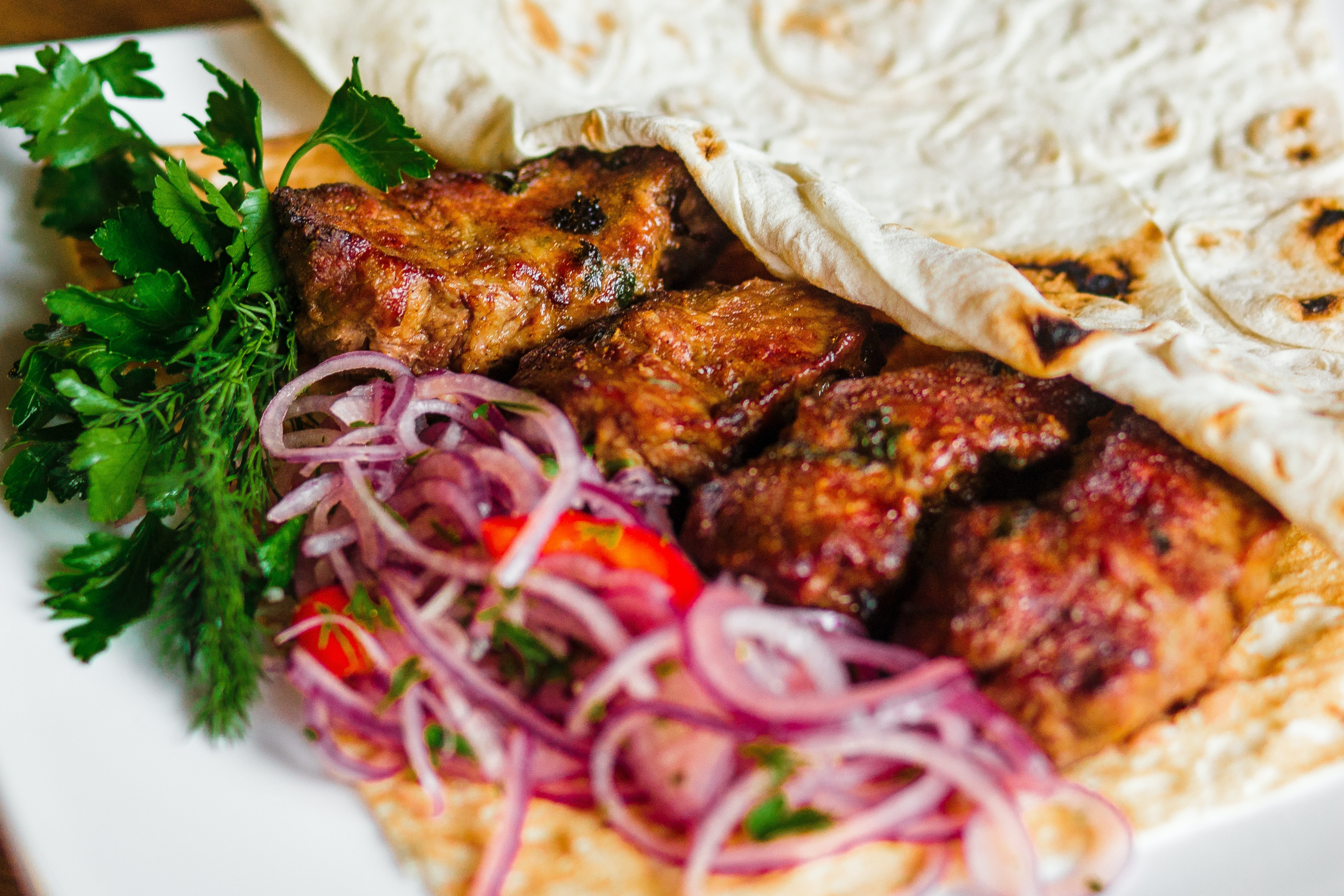 The Bosporus UK – Turkish Bottomless Brunch
If you've been paying attention, you'd notice that we're not only chatting about the English take on brunch. Think again!
The brunch scene in London is just as multicultural as the city itself. Speaking of, Turkish restaurant The Bosporus UK has a bottomless brunch deal for every day of the week. 
That's right, everyday from 11am-4pm, you can enjoy their bottomless brunch of unlimited prosecco, beer or mocktails.
Pair this with their traditional Turkish cuisine menu and it is simply delicious. Guests can enjoy gorgeous food and bottomless drinks for just £35 per person.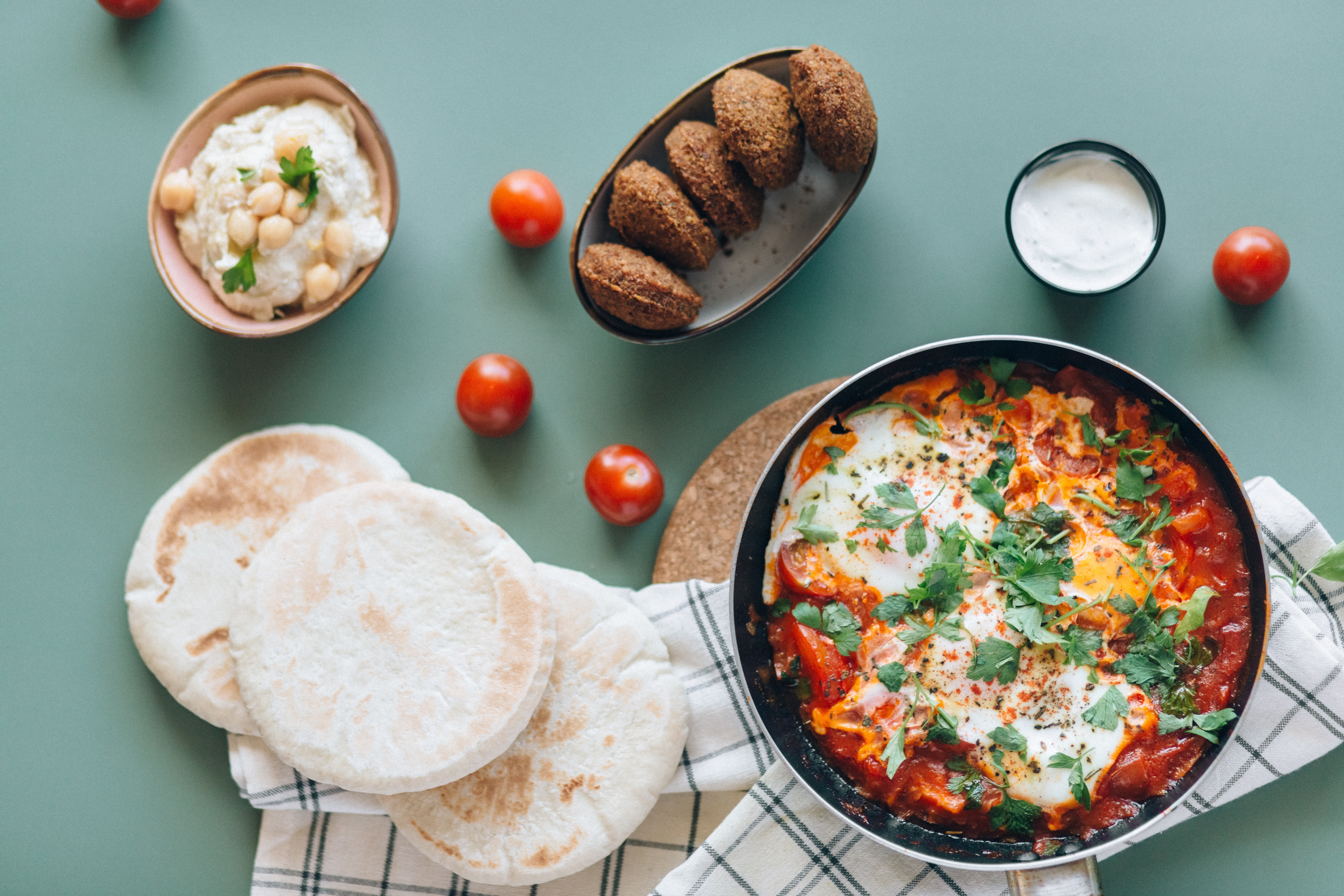 Pachamama
One thing about London - it's got an abundance of grey skies. So head down to Pachamama to inject some colour into your life. The pretty Peruvian spot hosts a boozy bottomless brunch on weekends.
Their mid-afternoon feast of picturesque plates pairs wonderfully with bottomless prosecco. The fried aubergine and their steam bream tiradito is their elite dish, we say!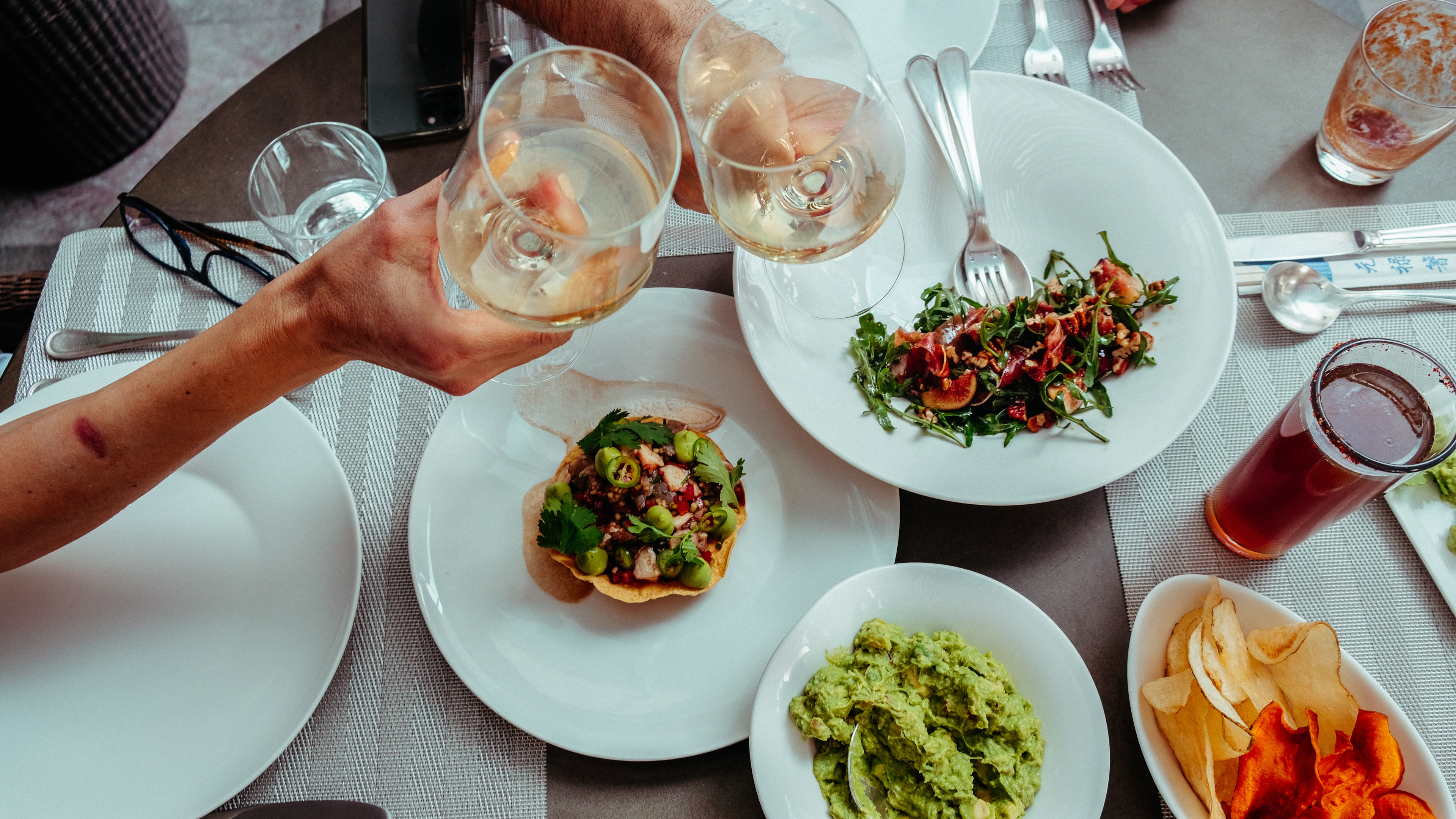 But who could forget their signature brunch waffles? A beautiful waffly concoction where you can choose from toppings of peanut butter, grilled plantain or Peruvian chocolate.
So guzzle some gorgeous waffles and down unlimited prosecco while you jam to bachata beats. What could be better?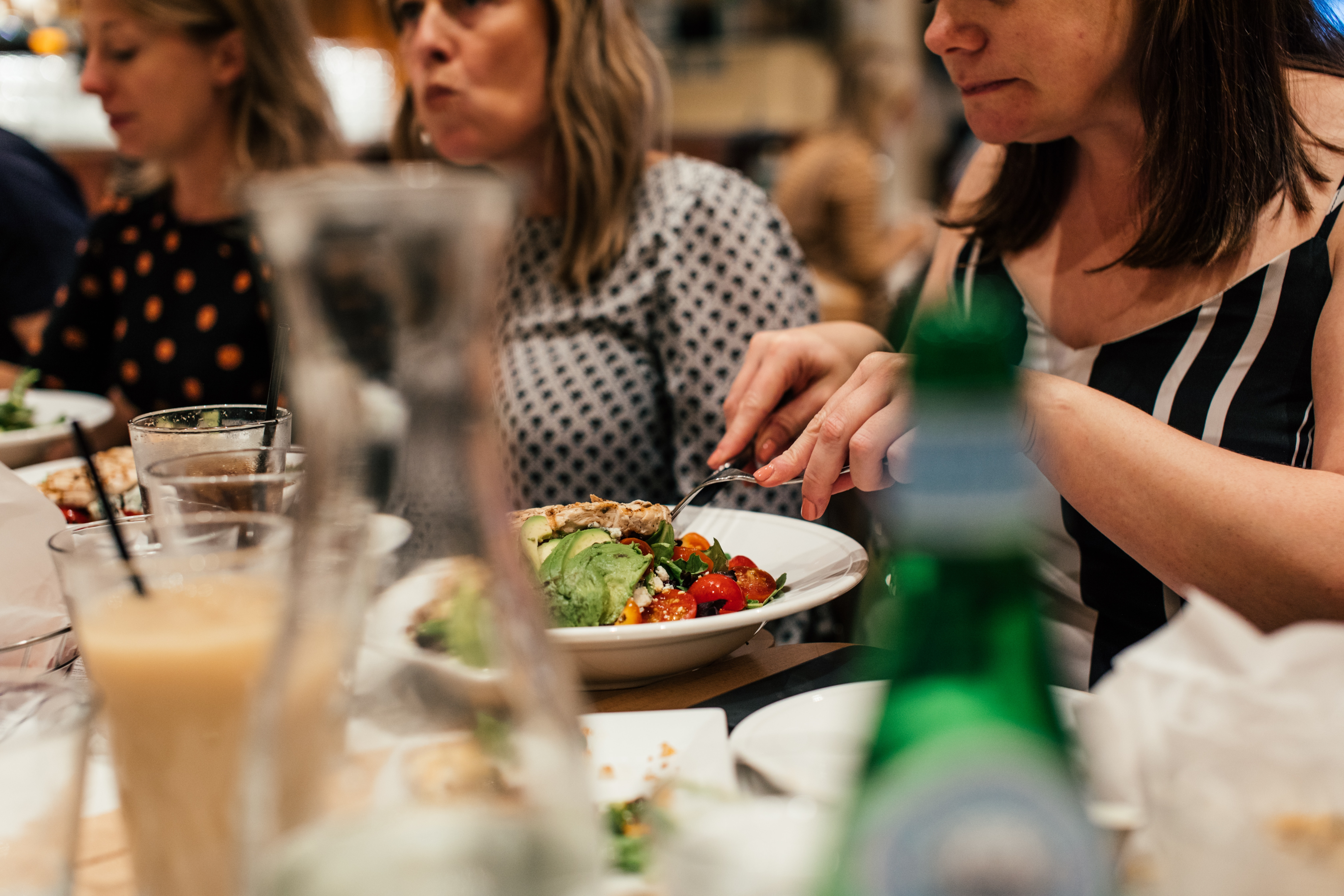 Jack and Beyond
Funky Fulham is bringing some brunch madness at Jack and Beyond. Situated on Fulham Road, Jack and Beyond have 2 awesome bottomless brunch offers.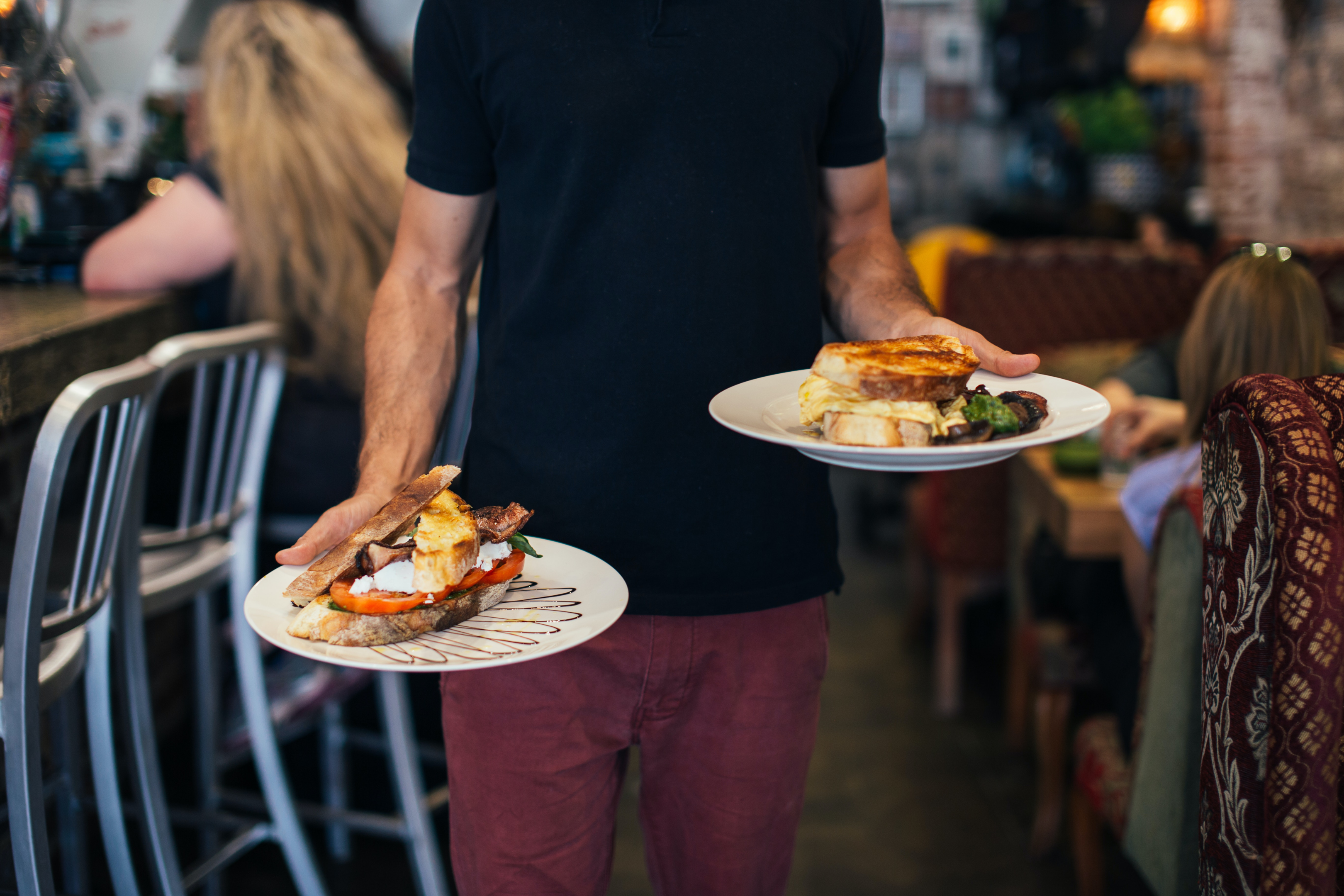 Guests can revel in 90 minutes of bottomless prosecco, beer or white wine - plus a free cake and 4 empanadas of your choice! We recommend the pumpkin & goats cheese for all you empanada enthusiasts.
Jack and Beyond are also awfully considerate for those folks with a sweet tooth. They offer the bottomless cake and fizz package if savoury snacks aren't your thing.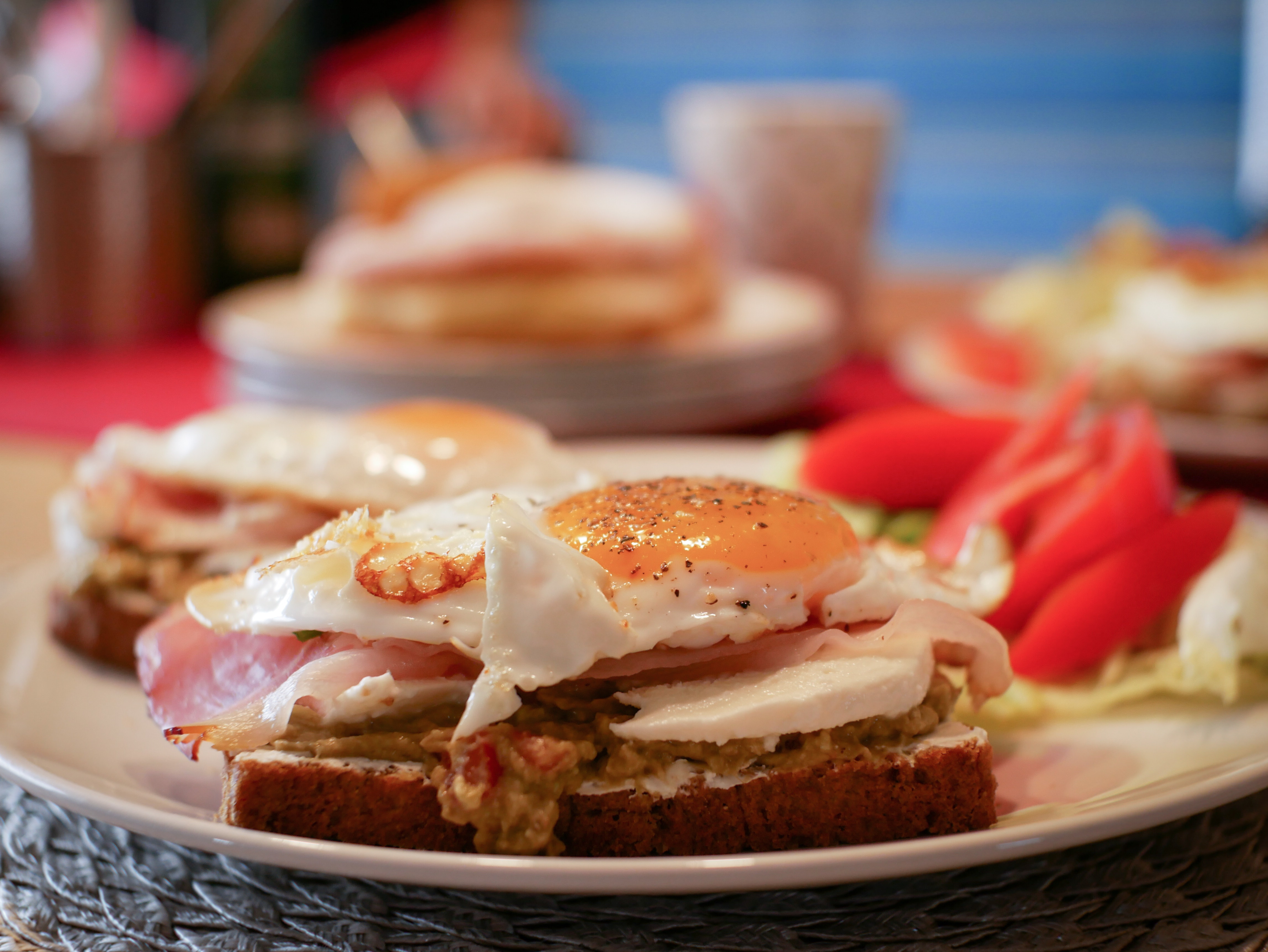 Aqua Shard
London Bridge road is taking your favourite pastime to new heights by offering brunch sessions in the Aqua Shard. Brunch in Europe's tallest building?
That's one for the books! Brunch is available between 10:30am-3:30pm. You can choose between a 3 course experience or brunch with wine pairing of your choice.
They've got a classic menu with sauteed potatoes, black pudding and toasted sourdough. Traditional and delightful!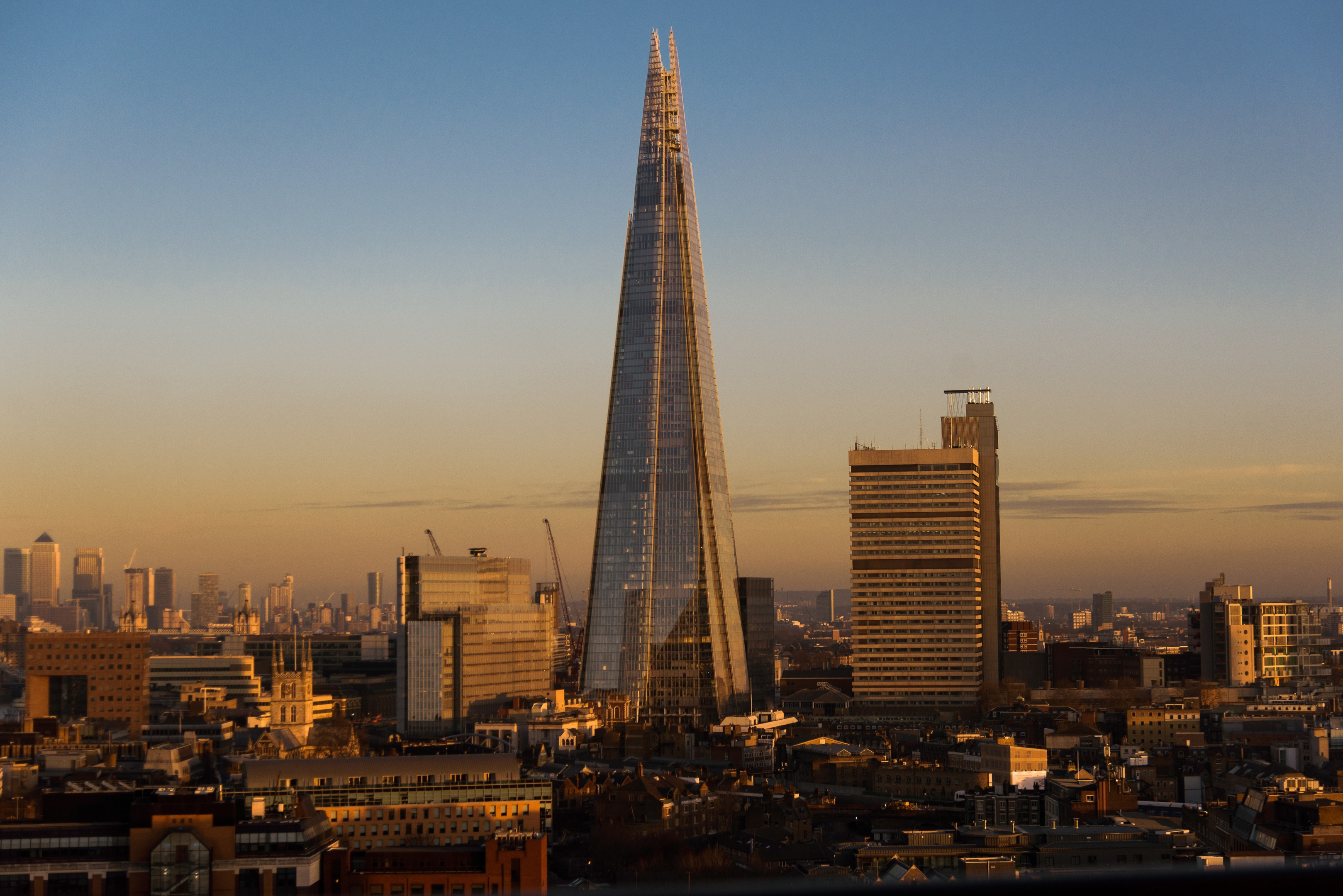 Quaglino's
Quaglino's is one of London's oldest and swankiest venues. It was founded in 1929 - so if Quaglino's walls could talk, you'd be listening for days. Famed for hosting luxurious celebrity bashes, Quaglino's now offers a  boozy brunch deal on the weekends. 
Their delicious "Q Brunch" includes unlimited prosecco with your meal when eating two courses or more starting at £25 extra per person.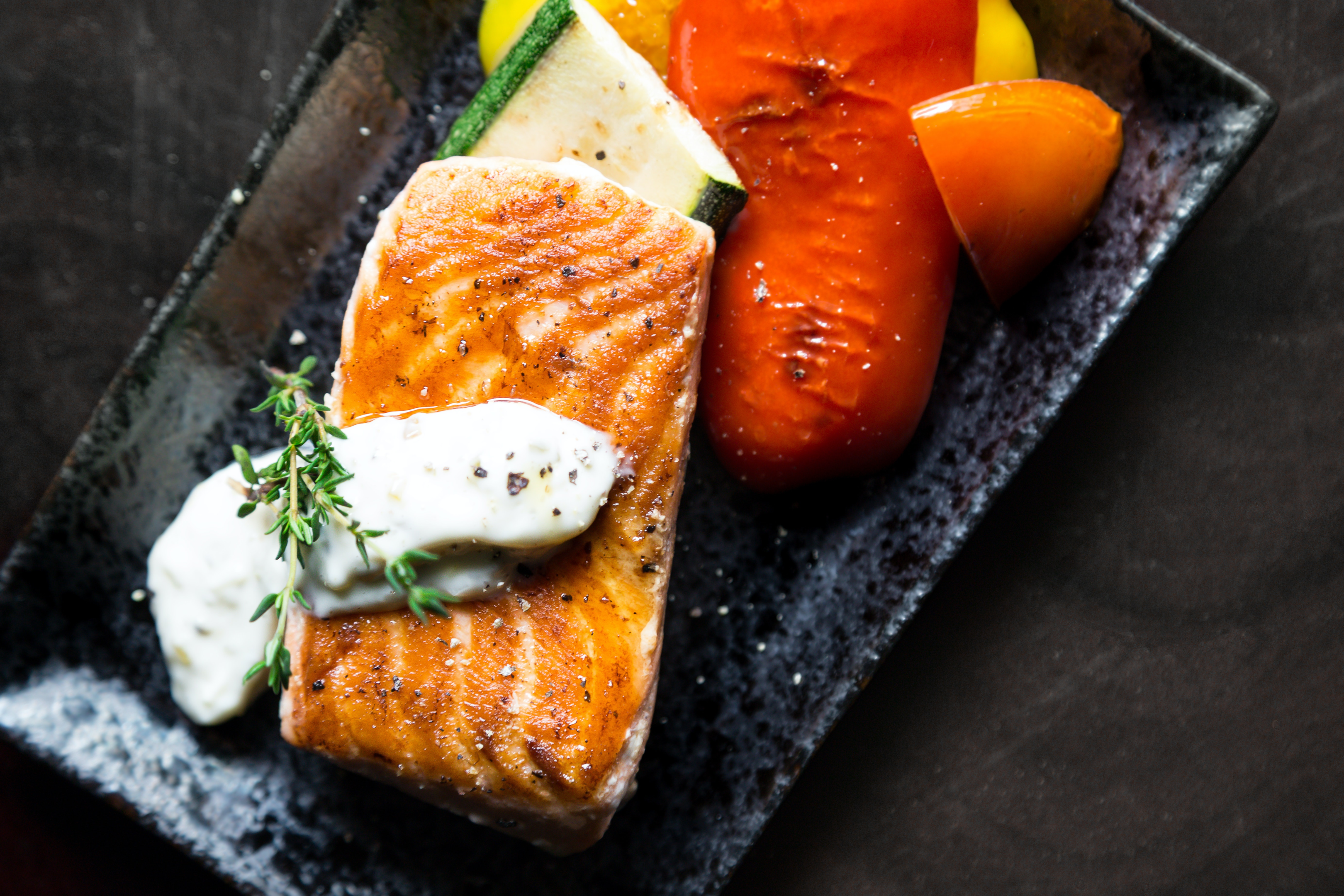 Roast loch salmon and wild mushroom linguine with a side of bottomless bubbles? How about french toast and eggs any which way you like?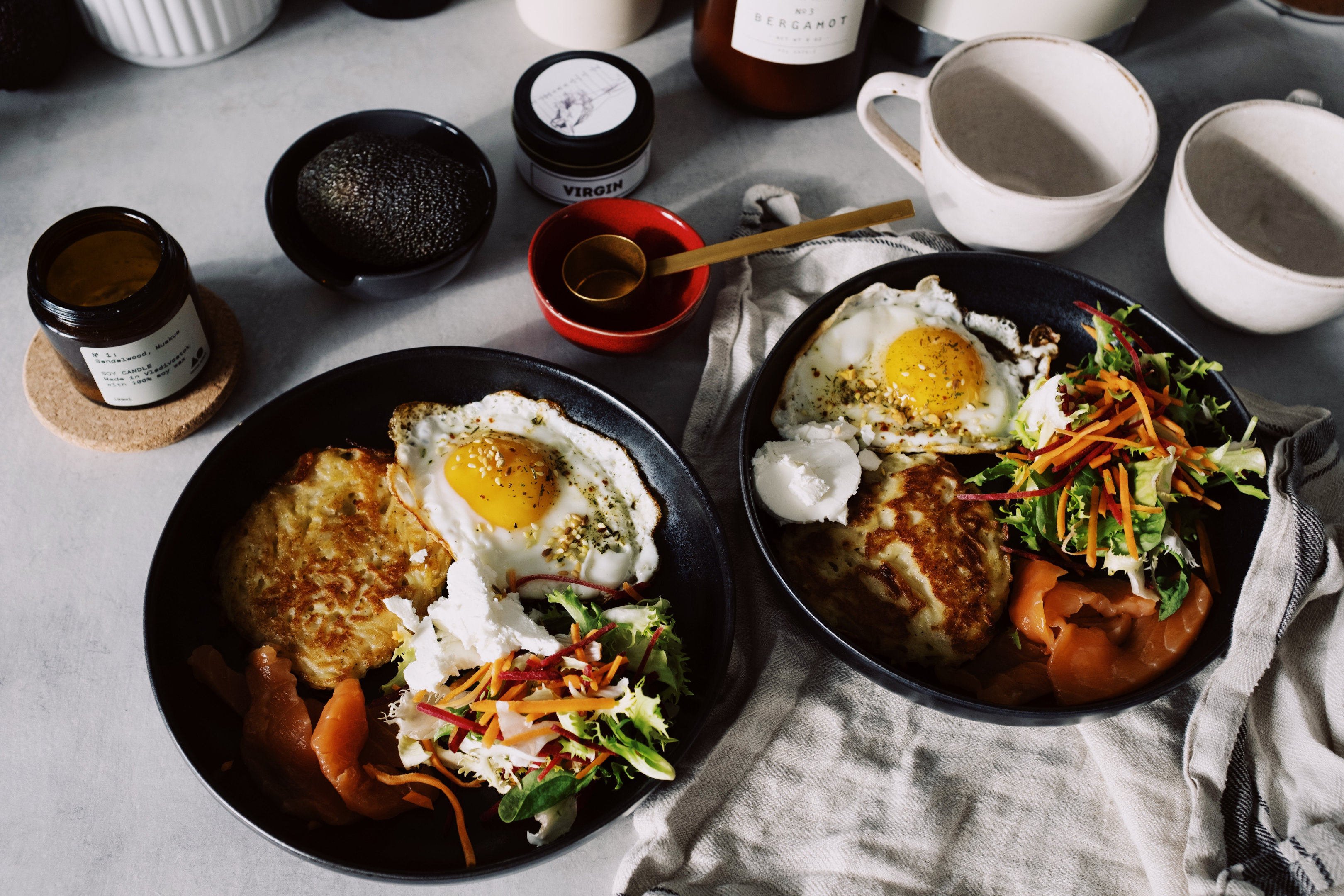 Aviary Rooftop Restaurant and Terrace Bar
Want to explore alternative date night ideas? How about dinner in a rooftop igloo?
London has some of the world's coolest bottomless brunches and Aviary is no exception. Located 20 minutes from Canary Wharf, Aviary holds their bottomless brunch every weekday from 11am to 4pm.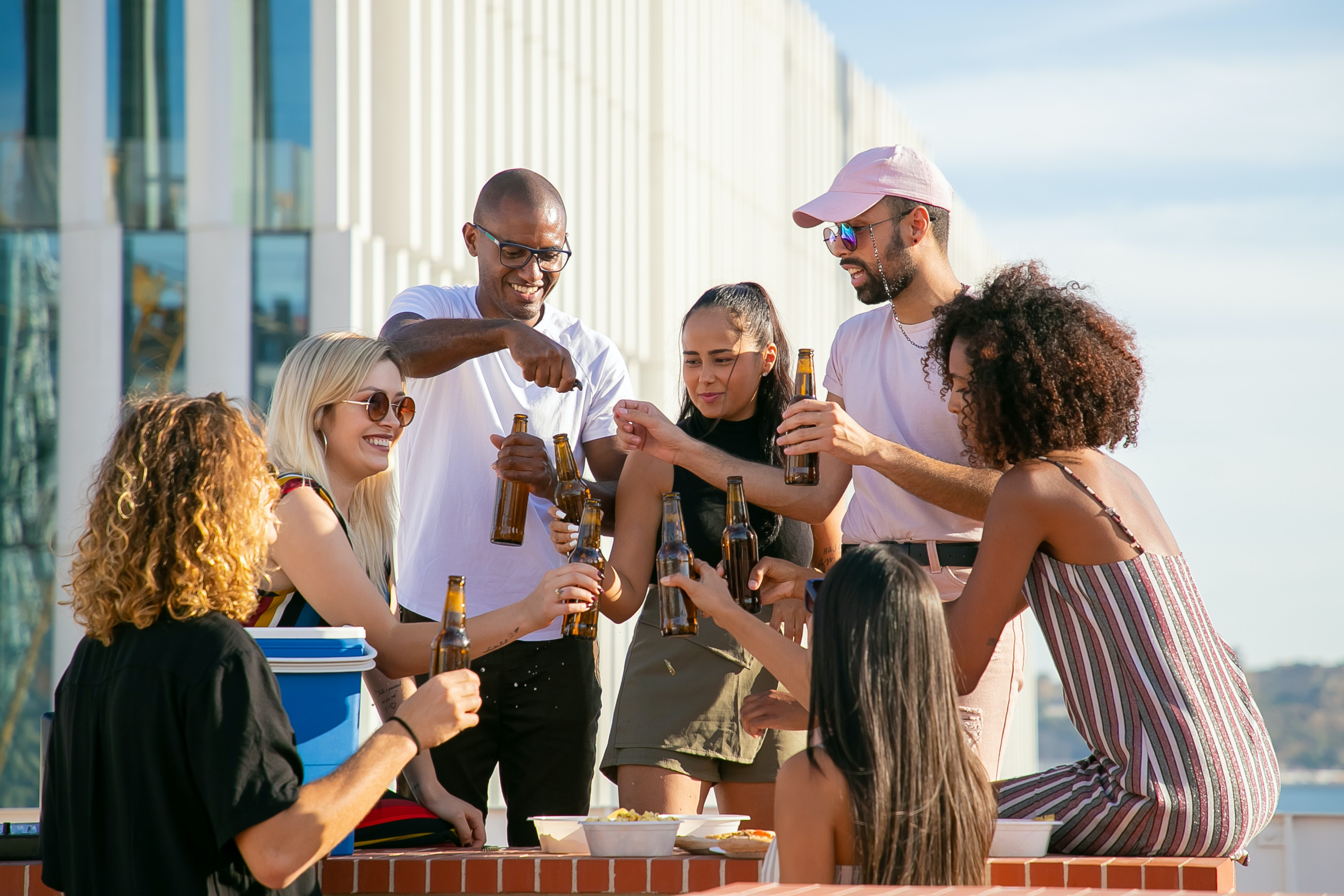 You can get bottomless Amstels, Heinekens, proseccos or a wine of your choice when you order 2 of their mouth-watering courses. Their diverse menu has something for everyone and includes smoked salmon and haddock fishcakes.
Not to mention that you can change it up to bottomless bubbles if you're feeling extra boujee. Bottomless brunch and a rooftop igloo? Consider us sold!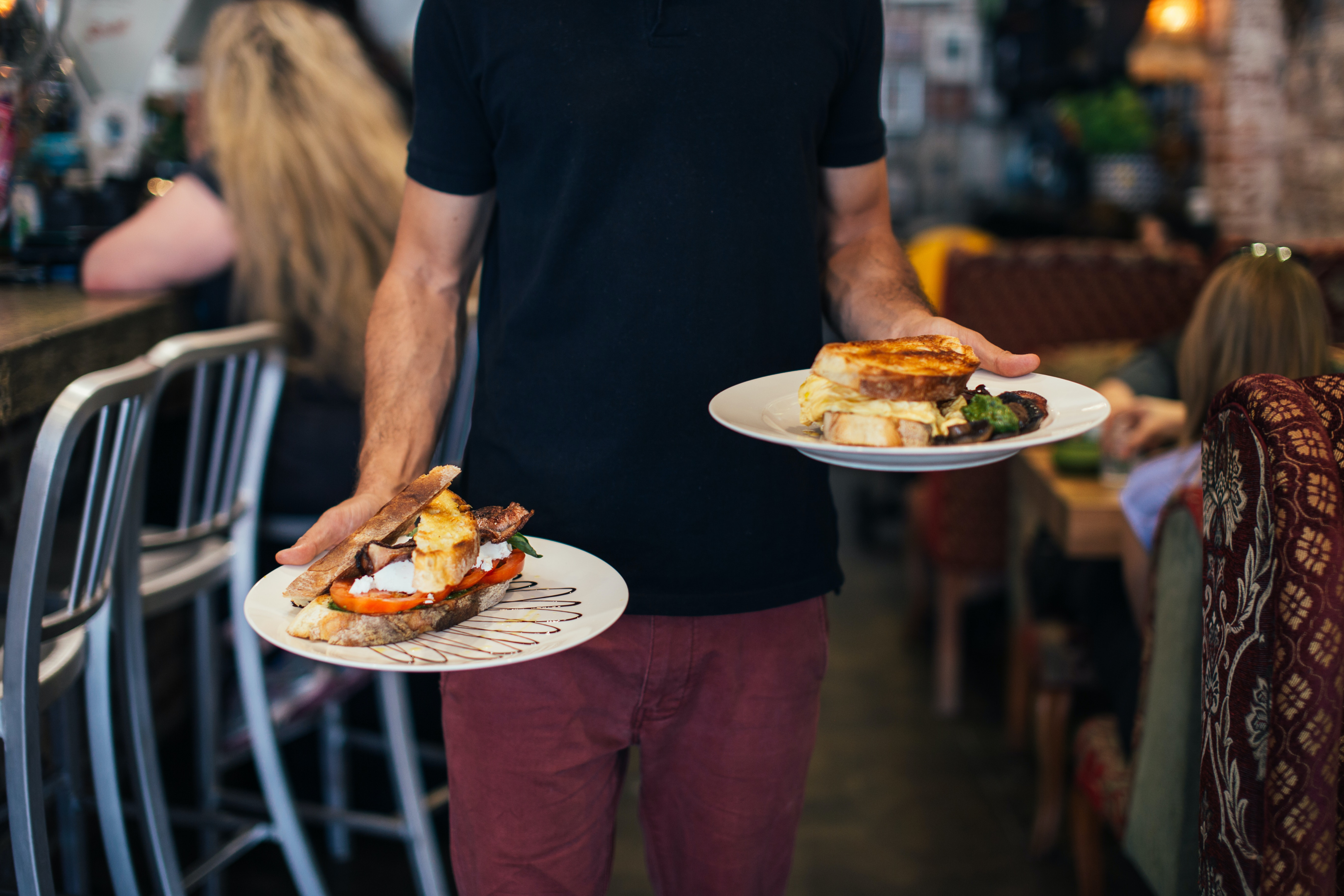 Red Farm
This one is for all those who live the luxe life. Red Farm rose to social media fame after the internet got wind of its quirky fusion menu and Instagrammable venue. And now they're offering bottomless brunch!
Every Sunday between 1-6pm, guests can guzzle bottomless cocktails, champagne and unlimited dim sum for £60.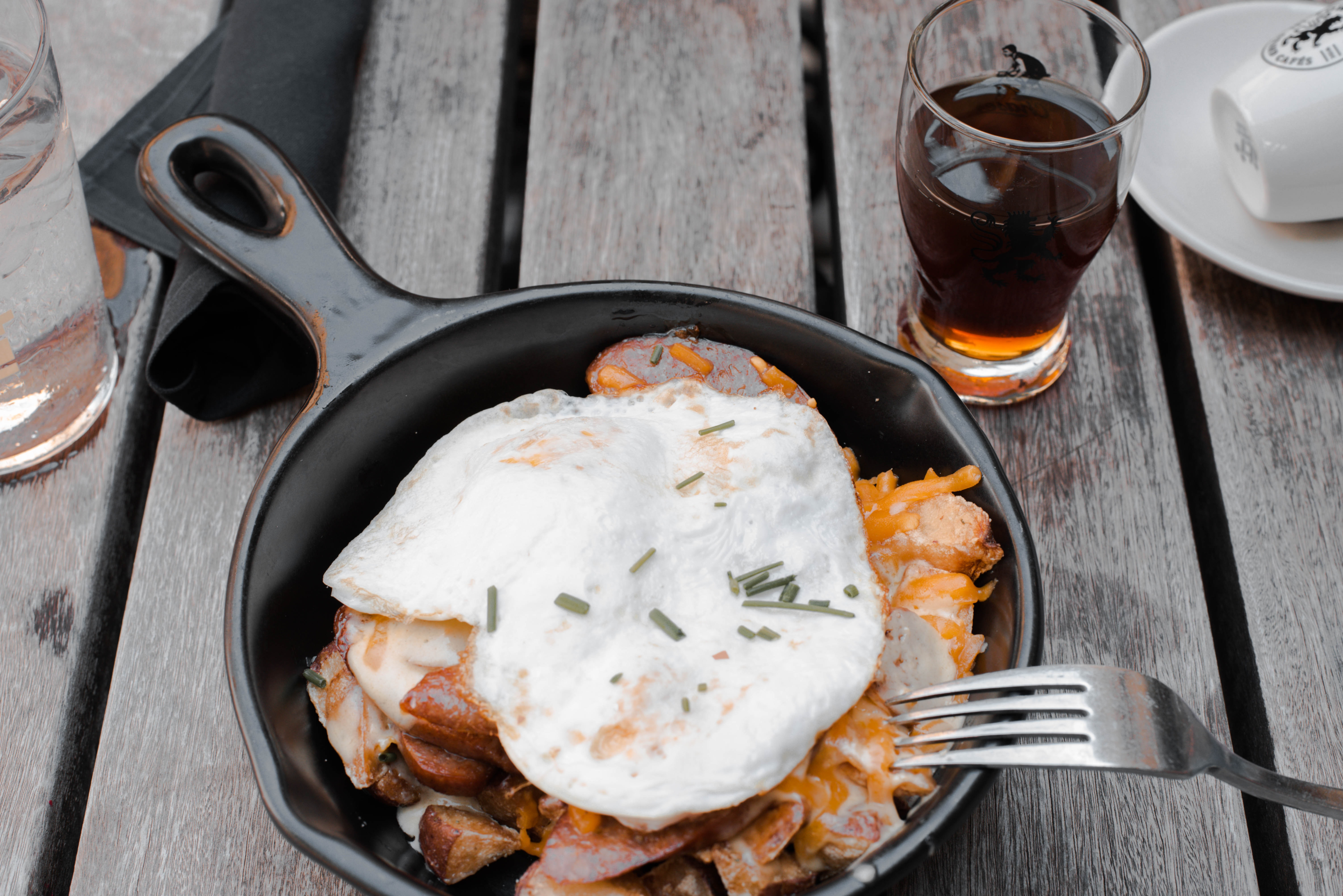 Their quirky creations (like the cheeseburger spring rolls) pair wonderfully with that never-ending house wine. You'll leave Red Farm happily half cut with some awesome snaps for the 'gram.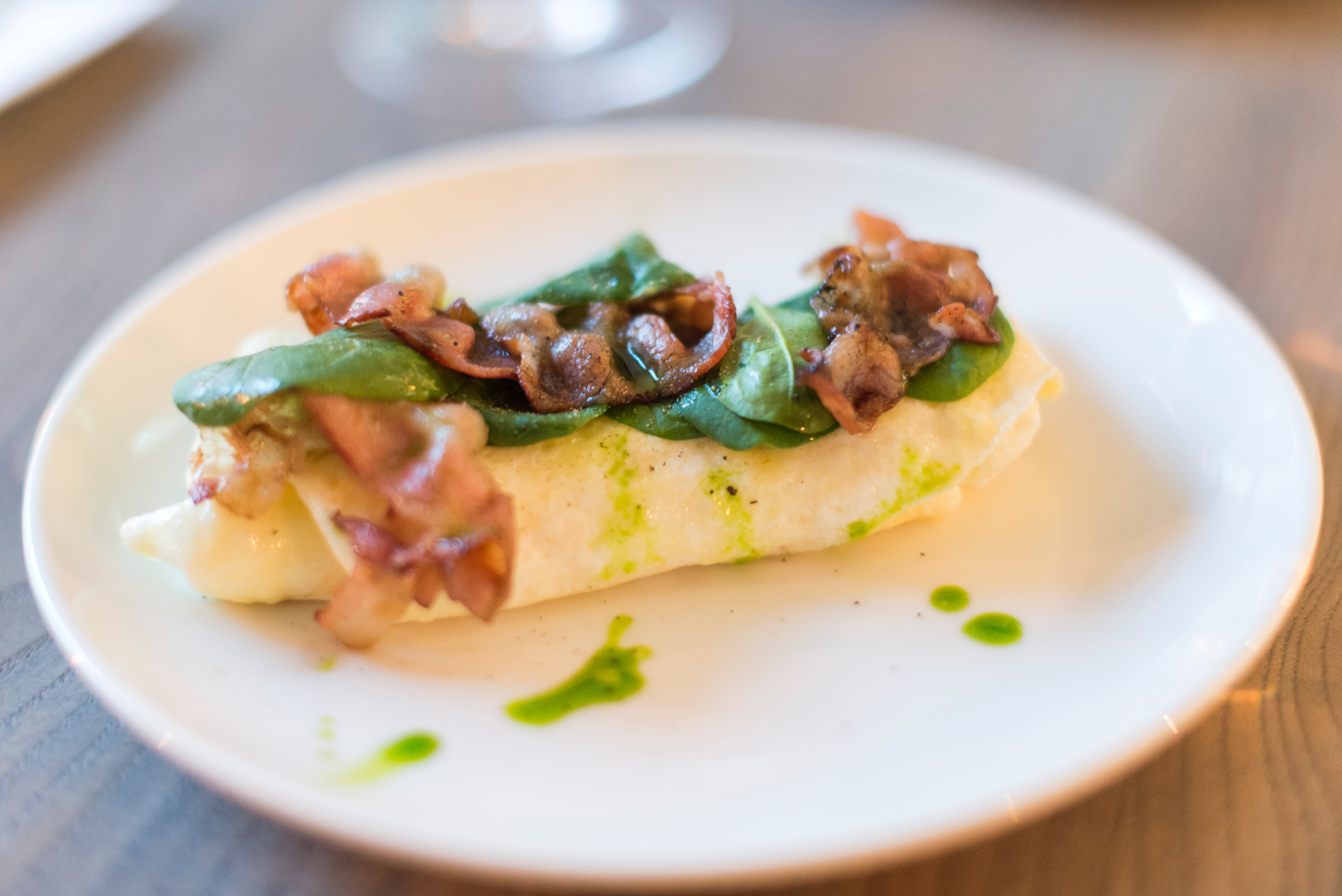 The Perception Bar
The world-renowned W Hotel is upping its already strong hospitality game with a boujee bottomless brunch at The Perception Bar.
Located in Leicester Square, guests can overlook the hustle and bustle of central London whilst they chow down on bottomless brunch.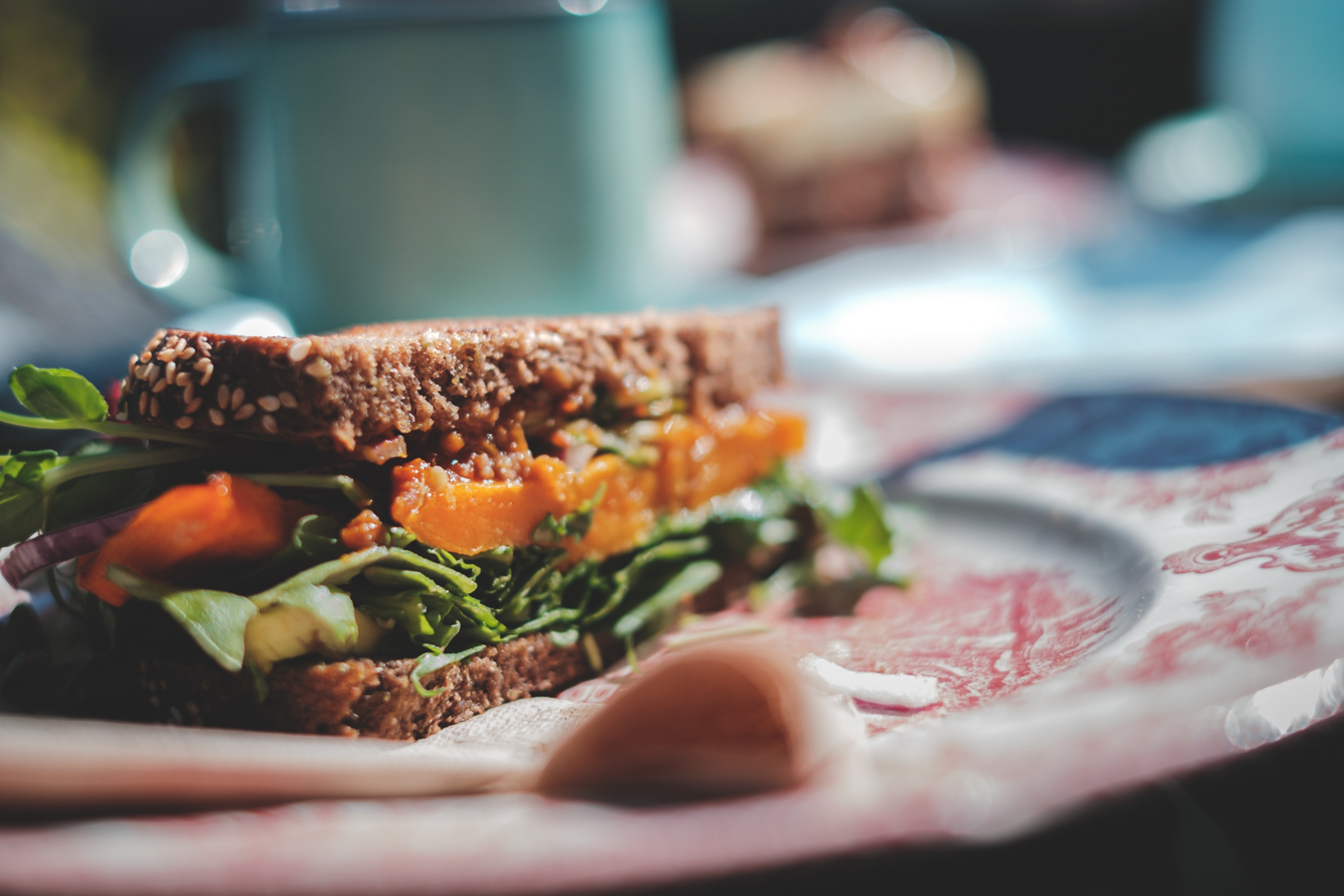 Enjoy 90 minutes of bottomless brunch that includes a choice of main and a dip into their desert section. Fancy upping the anti?
For a small extra payment guests can also get bottomless Veuve Clicquot Yellow Label.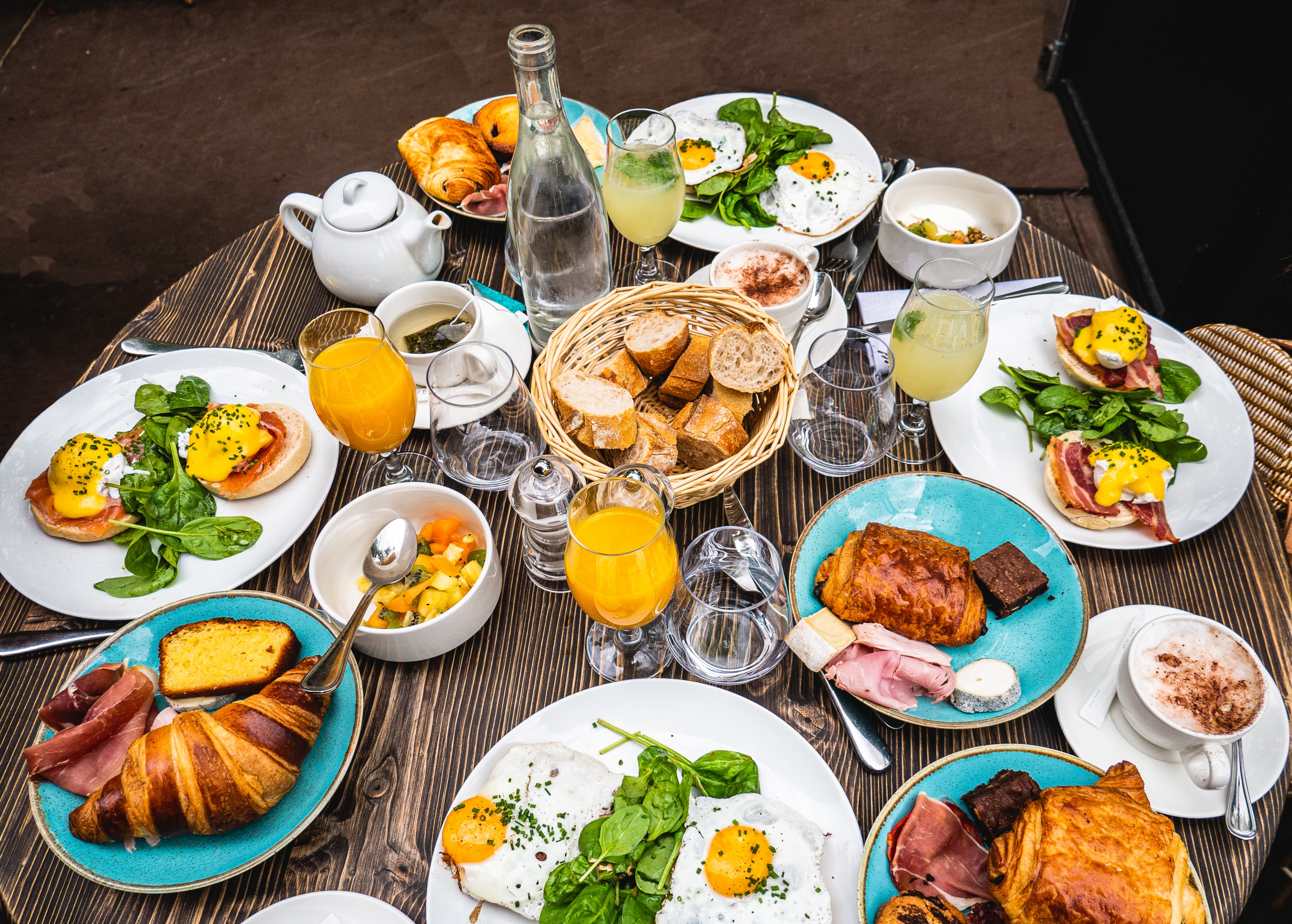 Snackbar
One of the more sensitive topics in the brunch world: who does brunch better - Brits or Americans? Can't decide? Well after eating at Snackbar you might say the latter.
Their flaky buttermilk biscuits and butter cakes melt in your mouth.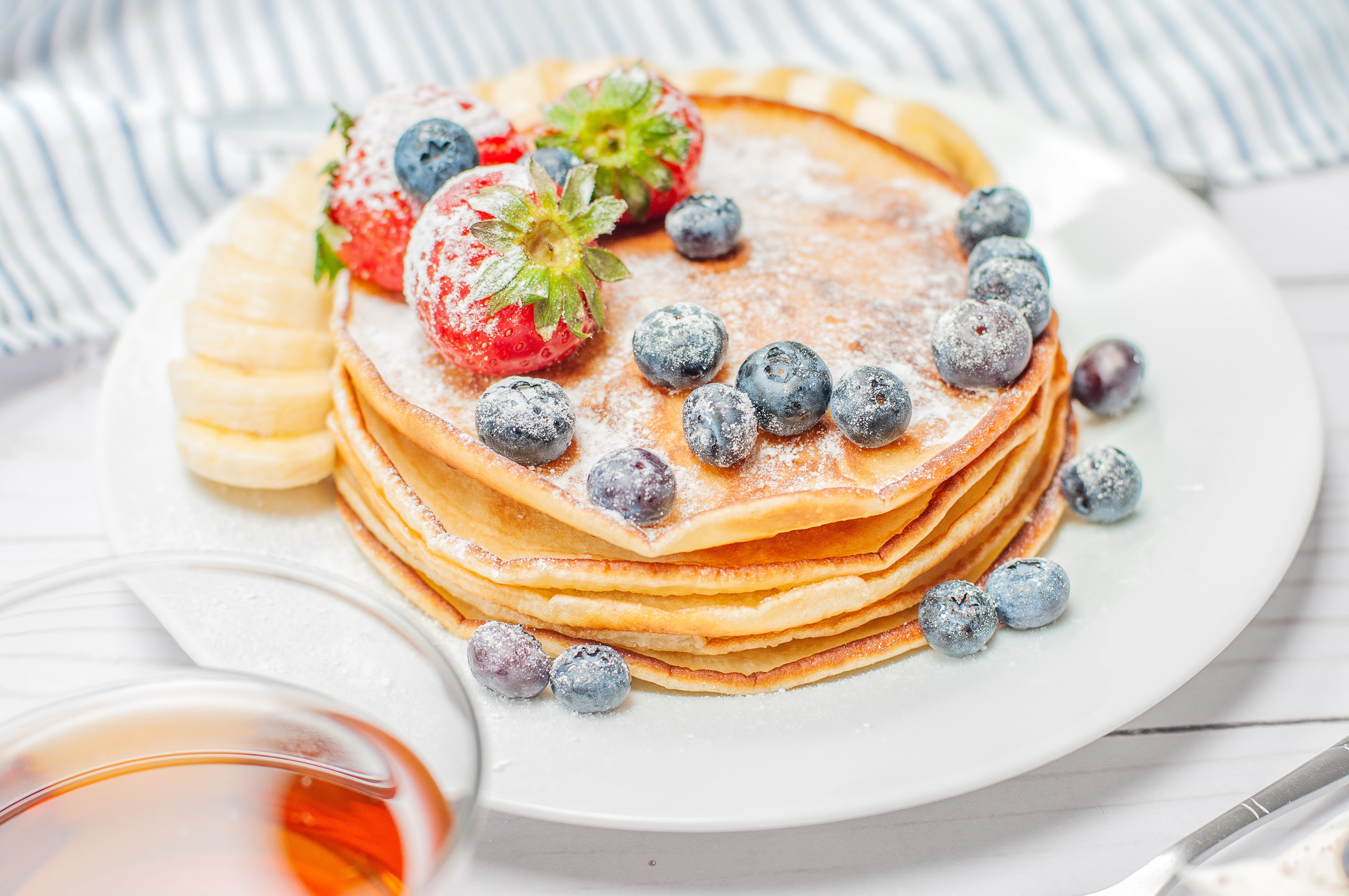 And their free-flowing drinks go down like water. For £35 a head guests can enjoy their American/Mexican fusion brunch with as many glasses of rhubarb fizzes as they can take in 90 minutes.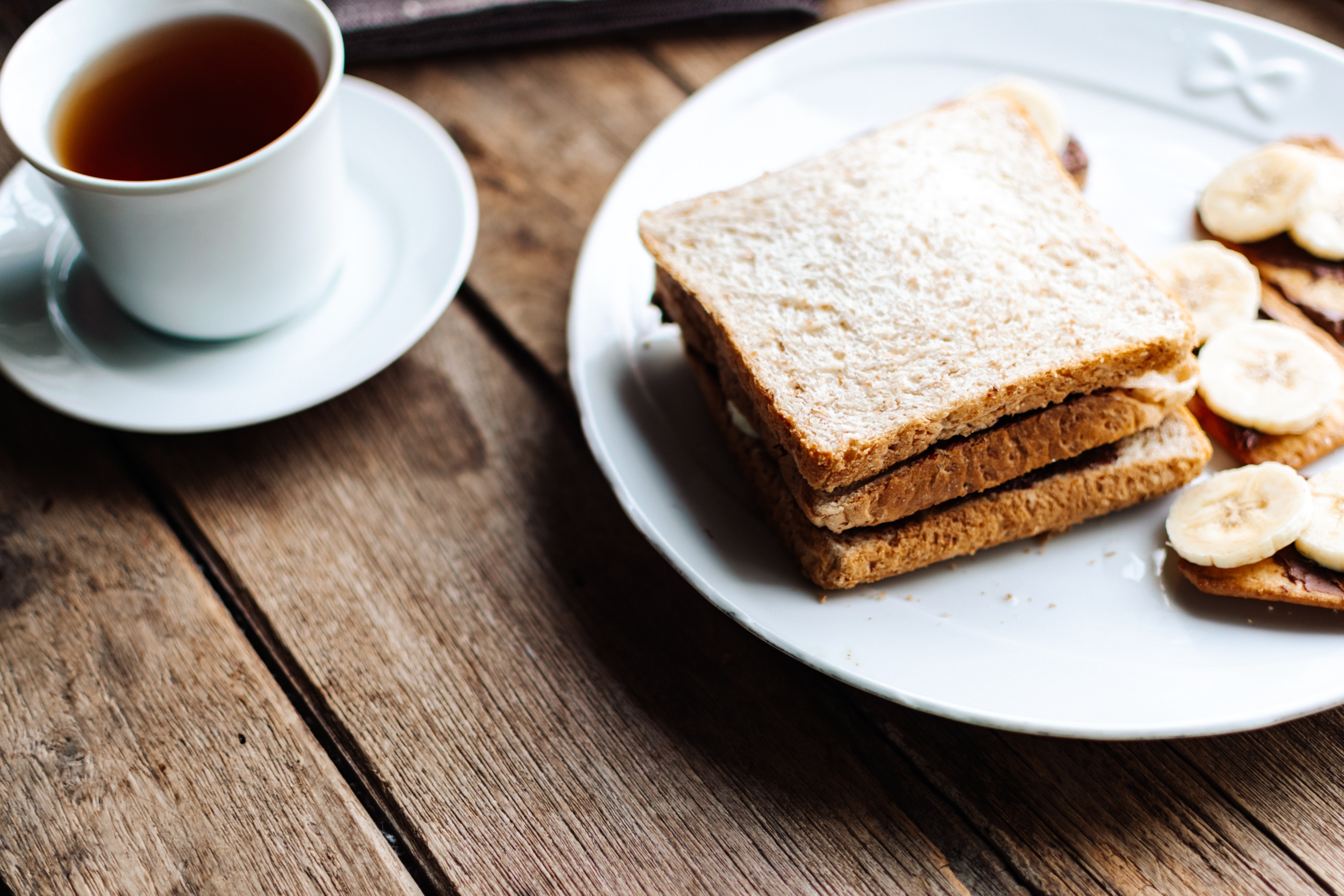 Dirty Bones
Like Red Farm, Dirty Bones is bringing the spirit of New York City to London with their boozy brunch menu.  
Specialisig in cocktails and comfort food, mix'n'match between their unlimited drinks list with the purchase of any main meal. Eat marvellous steak & eggs whilst you sip their refreshing pink grapefruit mimosas.
Which are bottomless might we add! Their boozy brunch is available Saturdays and Sundays between 12pm-3:30pm.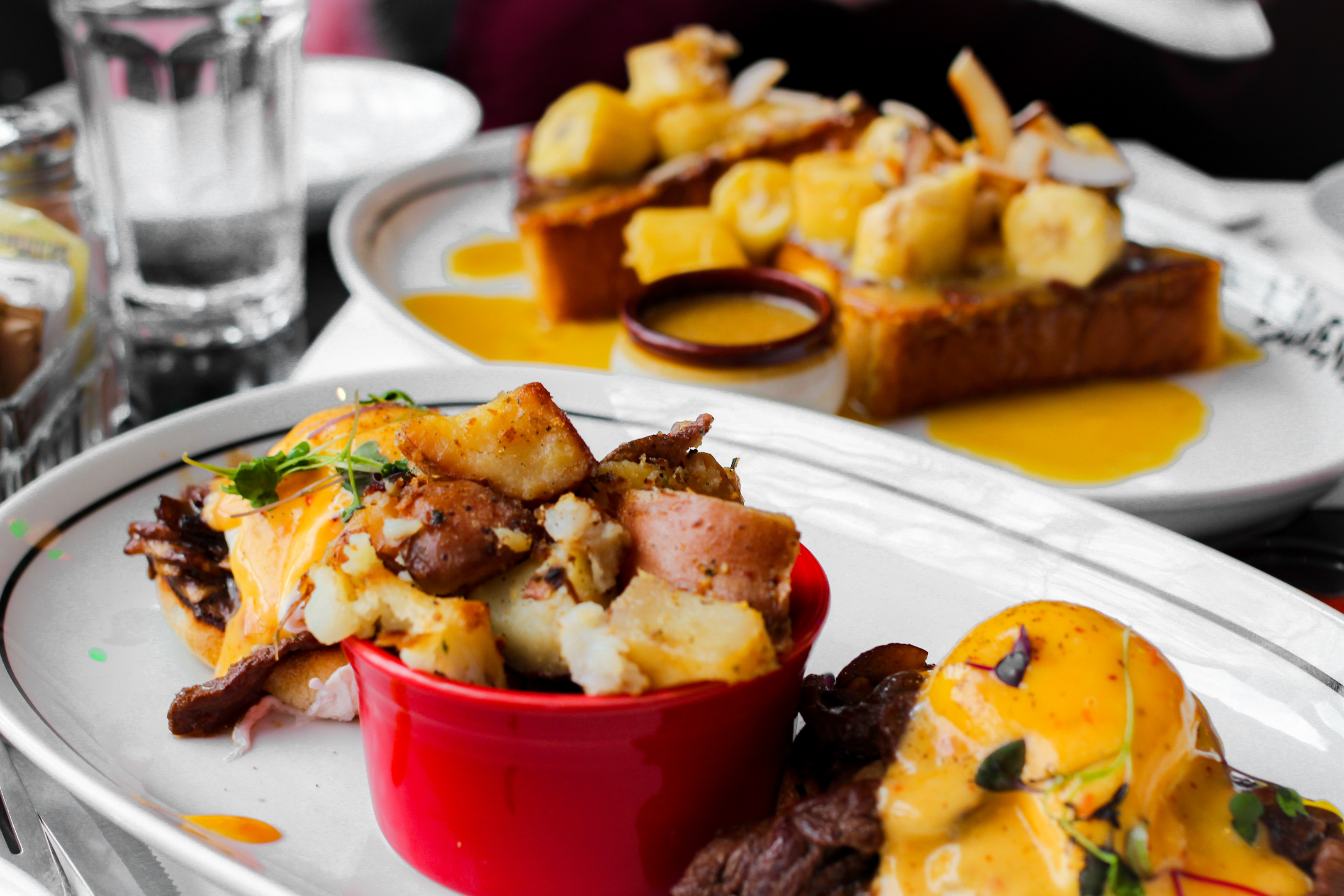 Temper Covent Garden
Temper is a cool barbeque joint in Covent Garden. And it's only a short drive to Canary Wharf. Furnished with a massive open kitchen, guests can watch with glee as Chefs whack humongous chunks of premium meat onto charcoal fires. 
Their boozy brunch is priced at £39.50 per head and includes bottomless cocktails and wine along with a barbecue brunch platter. Eat and drink to your heart's content whilst you gaze as the chefs perfect their signature "blow-torched" mackerel.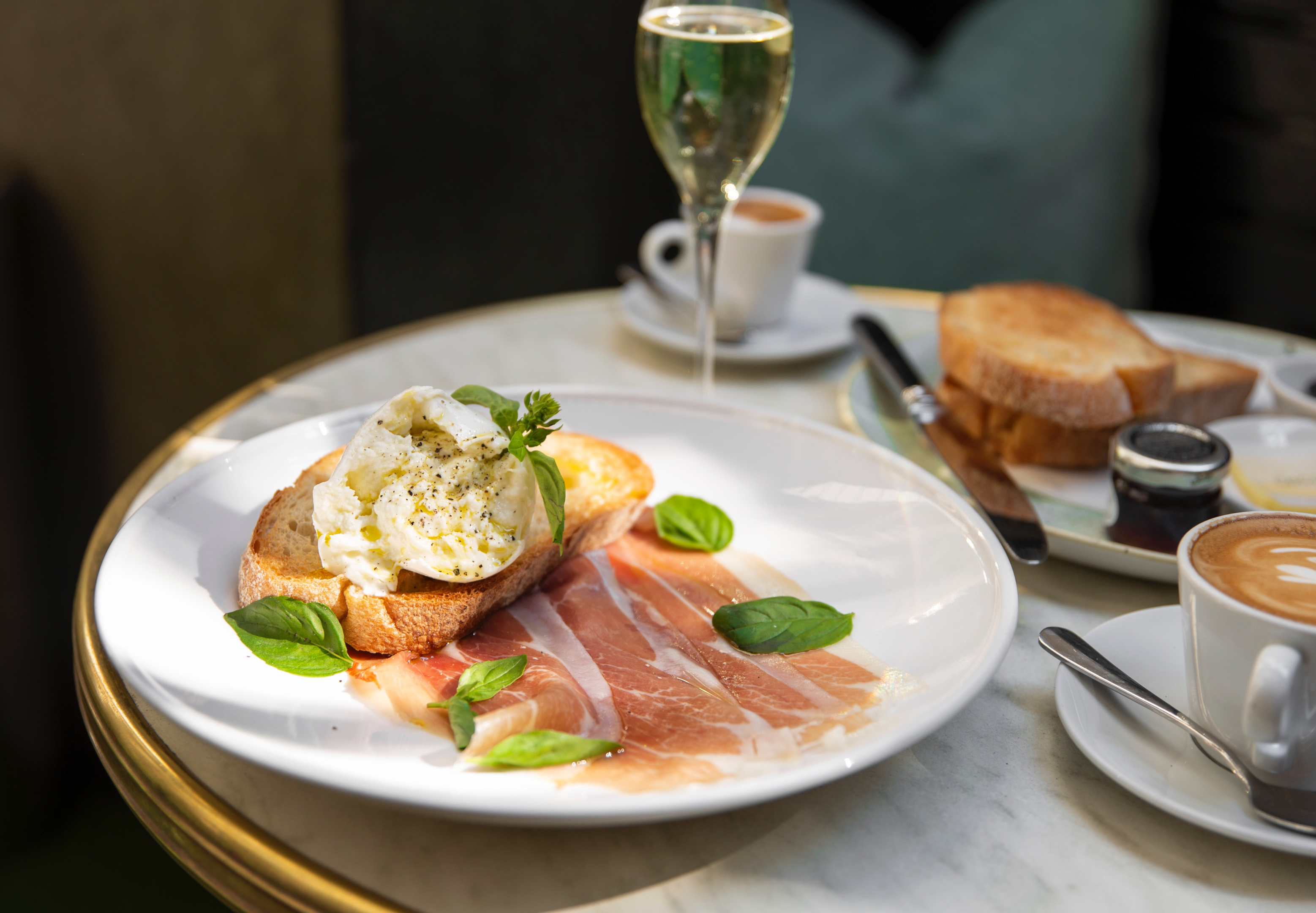 Ma Petite Jamaica Camden
Ma Petite is a must-go if you're into Jamaican food and street food. Celebrated as one of London's first Caribbean diners, it's found in the heart of Camden. Their genuine Jamaican dishes and tropical interior make you forget you're in London quicker than you can say Bob Marley. 
In their bottomless brunch package, guests can partake in 2 hours of unlimited rum punch or prosecco with your flavoursome main meal. Your tastebuds will be grinning with glee as you're head-bobbing to those reggae classics.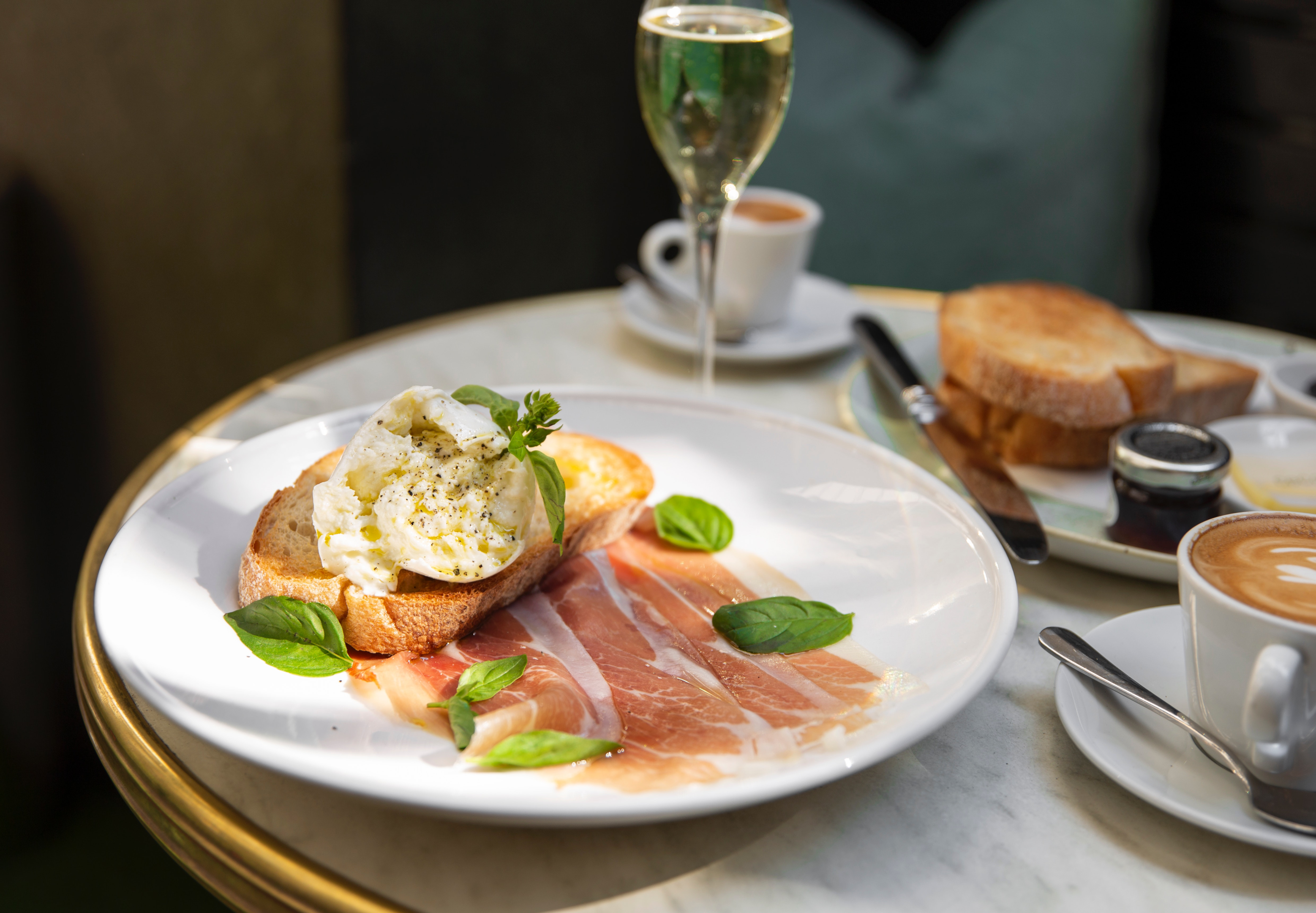 The Avenue Cookery School
Fancy a bottomless brunch experience with an unconventional twist? How about a cooking class at The Avenue's boozy brunch? Get taught how to make a three course vegan meal whilst those bottomless bellinis (and creative juices) are flowing.
Try your hand at making some smoky aubergine bacon whilst you drink to your heart's content. Want to day drink and learn a brand new skill? Head down to The Avenue.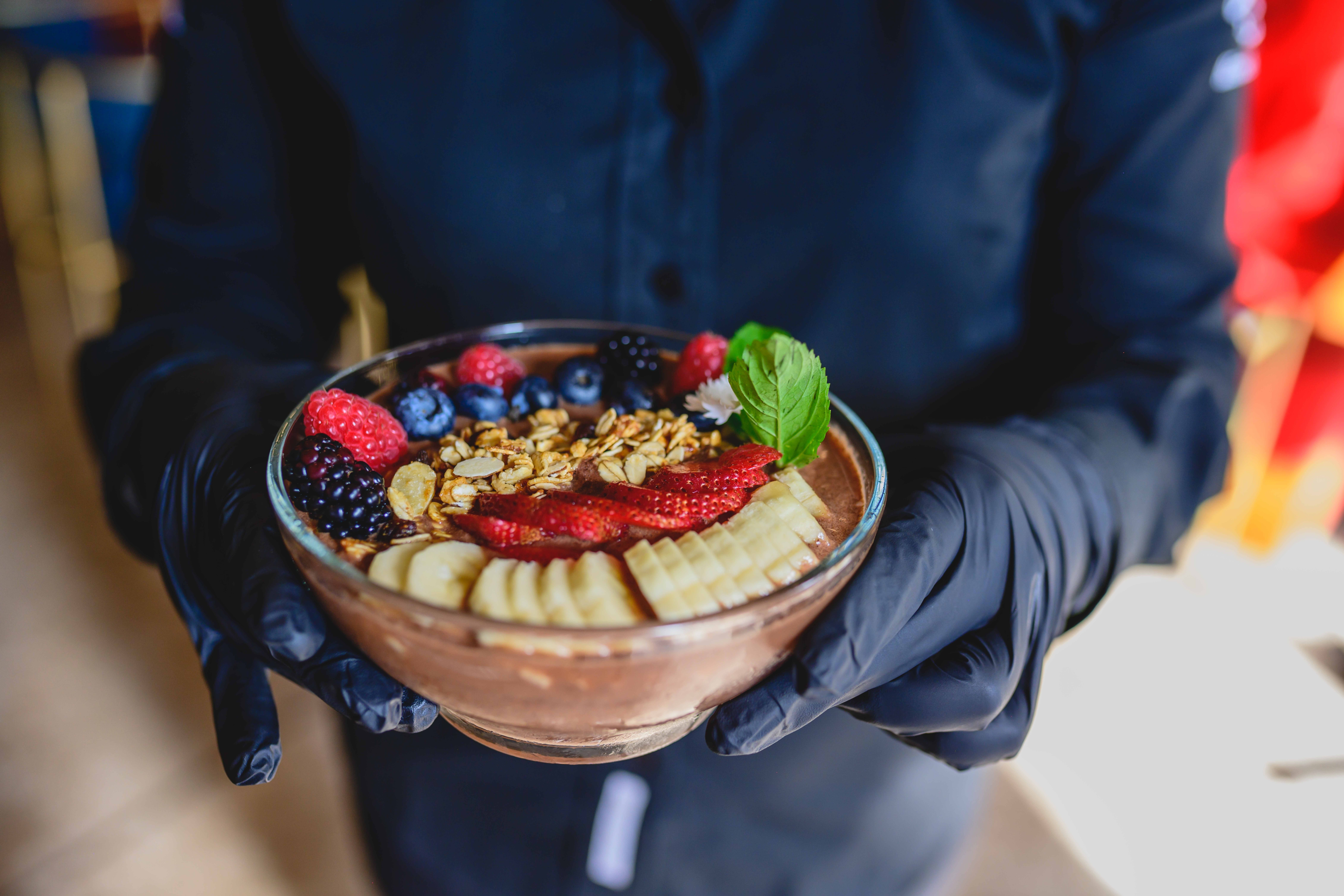 Mercante Restaurant
Finding a bargain in London can be tough. Luckily we've got Mercante. Located in Piccadilly, Mercante's £29 3-course experience entails 90 minutes of free-flowing Prosecco and a range of dishes pulled from the different regions of Italy.
Their brunch for 2 is priced at £55 and is perfect for brunch on a budget!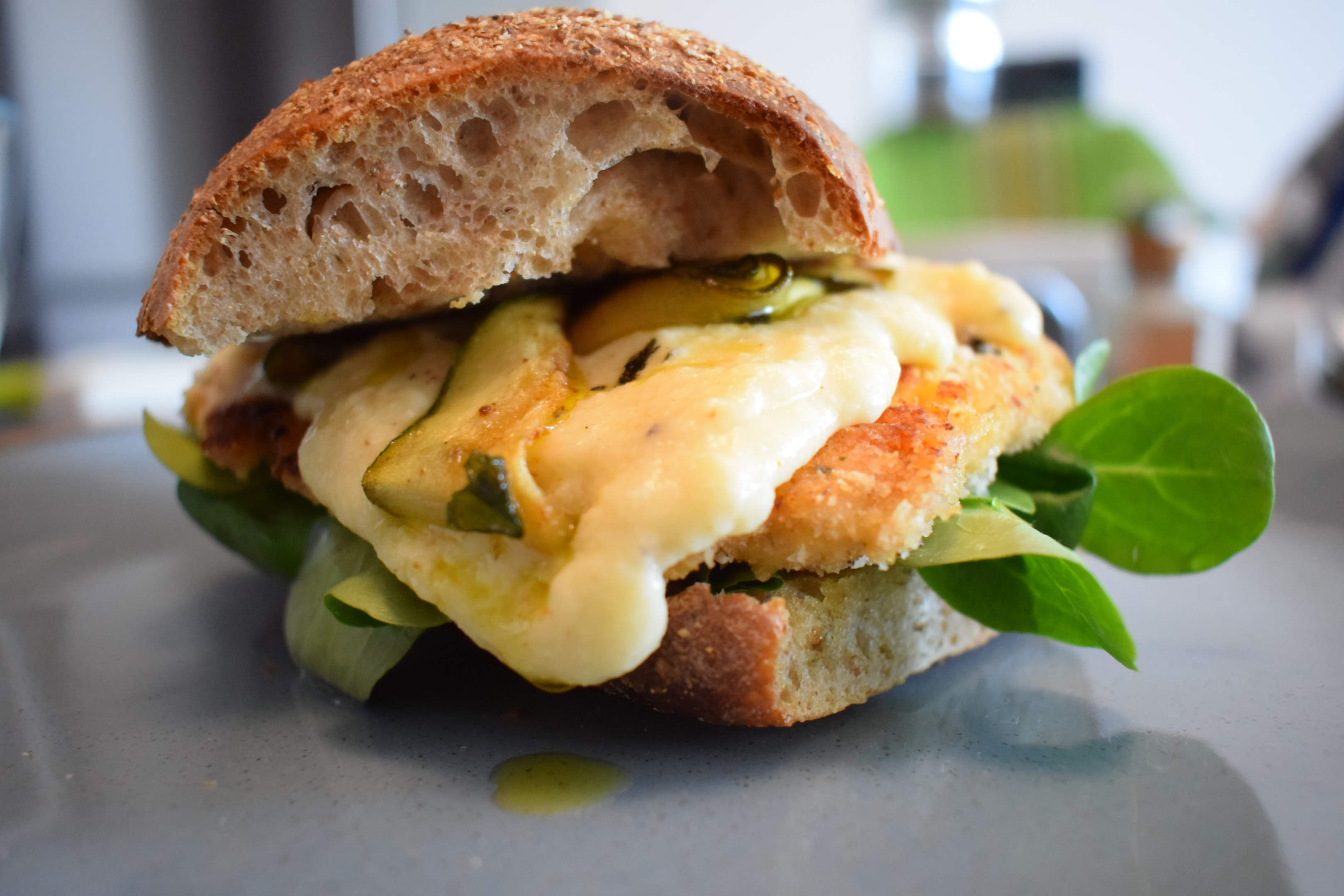 Yashin Ocean House
Whoever said sushi doesn't belong at brunch is sorely mistaken. If you like Aqua Kyoto, you'll love Yashin Ocean House. Japanese restaurant Yashin Ocean is based in Central London and offers brunch every Sunday from 1-5pm for £60 per person. 
Choose between an array or tempura, veggie croquettes, sushi and sashimi rolls and carpaccios coupled with bottomless bubbles (or juice if you fancy).
Not to mention that you get a main dish and a generous scoop of matcha green tea ice cream to go with it!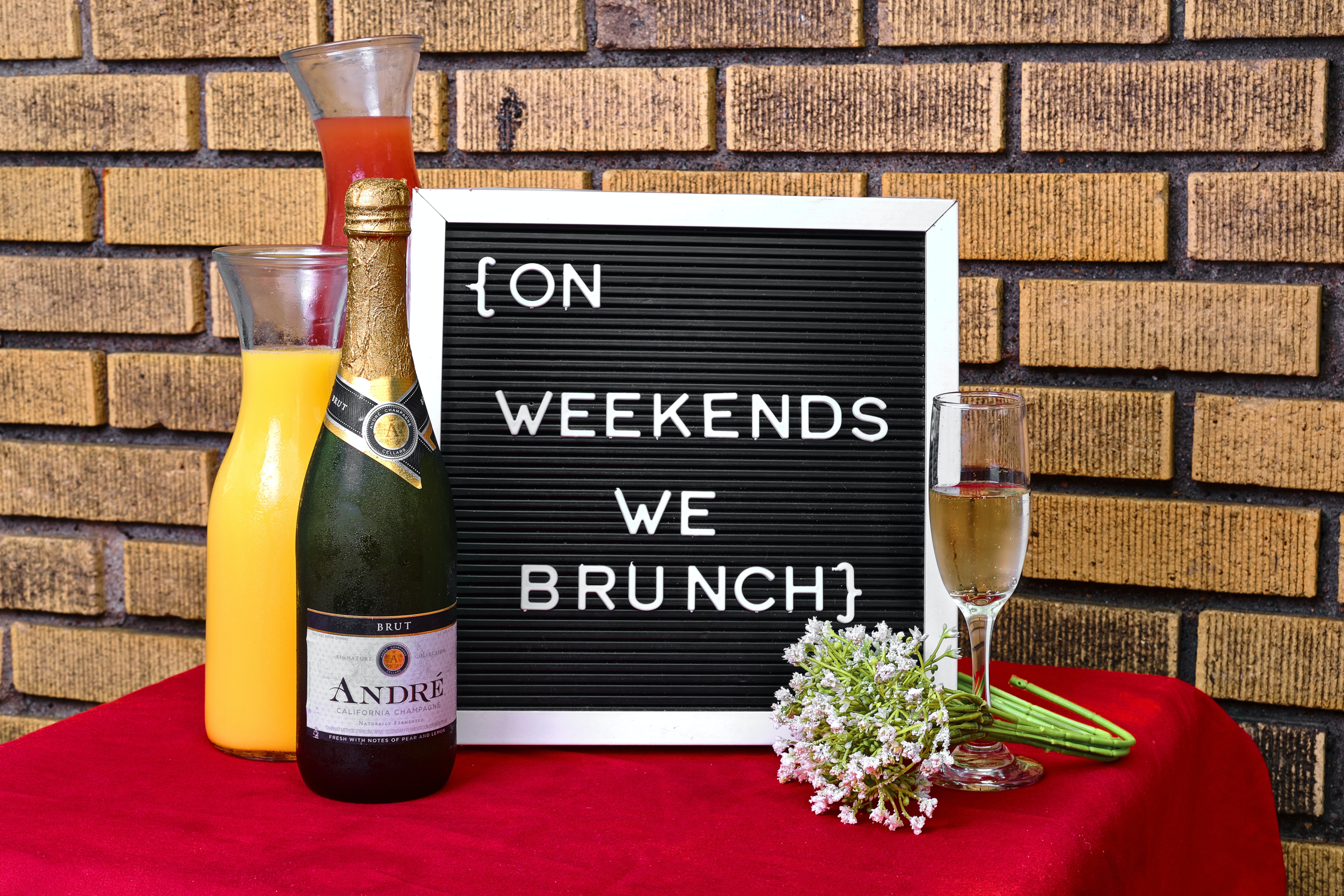 Bunga Bunga
Calling all pizza lovers! You'll go bonkers bonkers when you hear about Bunga Bunga's bottomless brunch. Self-described as having "innovative drinks that astonish and delight" their 3 course brunch menu is available every Saturday from 12pm-3:30pm. The Bunga Bunga dress code is 'smart casual' so be prepared to let your hair down, fill your bellies and enjoy!
They throw in a three course yummy Italian package and as much bottomless pink prosecco as you can muster within their 2 hour slots.
And they make 1 metre-long pizzas! Bottomless brunch is served!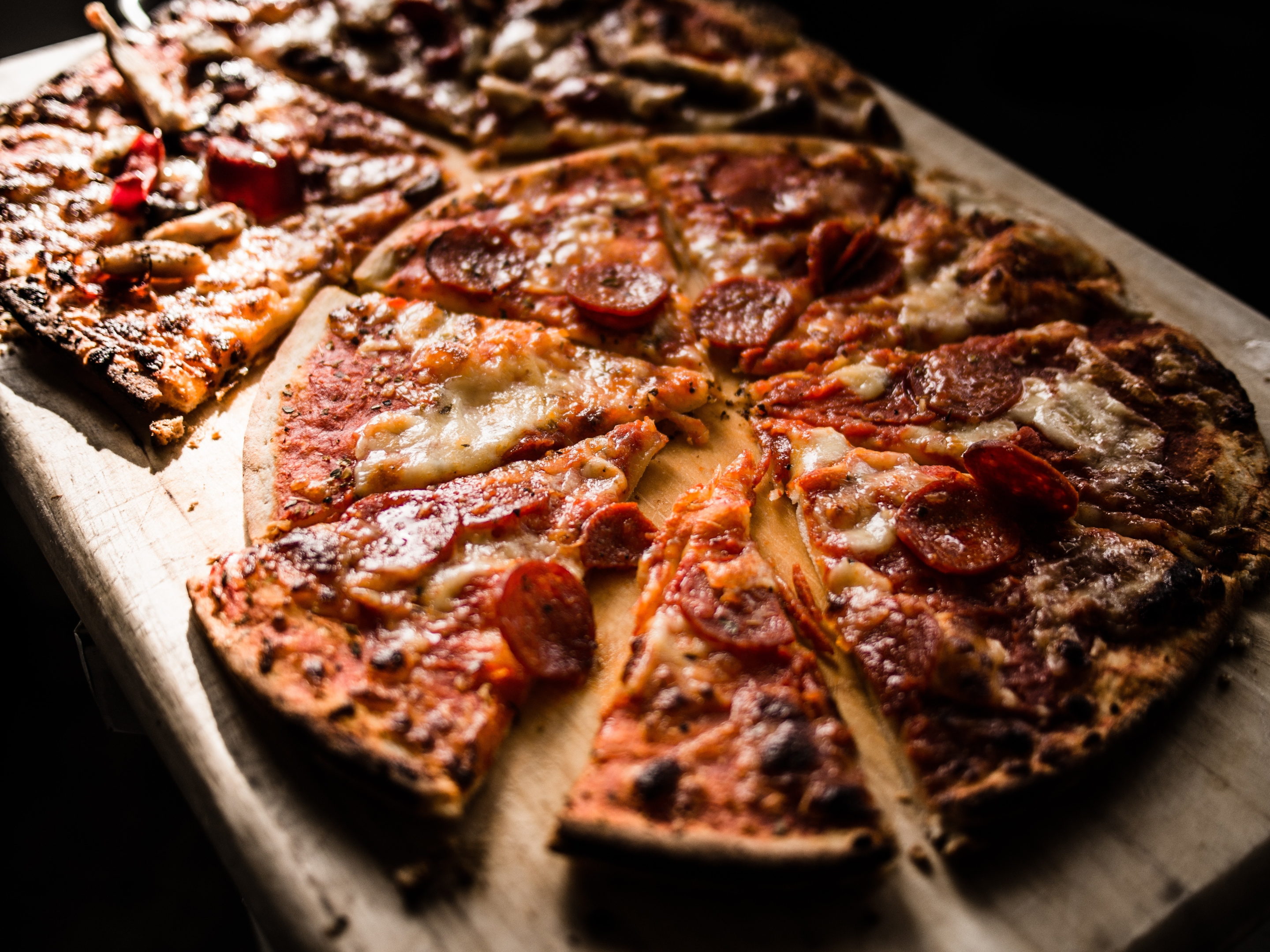 The Last Talisman
One word to describe The Last Talisman? Magic. A short walk from London Bridge station, this bottomless brunch with a twist sees magician Edwin Todd fuse  mind reading, hypnosis and magic in their enthralling live show.
Be bewitched and amazed whilst you swill bottomless cocktails and chow down on some beautiful Asian shakshuka. This bottomless brunch is unique and one of our favourite bottomless brunches in London!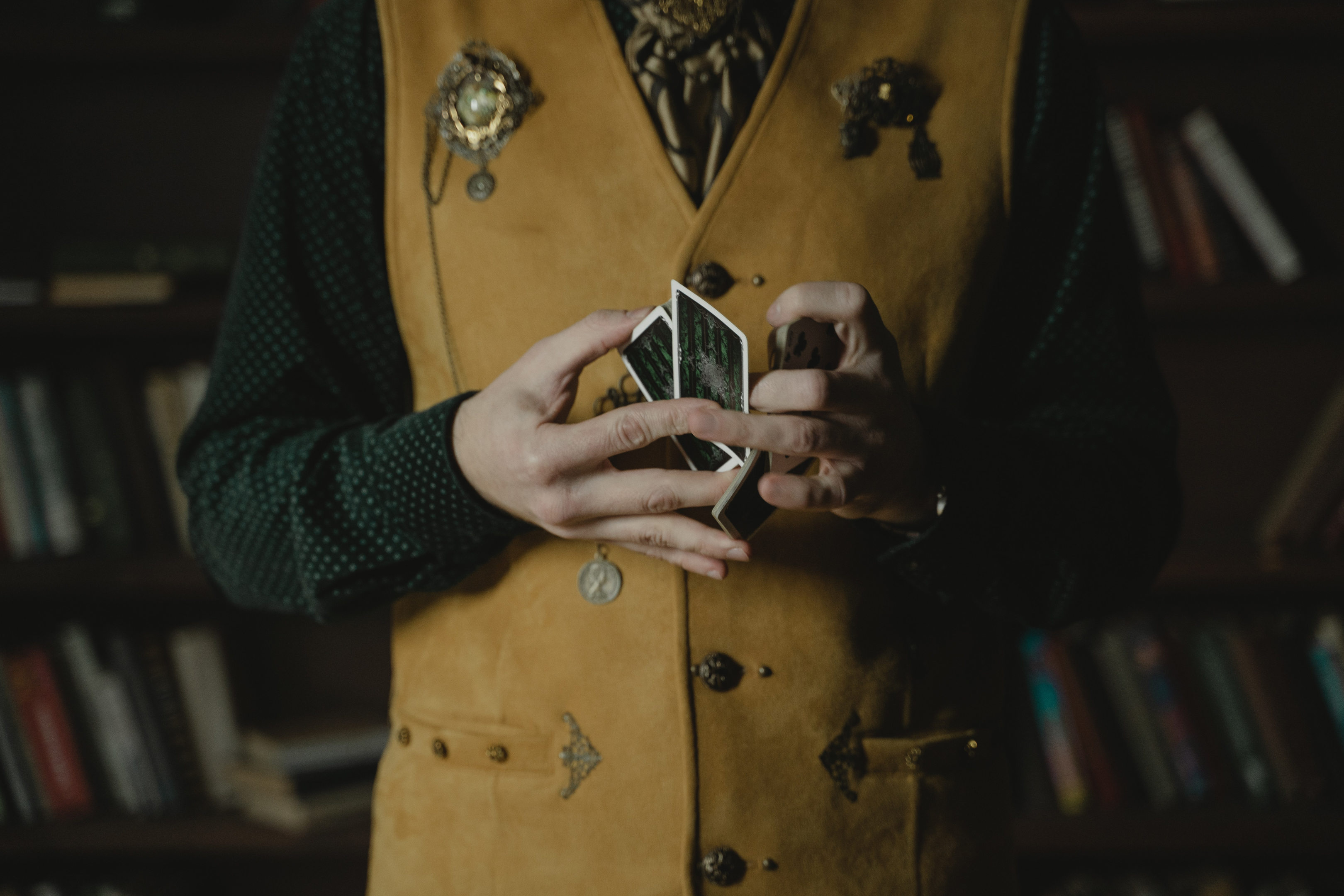 Radici
Fancy a taste of Italy? Try Radici. Located in Islington, Radici's bottomless brunch brings together the best bits of Puglian and Tuscanian cuisine. Sip an Aperol Spritz, Lounge on their picturesque roof terrace and gaze over North London whilst you devour their delightful unlimited drinks. Now that's what we call La Dolce Vita!
Radici offers a £20 per head bottomless prosecco package. We love their Tuscanian/Puglian combo of eggs, burrata, anchovy and pappa al pomodoro. É bellissimo!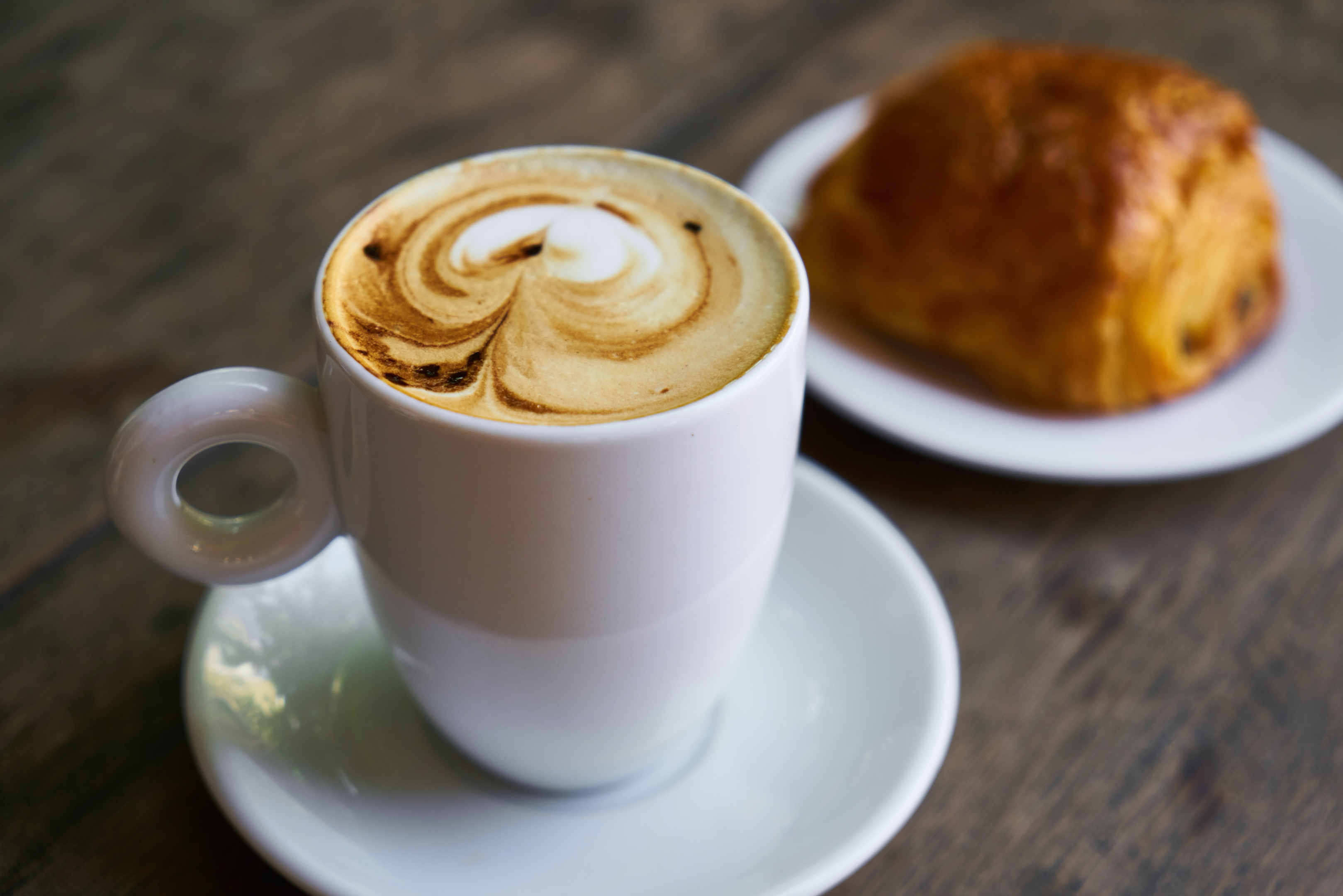 Sea Containers Waterside Dining
Fancy a snack on the South Bank? Sea Containers Waterside dining is a prime brunch spot for you culture vultures who've spent an afternoon traipsing around the South London and The Tate. Brunch occurs on weekends between 1-4pm and lasts 90 minutes.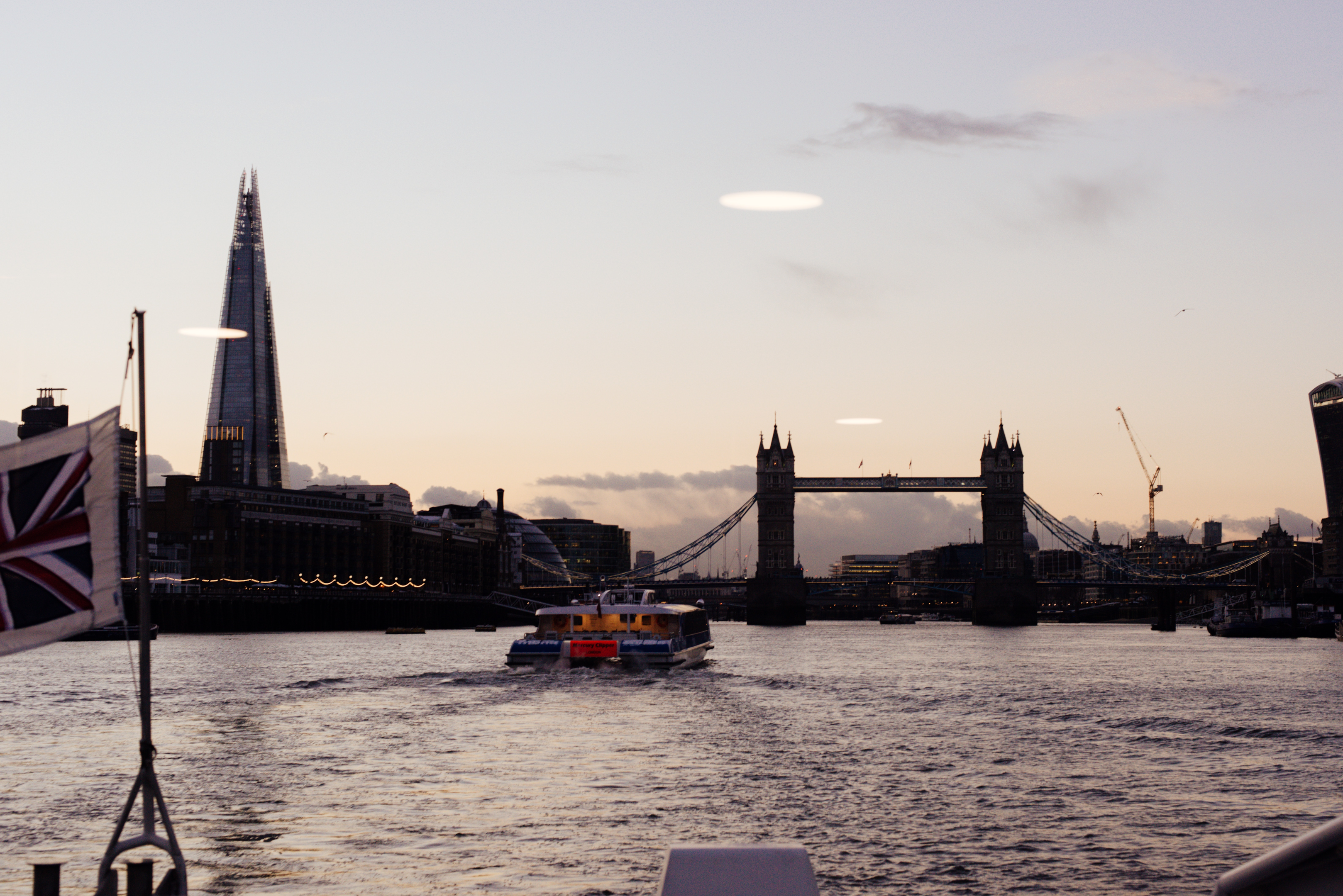 The maritime-themed restaurant has an international menu, offering everything from tomato and ricotta flatbread to buttermilk fried chicken with waffles. Sea Containers charges £19 per head for bottomless bubbles and mimosas. 
And how could we forget? Refill to your heart's desire at Grey Goose Bloody Mary station and cocktail bar!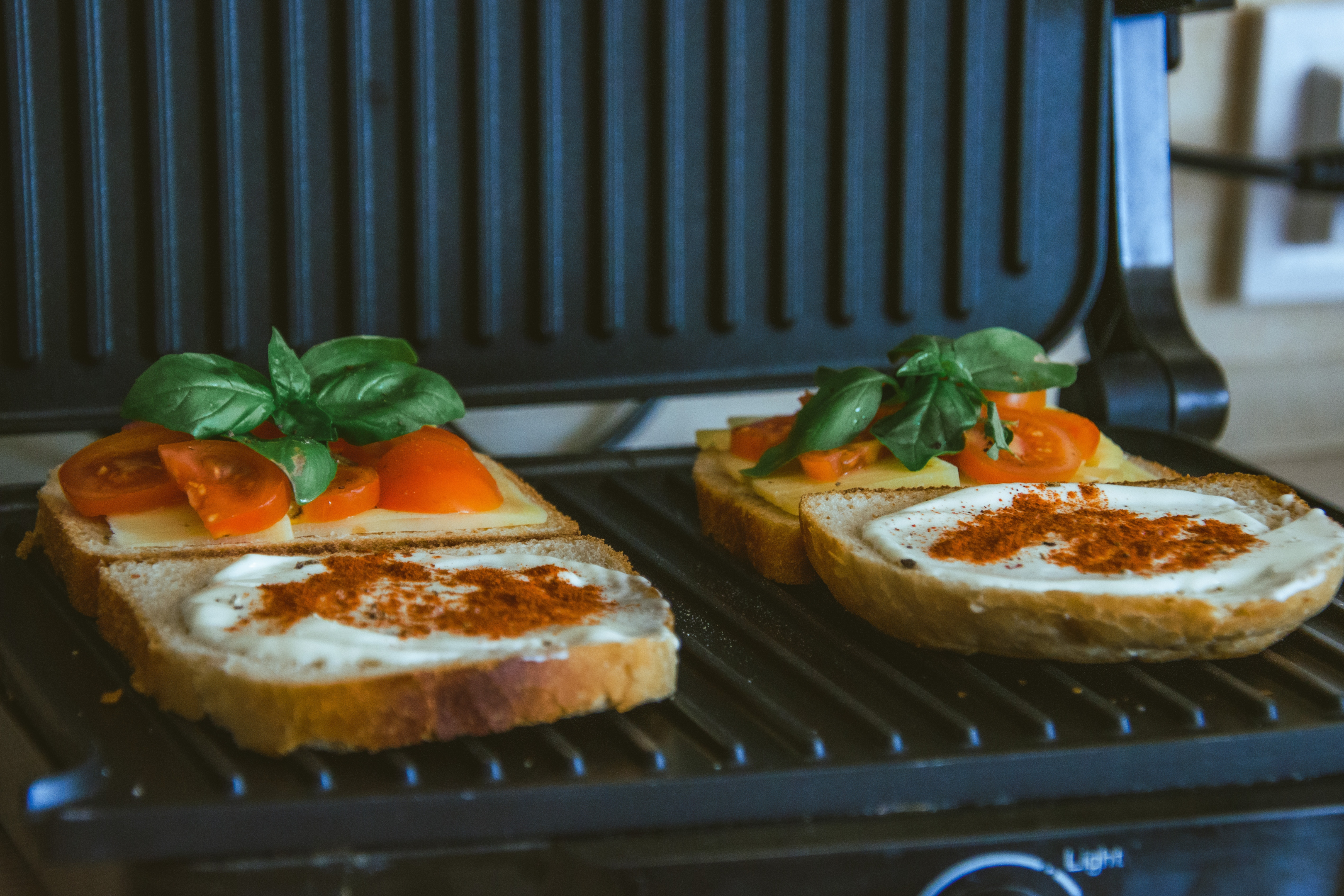 The Botanist
We're going in with another long-time crowd pleaser, The Botanist. The Sloane-square branch of the much-loved chain does bottomless brunch where you can choose 2 or 3 courses to go with your unlimited Bloody Marys, Amstells and Proseccos.
Peruse their gorgeous menu consisting of smoked haddock fishcakes and poached egg - brunch classics. Customers can enjoy some delicious food whilst gazing out at the buzzing streets of Central London. People watching and brunch? Meet you there!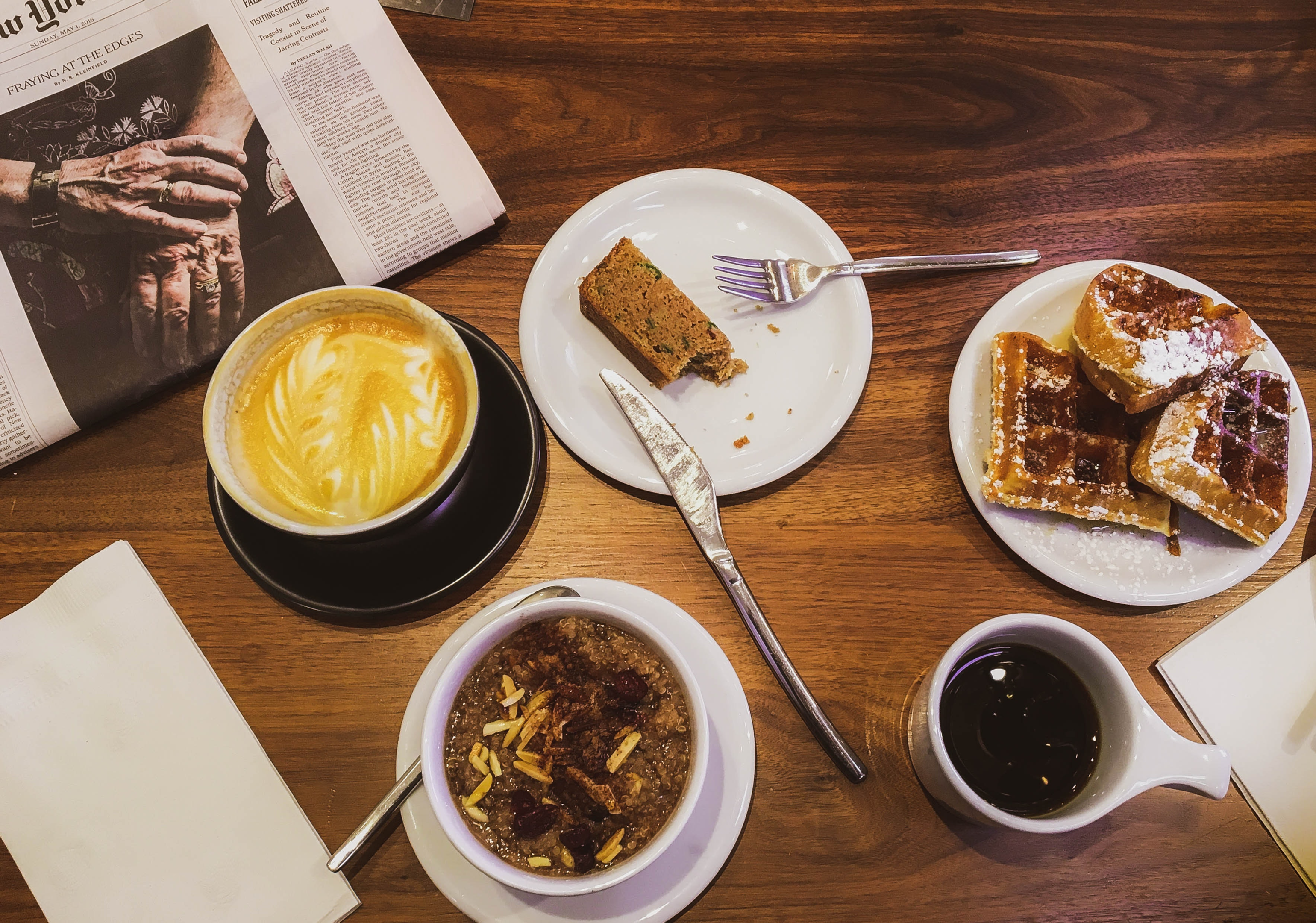 Bar Gansa
Dreaming of Spain? Bar Sansa is the place for your bottomless brunch themed Tapas cravings. Based in North London, the intimate restaurant channels those little Barcelonean hole-in-the-wall joints.
One bite their marvellous serrano ham croquettes and you'll think you're in El Carmel - not Camden. Fantastico!  Their bottomless brunch is so good you'll be needing a siesta afterwards.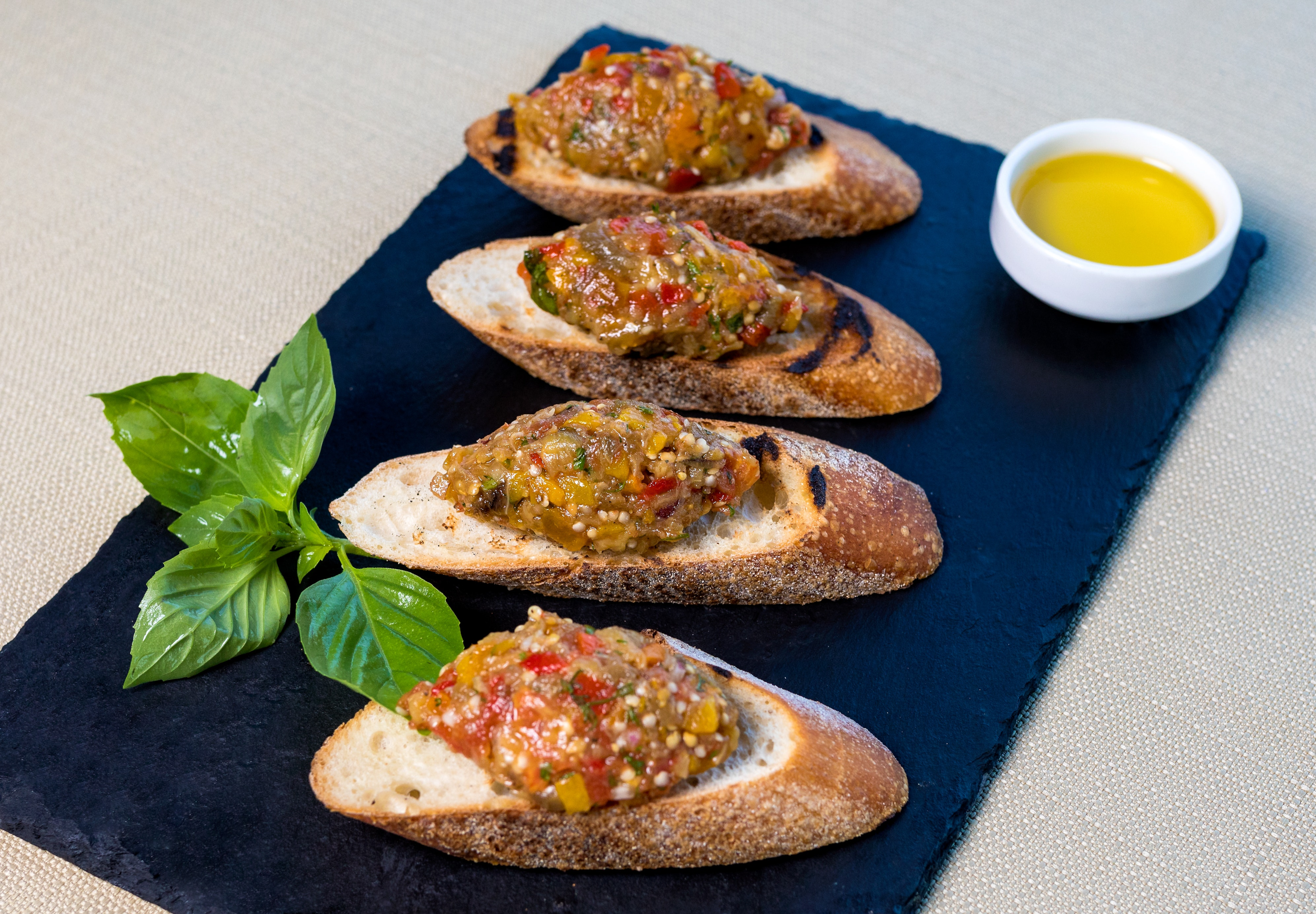 Smiths of Smithfield Farringdon London
Brunch is good - but brunch in London is better. Especially at Smiths, where you can get bottomless Bloody Mary's, prosecco and mimosas! Get a welcome glass of a Little Bird Gin cocktail upon arrival, along with a 3-course meal for £60 per head.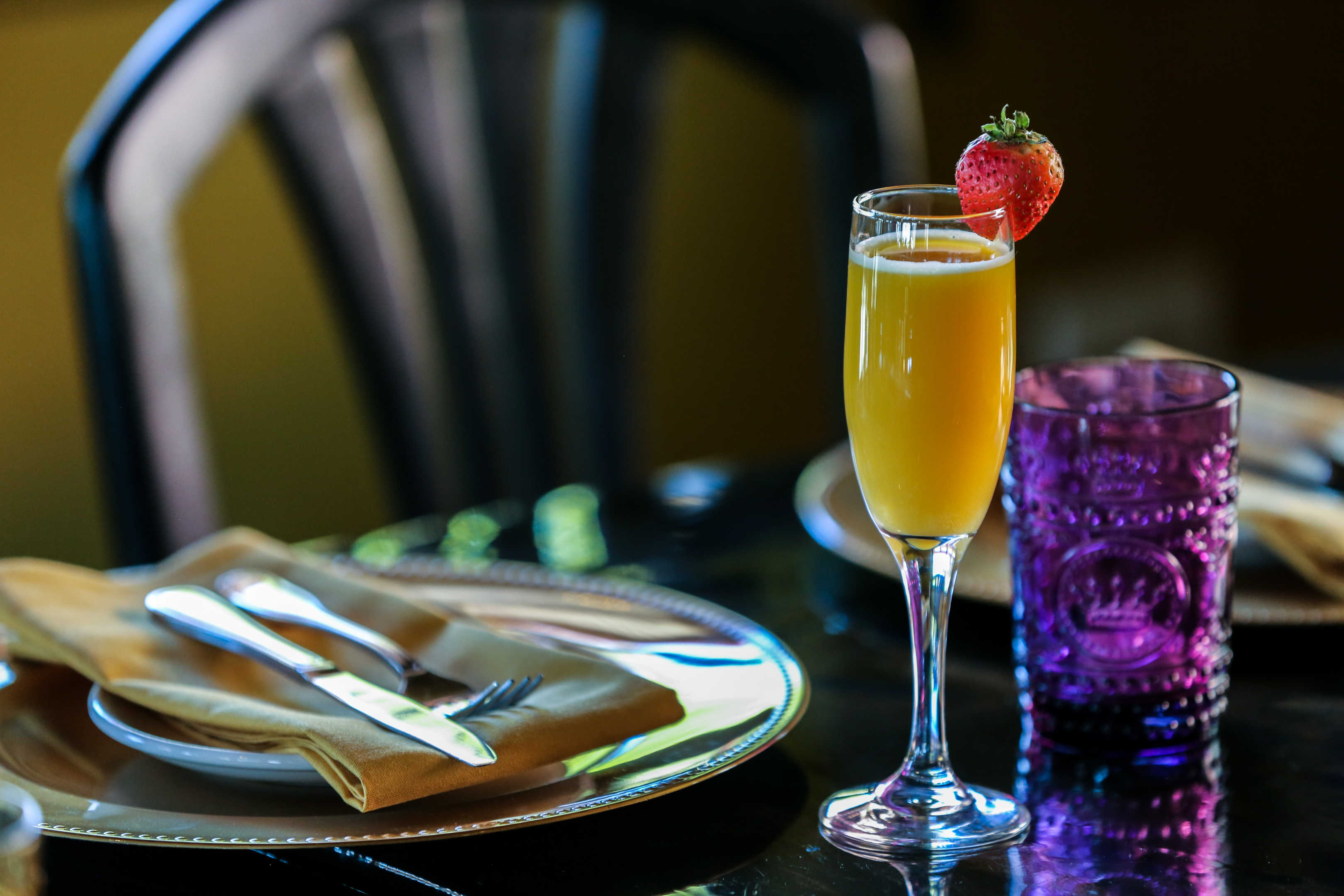 Or upgrade to their £85 package that includes bottomless bubbles of champagne and caviar bites. Talk about boujee! And for all you plant-lovers, there's a tasty vegan brunch option too!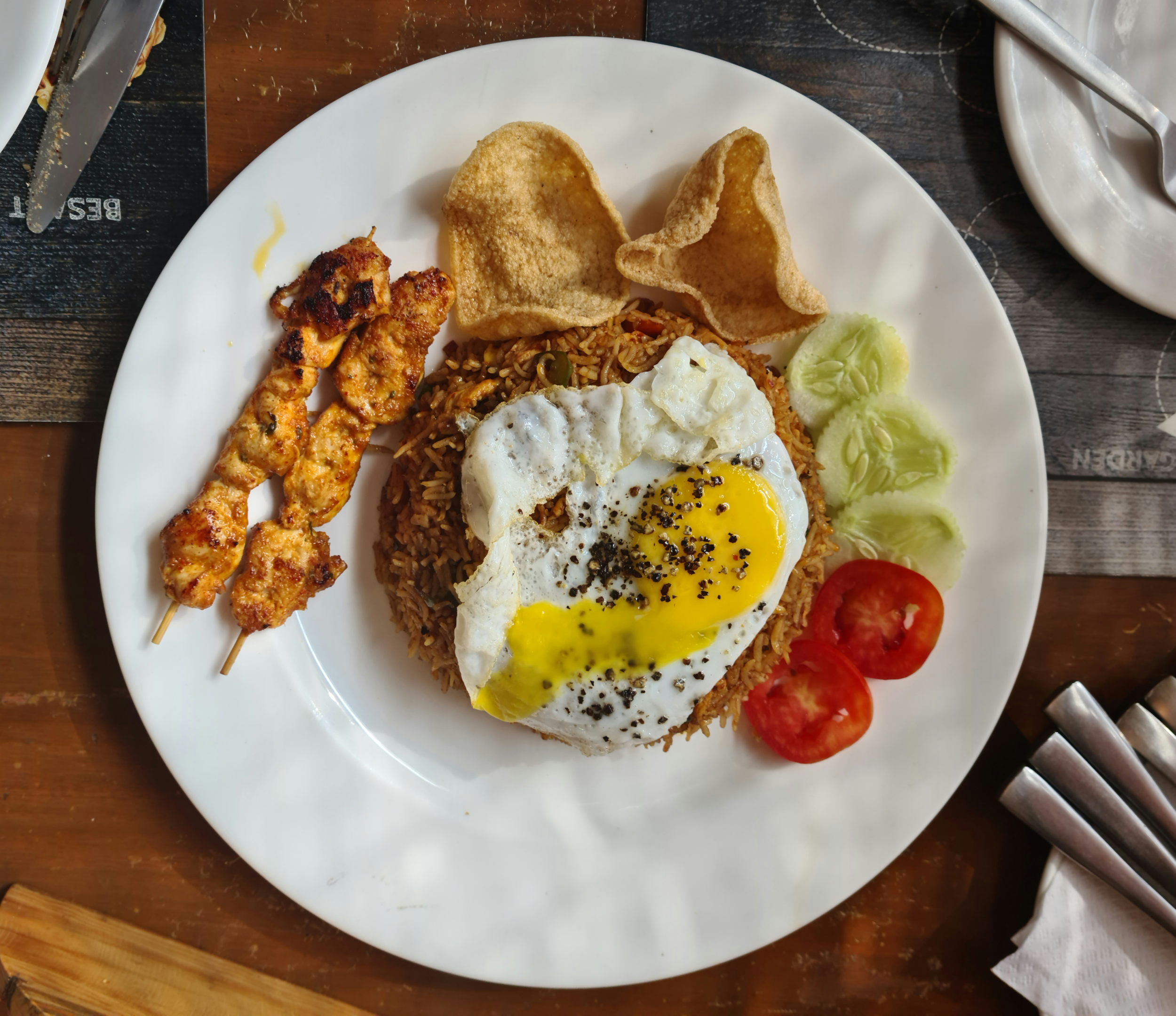 Cinnamon Kitchen City
Brand new bottomless brunch alert! Cinnamon Kitchen City is on Devonshire Square and sees a new hybrid brunch menu of East-meets-West cuisine. Bottomless brunch there entails 90 minutes of free-flowing prosecco and 9 delicious sharing dishes. We recommend going with somebody - those portions sizes are food coma territory.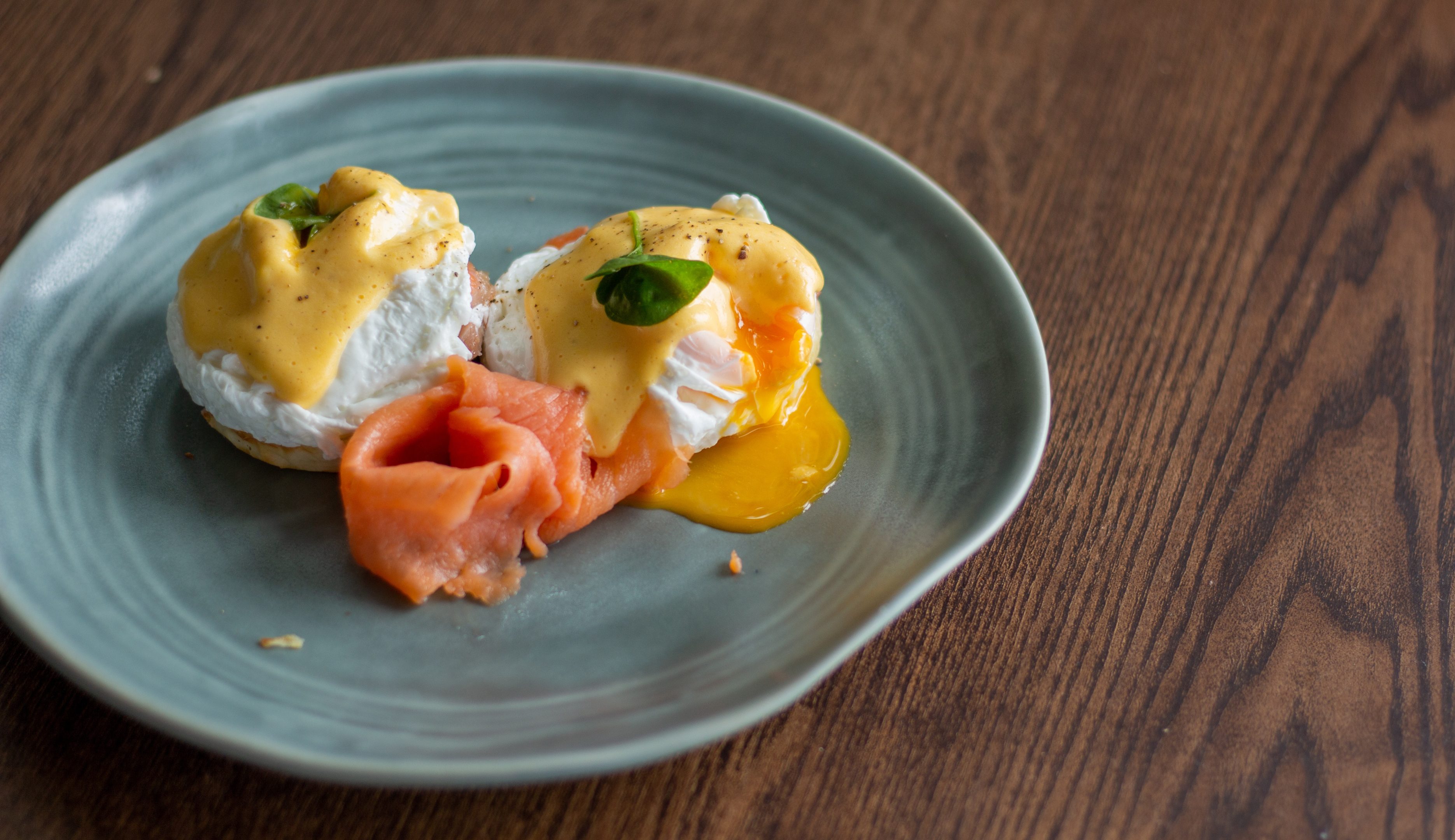 Roka Aldwych
When it comes to brunch, Roka Aldwych doesn't mess around. Located moments away from Covent Garden, their stellar brunch menu makes them easily considerable as one of the best bottomless brunches in London.
Specialising in contemporary Japanese robatayaki cuisine, Roka's brunch entails a scrumptious procession of not 1, not 2, but a gargantuan 10 sharing plates! Music to our ears!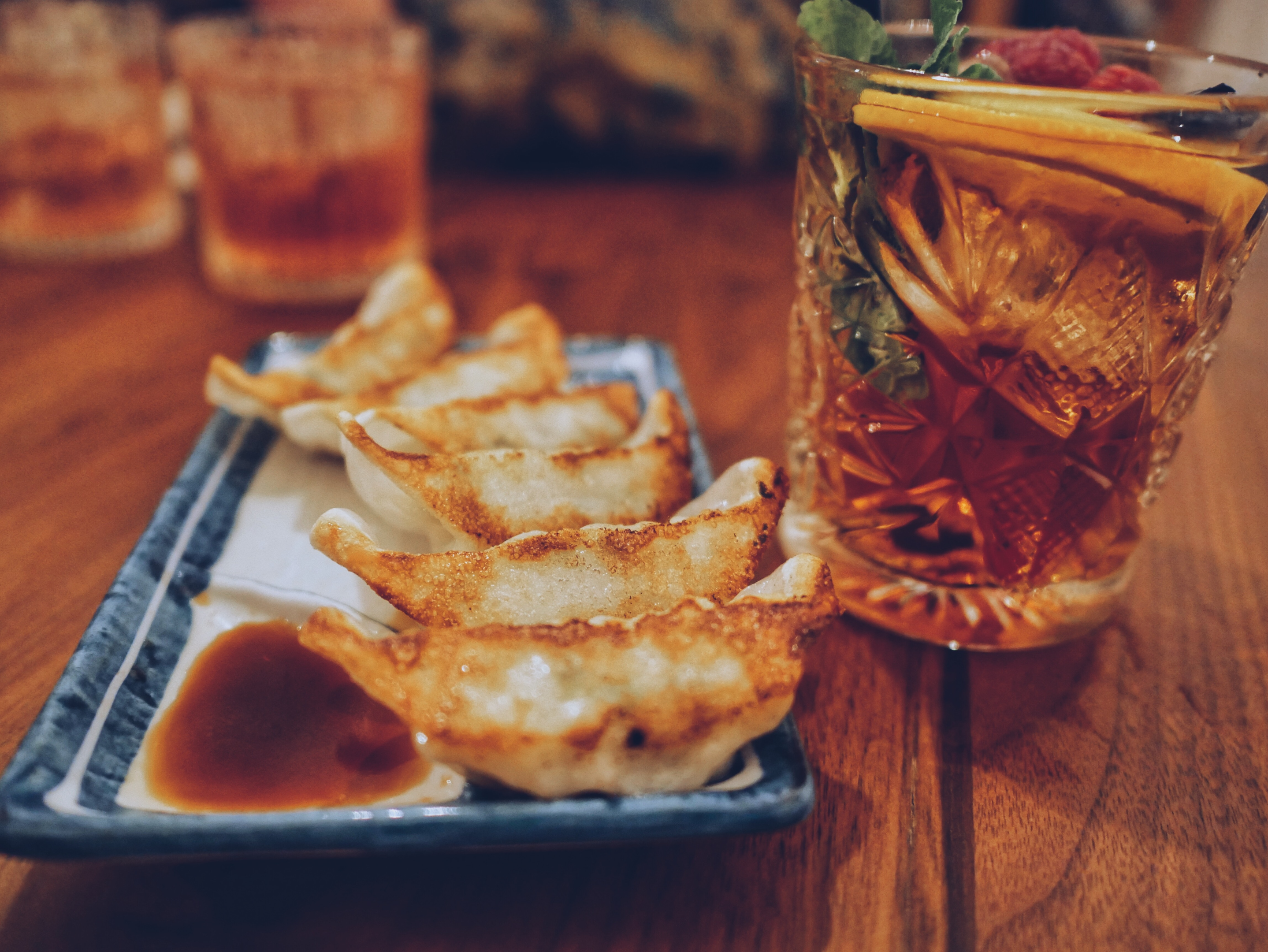 Glide from tempura to dumplings to sashimi plates, to a sumptuous dessert main of your choice. Then wash it all down with unlimited prosecco, white or red wine. Bottomless brunch is on every Saturday between 11:30am-3:30pm and Sunday 11:30am-8pm and costs £59 per head.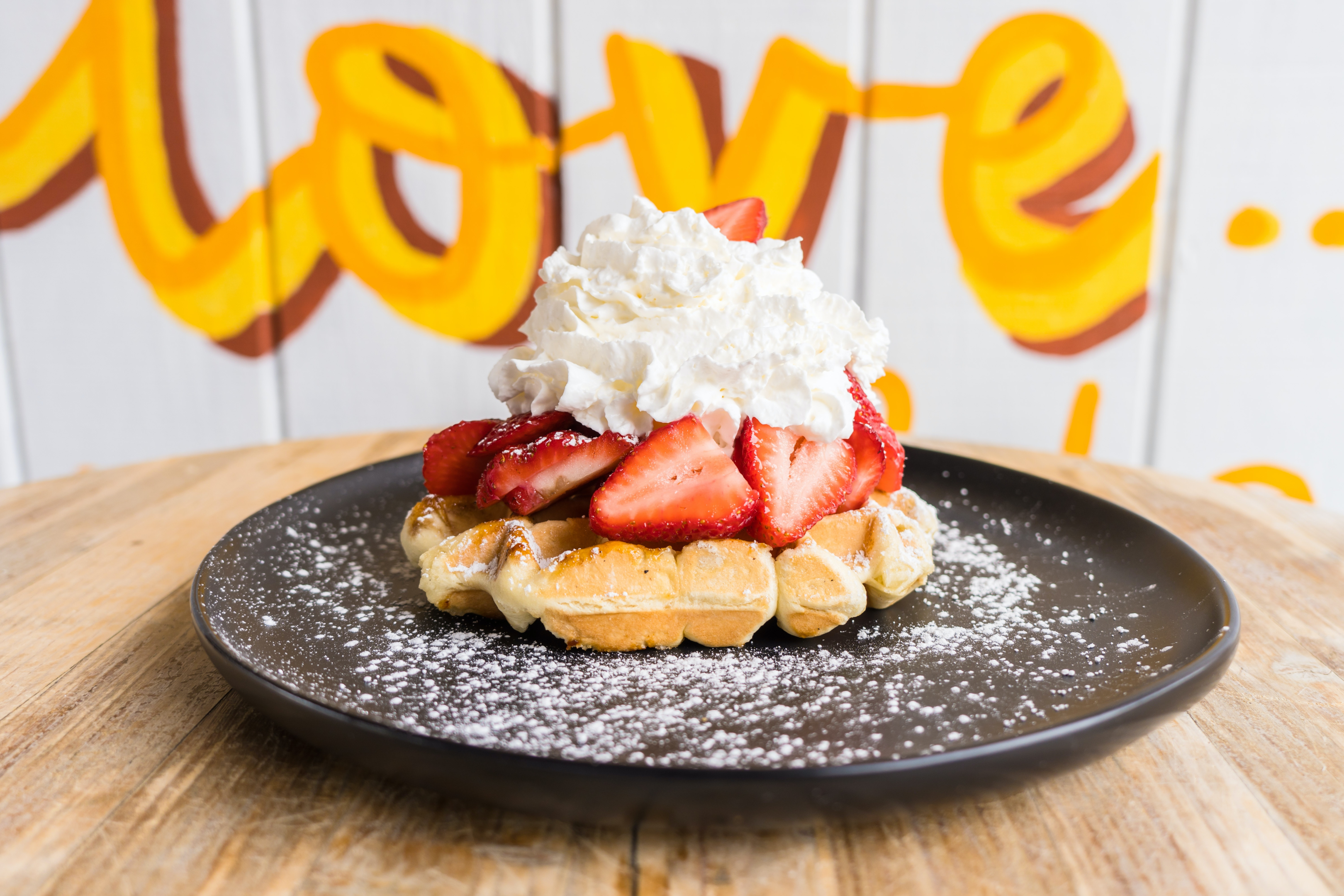 Mrs Fogg's
Located by Liverpool Street, the counterpart to London's famous Mr Fogg's hosts a mean bottomless brunch. Get a welcome drink on arrival and enjoy their cocktail club as you sip their signature pink prosecco. For 90 minutes guests can gobble some wonderful brunch dishes, starting at £32.50 per person. Brunch is served!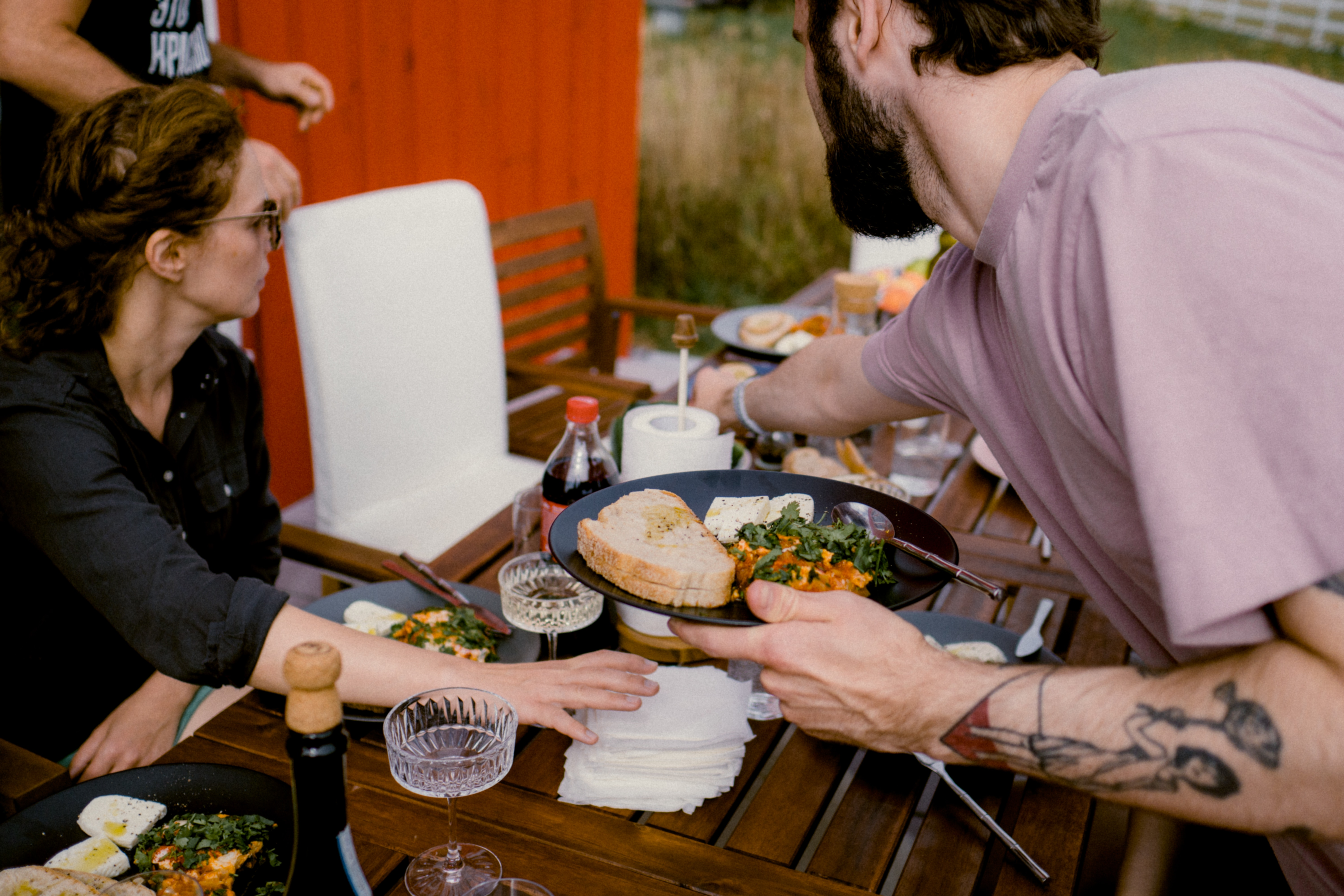 Mr Bao
Look away toast lovers! Mr Bao turns traditional brunch on its head by substituting toast for delicious bao. The Peckham-based restaurant sees a Taiwaese spin on brunch classics from the Western world. In South London and hankering for a bacon sarnie? Try their bao benedict instead. It's topped with pork that's braised so slow a snail would tell it to speed up.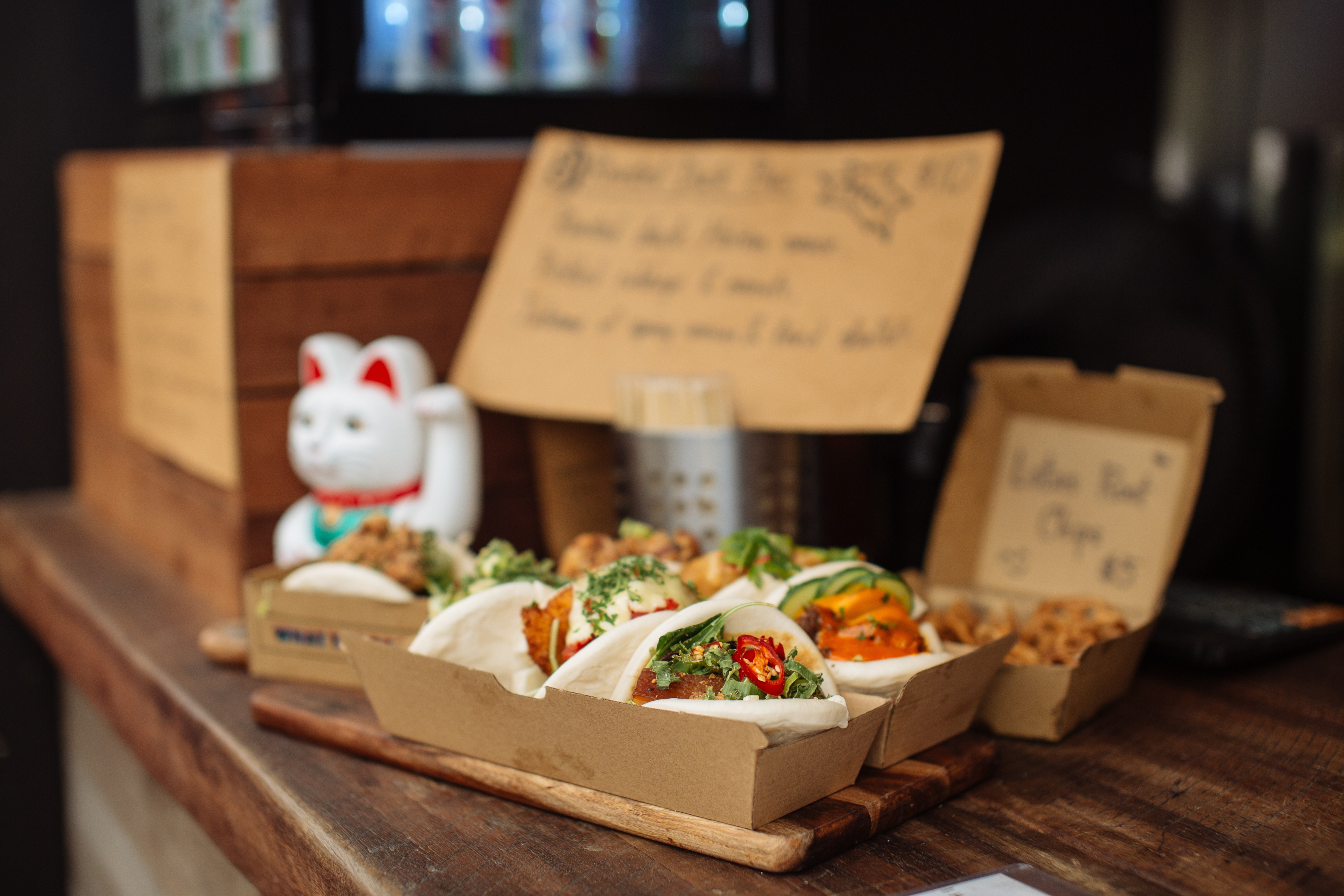 They also offer a stunning veggie alternative of teriyaki shiitake mushrooms for you plant enthusiasts. Dishes are priced individually, but customers can partake in as many bottomless cocktails within an hour for £18 per head. Brunch runs from 11am-5pm on weekends.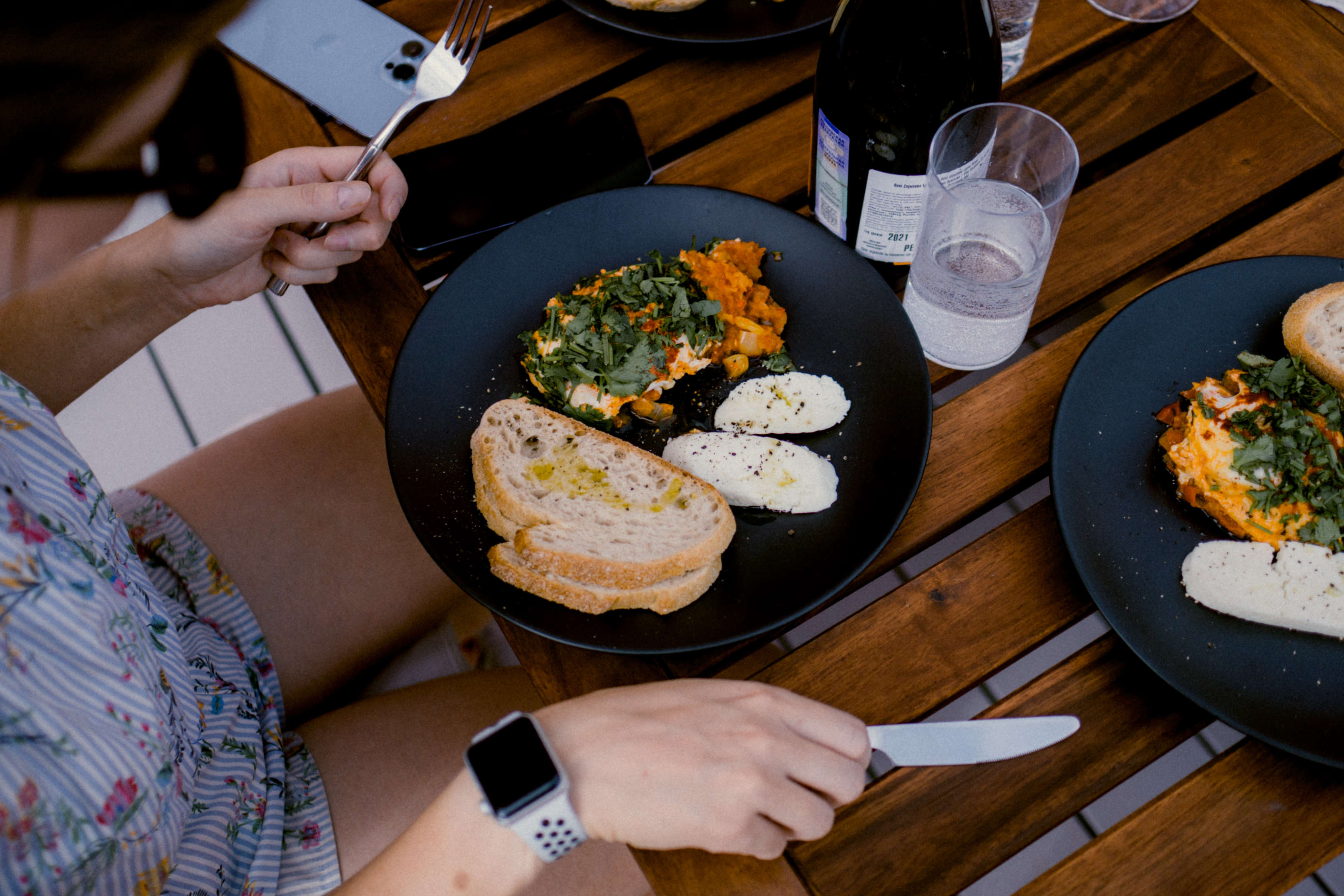 Big Chill
Found a stone's throw away from King's Cross, you can head to the Big Chill every Saturday and Sunday for their boozy brunch. With 2 floors and a roof terrace, there's plenty of room for brunching. From 12pm-4pm on weekends, guests can choose any brunch dish on their extensive menu. But our favourite is their waffle chicken. To say it's yummy is an understatement!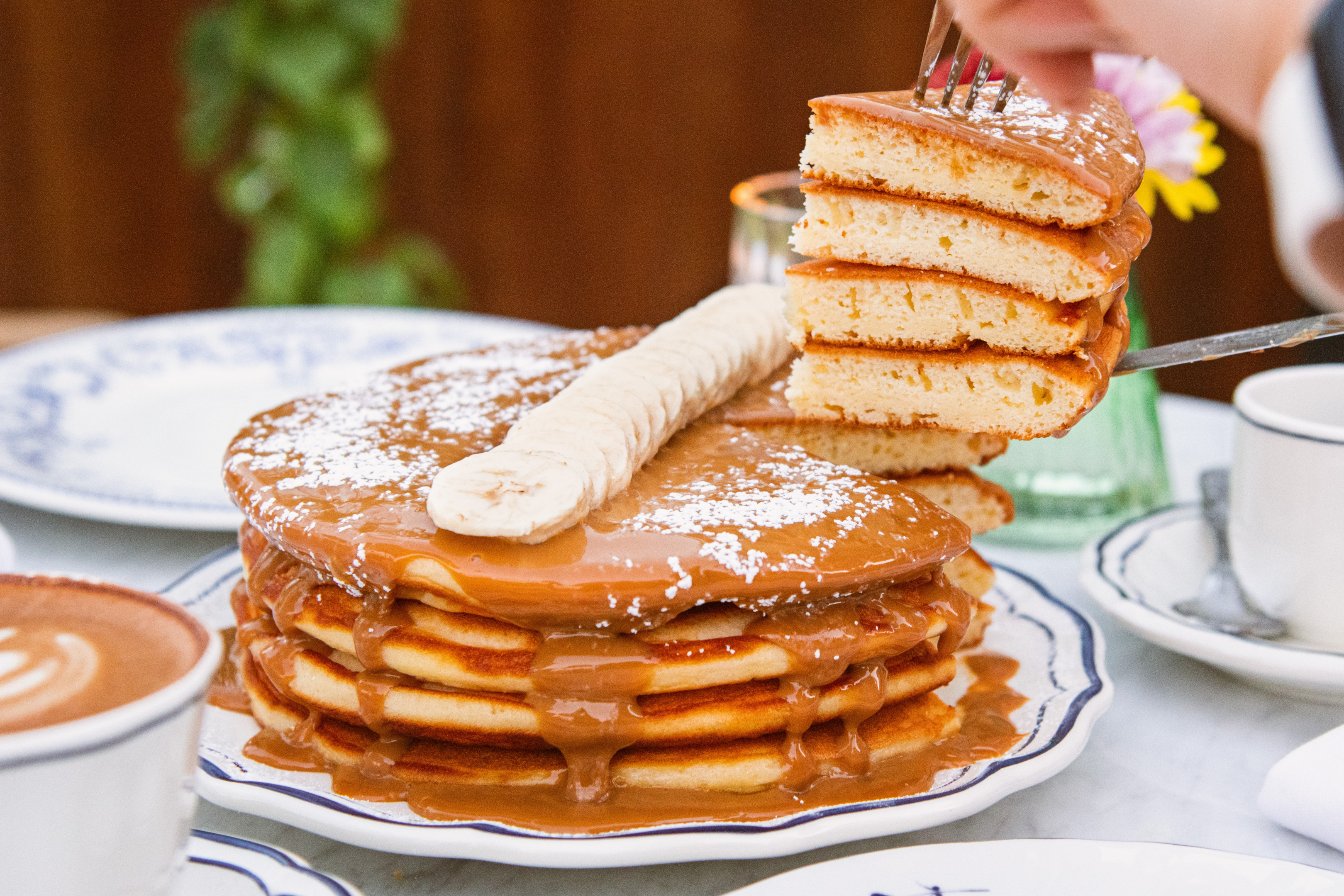 DUO London
Do you love pancakes more than we love boozy brunch? Well you're in luck because DUO serves a bottomless brunch with unlimited pancakes and prosecco on weekends. Priced at £30 per person, guests can eat never-ending pancakes and choose between an array of toppings like Maple Syrup, Chocolate sauce & avocado, bacon and berry compot.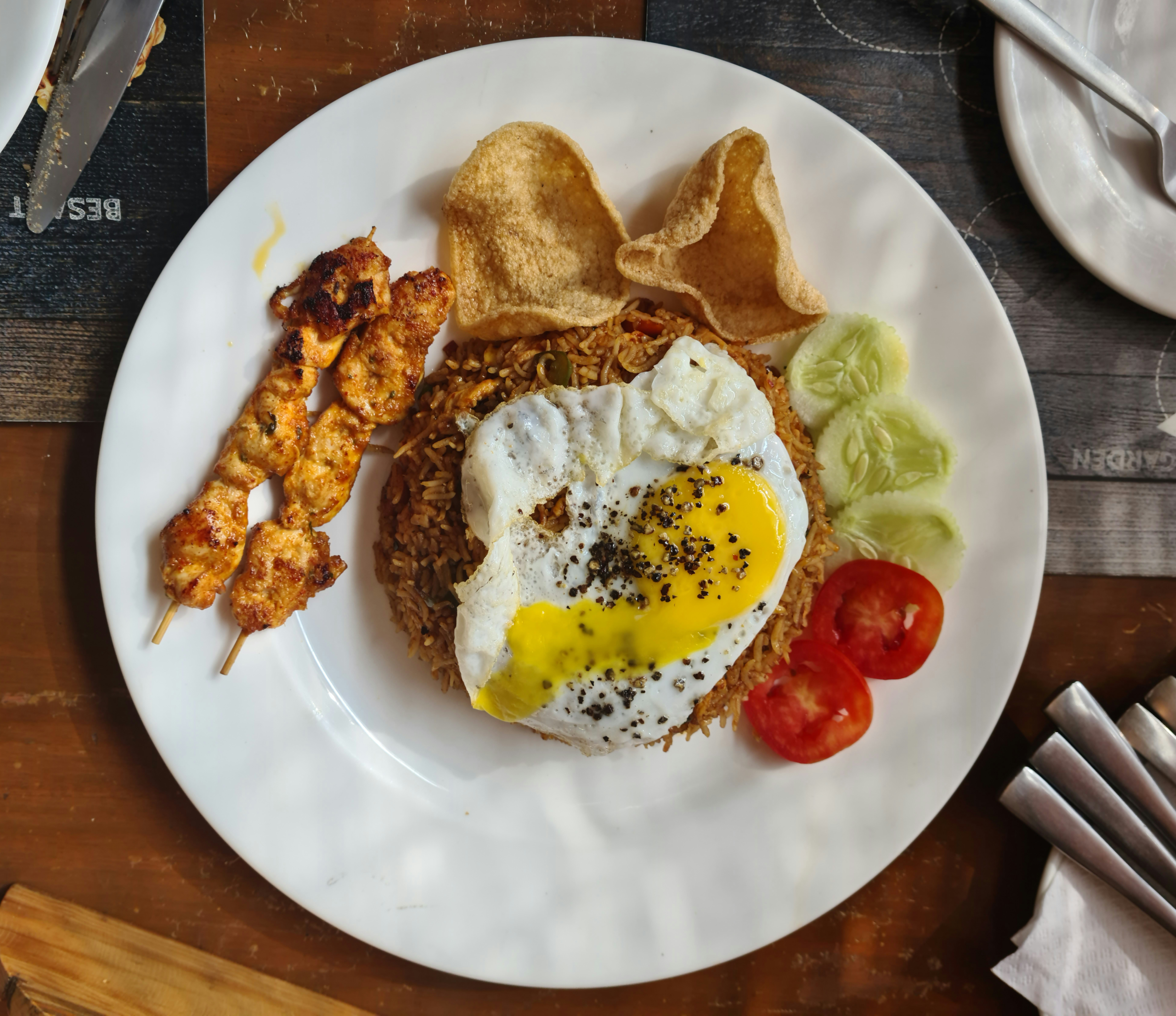 Megans
Wanna brunch but have no one to look after your dog? We get it. But thankfully, you can kill two birds with one stone by brunching at Megans London. Megans is an independently-owned dog-friendly venue in South London that charges £25 for 90 minutes worth of bottomless prosecco. So you can brunch to your heart's content and munch their lovely fried egg without fretting about finding a dog sitter.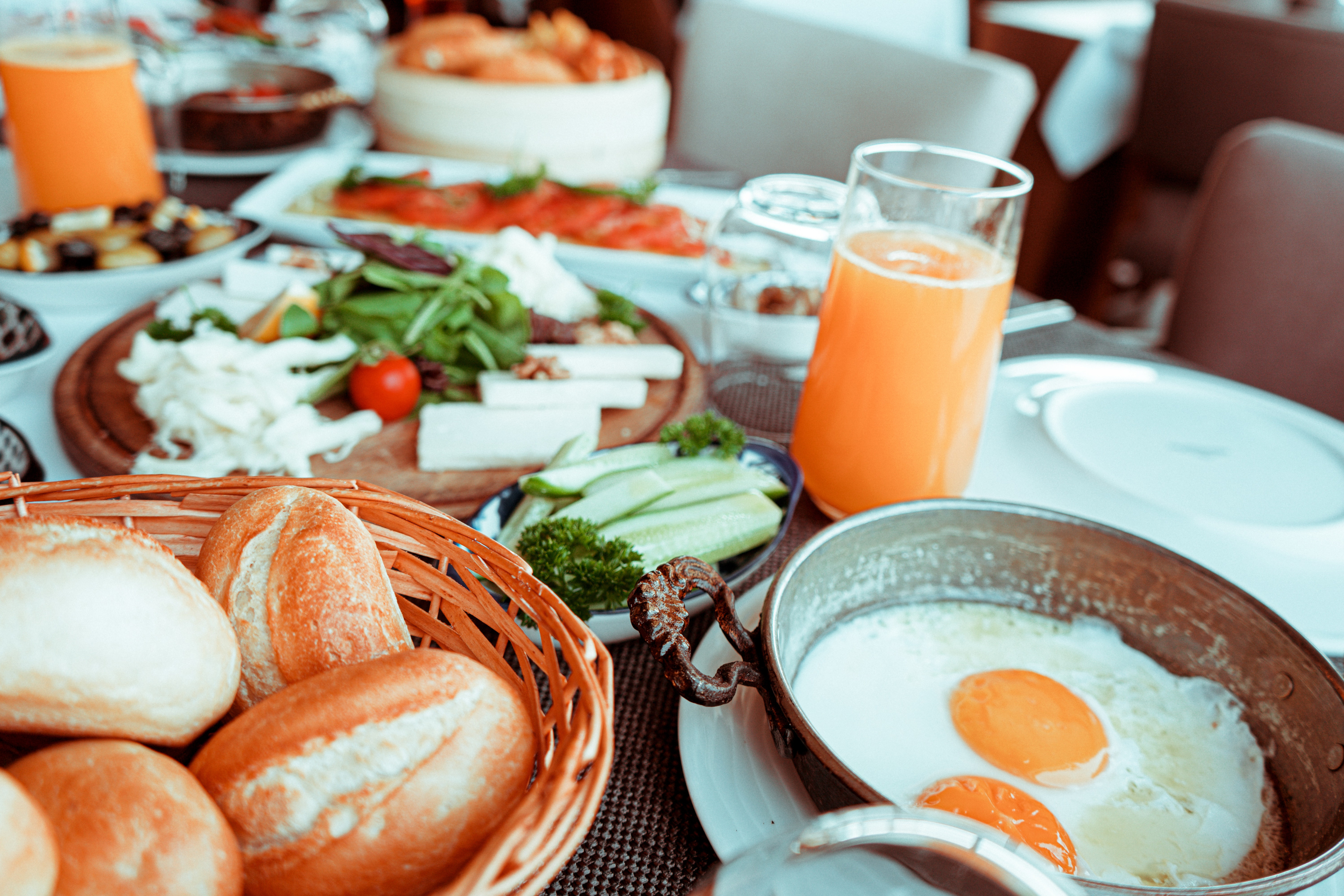 Heritage Restaurant and Cocktail Bar
Heritage immediately sticks out when it comes to bottomless brunch. Why? Because its one of the few restaurants in London that specialises in Swiss cuisine. Located on Rupert Street, guests can get a taste of Switzerland by indulging in bottomless drinks, bottomless fondue and caramel fondant.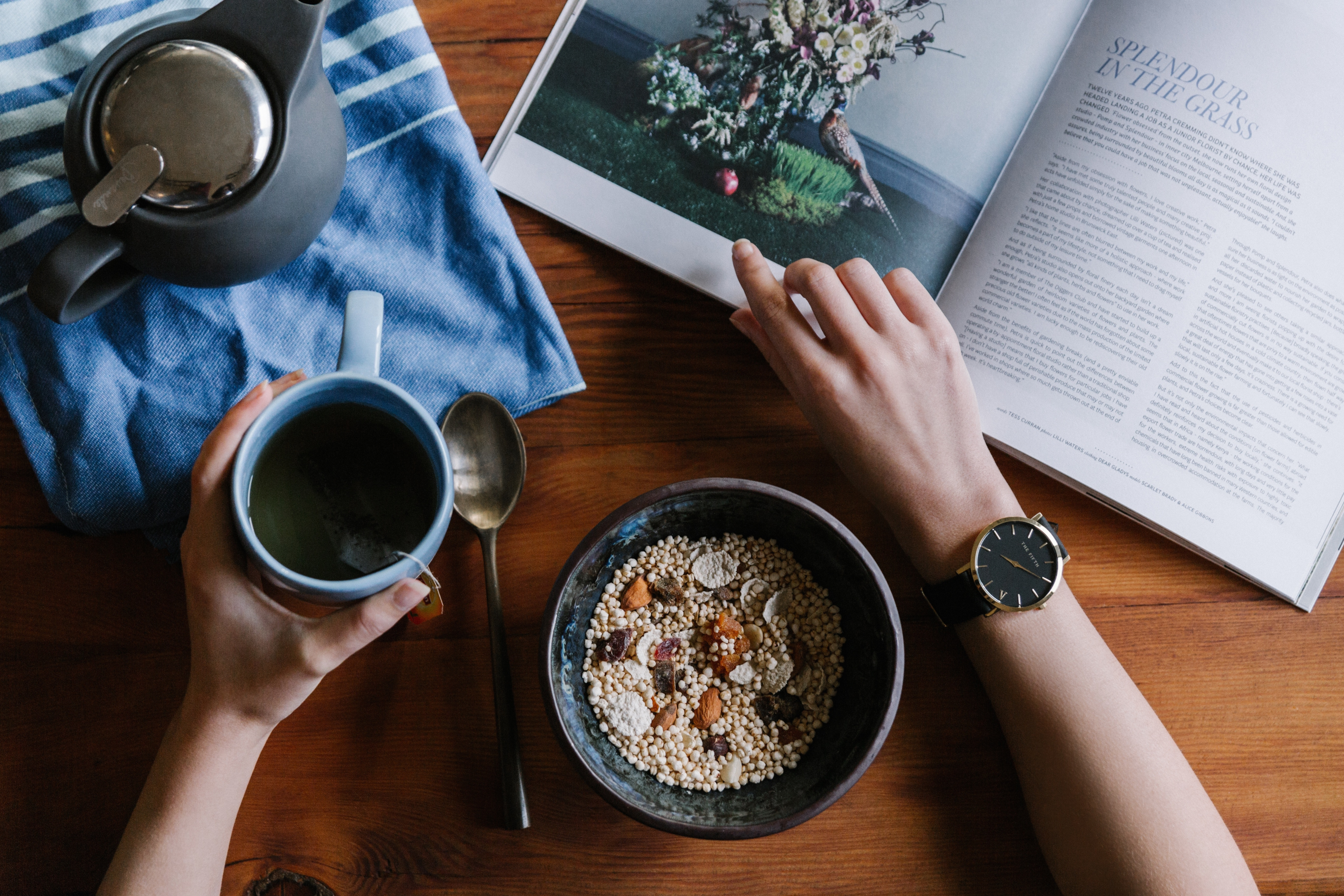 One sip of their bottomless prosecco and a dip in their fondue and you've been teleported to The Alps. The Swiss restaurant is a great spot for those wanting to get into the Christmas spirit!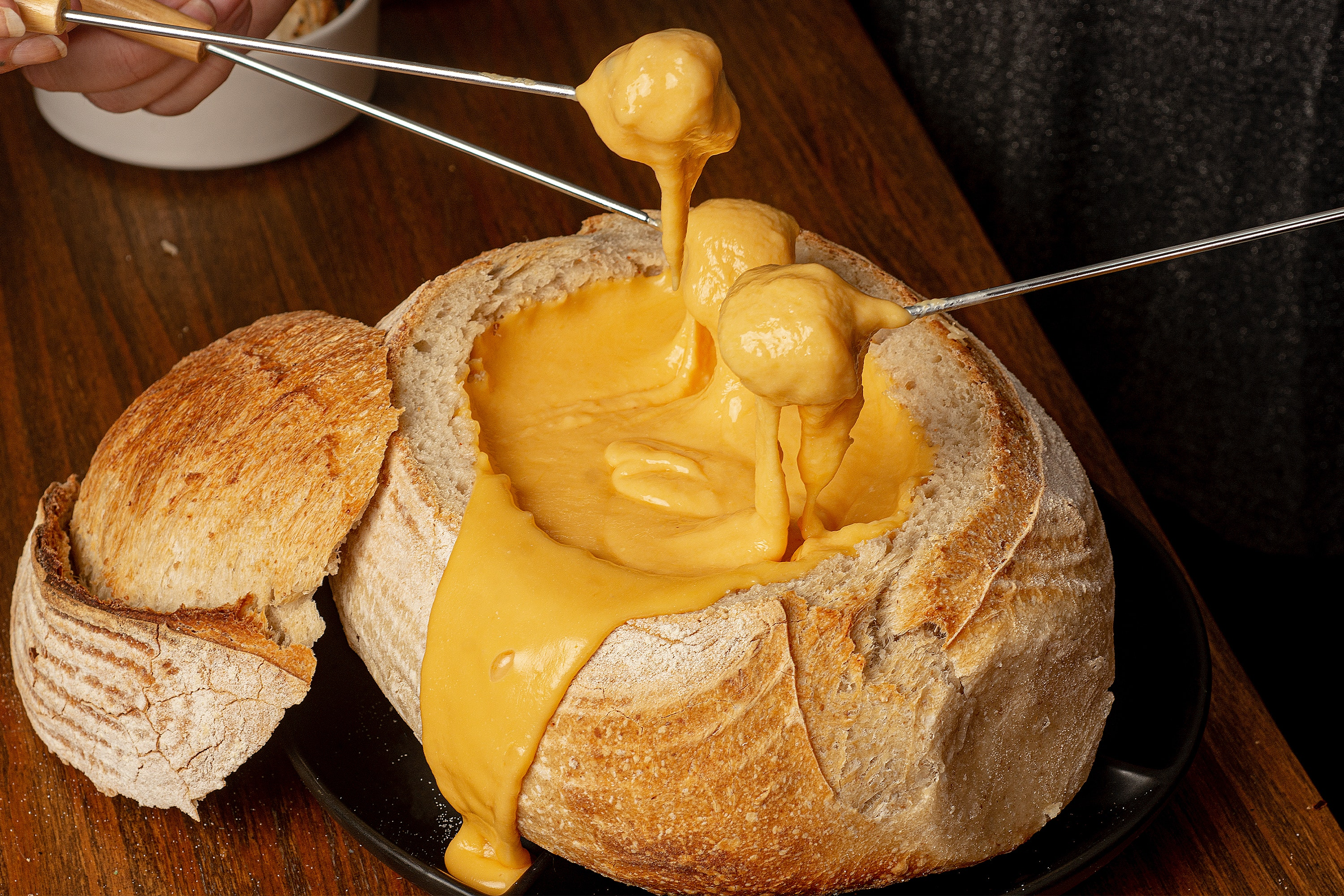 Joan
Joan is situated opposite Shoreditch High Street Station and is a 10 minute drive to Liverpool Street. Converted from an old leather factory, Joan guests can enjoy an all-day Mediterranean-inspired bottomless brunch menu.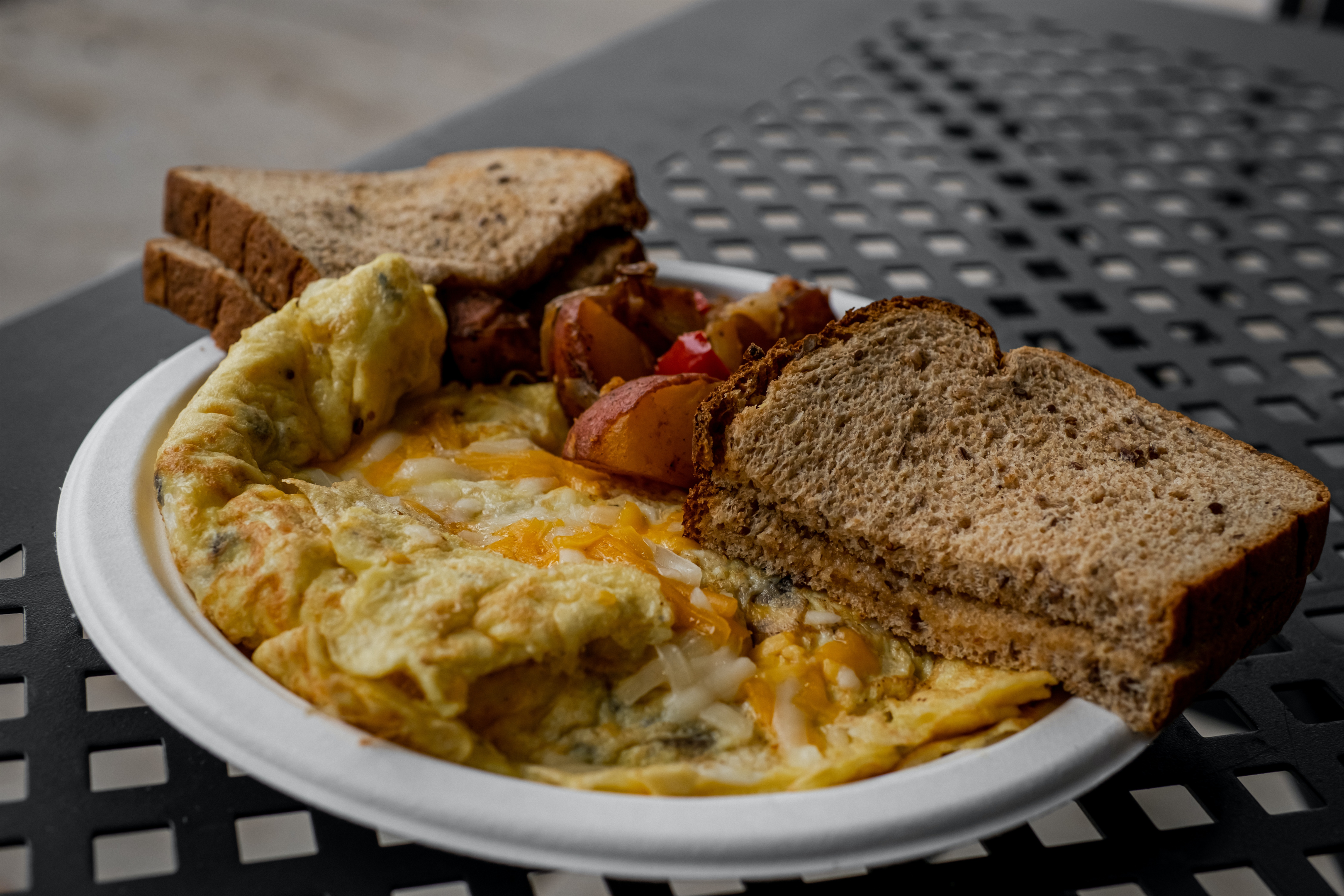 For £37 pp you can glide into the weekend with free-flowing prosecco, mimosas and as many mouth watering brunch dishes you can eat in 2 hours! If you're around East London, beautiful brunch is waiting for you!
The Running Horse
Last but not least! The Brits aren't known for refined cuisine, but boy we take great pride in our roast dinners. Found in Aldgate just a 15 minute drive from Canary Wharf, The Running Horse is a 7 minute walk to lively Liverpool Street and serves bottomless bloody marys and prosecco with their chic, modern twist on the British classic. This is one of the best bottomless brunches if you're craving a good old Sunday roast!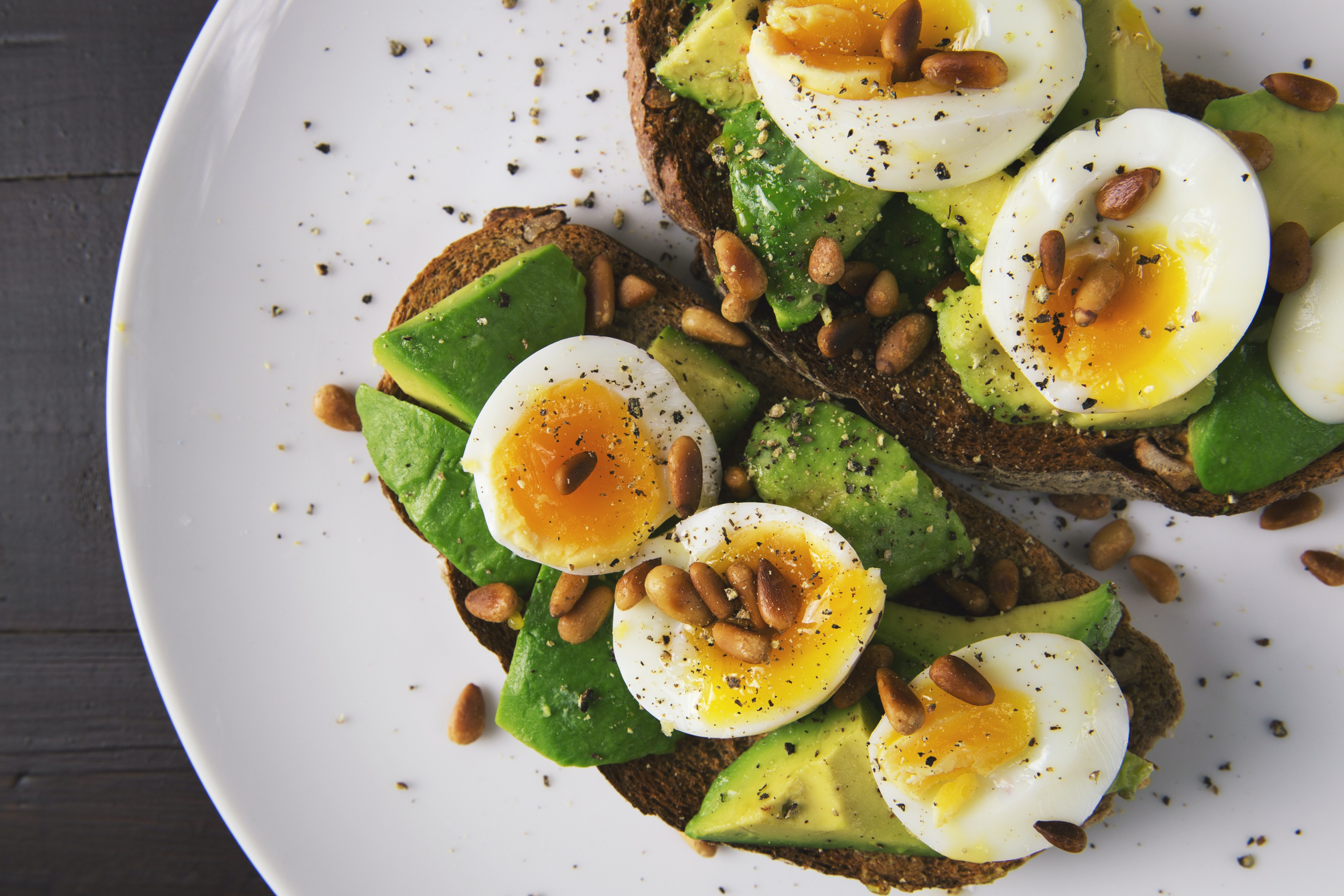 We've come to the end of our Top 50 list of the best bottomless brunches in London, and we have just one more thing to say. Happy brunching folks!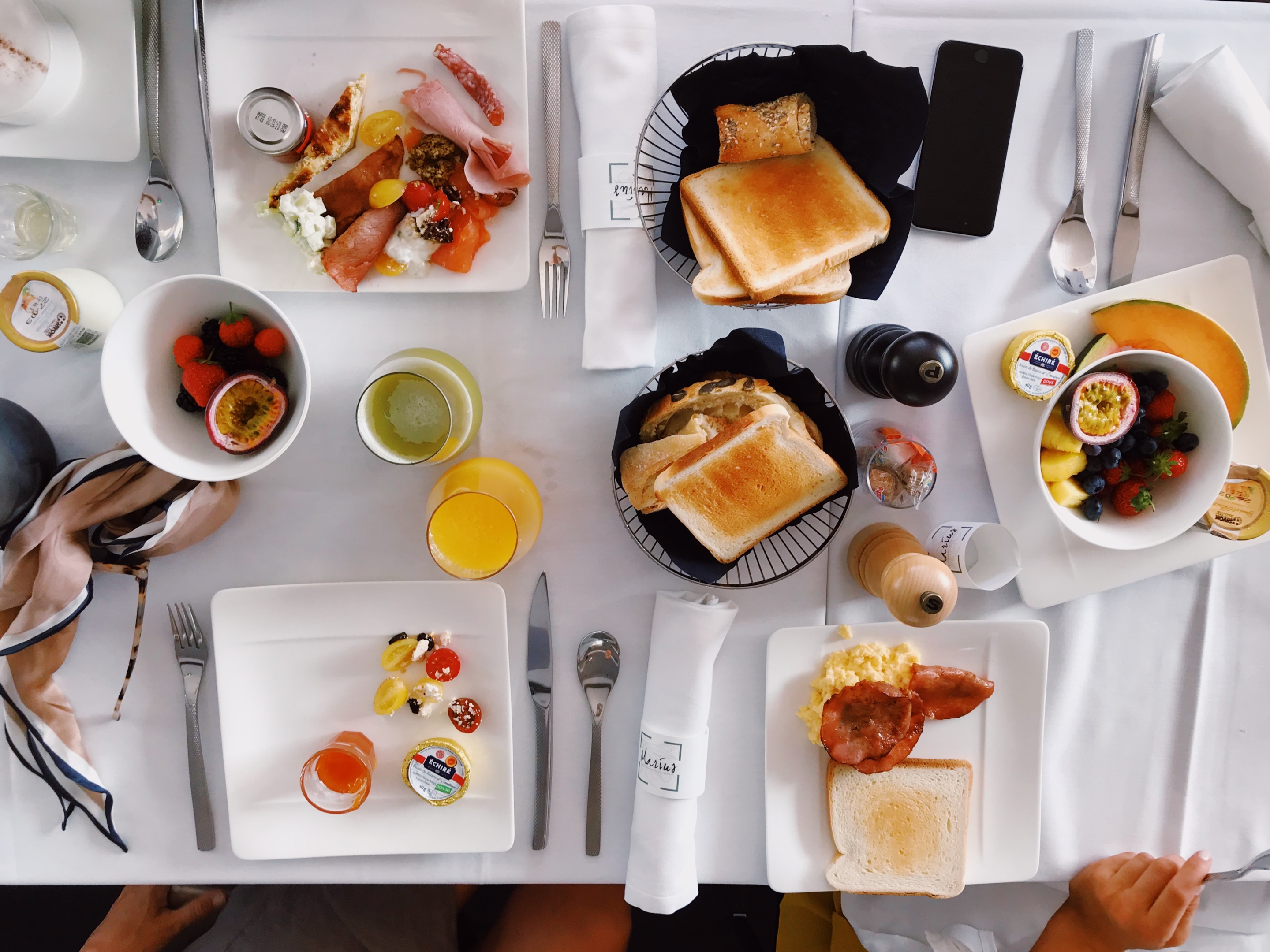 ---